BOOKed in pre-school
For various reasons, parents can't help talking about the competitiveness of the big bad world. Show them any number of movies on alternate education (read Taare Zameen Par) for kids; they would forget all about it once the movie is off the theatre! Give them any amount of dope on letting the kids follow their passion; they can't help talking to little ones on the benefits of being a successful physician!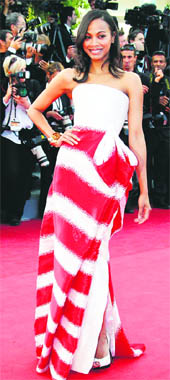 IN SYNC: Actor Zoe Saldana arrives on the red carpet for the screening of the film The Tree of Life by director Terrence Malick at the 64th Cannes Film Festival. — Reuters
What's up this summer?
Turn this holiday time into an opportunity to learn a new skill
Waltzing across the hall, dabbling in colour, dishing out culinary delights or showcasing your acting talent….what's your agenda this summer? We list out the options Chandigarh offers.
Shakira magic at Indian wedding
Grand palazzos, gondolas and Colombian pop star Shakira in person! It couldn't get bigger than the grand Indian wedding of Britain-based industrialist Pramod Agarwal's daughter in Venice at a reported cost of 10 million euros.
Jiyo zindagi, king size
The cast and crew of Zindagi Na Milegi Dobara launched the digital promo of the film at a fun-filled event held on Sunday. They were at their wittiest best and kept the audience in splits. Here are snippets of the conversation between the stars and the media.
Madhur loves his Heroine
Madhur Bhandarkar has finally announced his long awaited dream project, Heroine at the Cannes Film Festival with Aishwarya Rai Bachchan.The film was initially offered to Kareena Kapoor but she turned it down so the entire script has been re-written to suit Aishwarya Rai Bachchan.
Lights, camera, Housefull 2
Bollywood actor and TV anchor turned director Sajid Khan has started directing Housefull 2. He says Housefull 2 is not a sequel to Housefull. He promises a complete joyride when the film releases early next year.
Horror at best
Ragini MMS has positively emerged as the most lethal combination of sex and horror to hit Indian screens. On the day of its premiere, the thriller had a strong visceral impact on some of the industry beauties.
REEL lessons
Actor Saif Ali Khan, who will be seen in Prakash Jha's Aarakshan, dealing with the issue of reservation, says the film has altered his perception and broadened his view about the subject.
Going down memory lane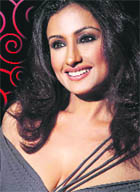 Here I sit today, penning my thoughts for The Tribune for the first time ever. It's a truly special occasion because one I get to share special moments from my life with my ardent Punjabi fans and two, it takes me back to my lovely childhood memories.It was the newspaper I grew up reading and here I am with all of you today. I just got back home after watching Stanley ka dabba with my very dear friend Sonu Nigam in the theatre. A house full show, the film got a standing ovation and as the people saw me, they wouldn't go without saying how much they loved the film and Rosy miss!


Past present: Divya Datta

Following the stars
Logic does make things sound better. So, when someone tells us it is important to prepare for the future, we wonder what made people like Richard Bach, Brian Weiss, Paulo Coelho advocate the importance of staying in the present.
Butterfly bend
To boost your reproductive health make yoga a part of daily exercise routine


The butterfly pose (Baddha Konasana) is an easy yoga posture designed to relieve inner-thigh tension as well as muscle discomfort around the legs and back due to standing for too long. It soothes menstrual discomfort and helps relieve symptoms of menopause. It works on the pelvic muscles, hip joints and inner thighs that is why it also cures Sciatica, infertility and uro-genital disorder.

SUCCESS MANTRA
Woman of substance
Rajni Bector, the brain behind Cremica, shares how she rose amid trying circumstances
Rajni Bector had no more than a minute to name the brand that she led from a meagre Rs 300 to a turnover of around Rs 600 crore. One of the directors and more of a mentor of Cremica group, Bector's is a true success story from the region.

Art(y) Affair
Art gets a new definition as Namrata Singh combines her creativity and understanding of abstract art in her first solo exhibition
She is a photographer and a painter rolled into one. "That's exactly how artists are; we take interest in various aspects of art," says Namrata Singh, a budding artist, who has put up her first solo exhibition at the Punjab Kala Bhavan-16, Chandigarh.

Supportive co-workers may help
Having supportive colleagues not only makes the workday easier, it may also help people live longer, according to a new study Researchers at Tel Aviv University in Israel found that a good relationship with co-workers had an impact on mortality risk for people and was most pronounced between the ages of 38 and 43.

Rahman in Yash Raj camp
Ace music director and Oscar winner A R Rahman will compose tunes for filmmaker Yash Chopra's next directorial venture which will star Shah Rukh Khan with two leading ladies.