PUNJAB

HARYANA

JAMMU & KASHMIR

HIMACHAL

REGIONAL BRIEFS

NATION

OPINIONS

LETTERS

BUSINESS

SPORTS

WORLD


M A I N N E W S
Punjab turns a blind eye to illegal mining
Ruchika M. Khanna
Tribune News Service
Chandigarh, May 18
The inability of the Punjab Government to auction its 300 sand and gravel quarries in the beds of various rivers and rivulets across the state, is leading to large-scale illegal mining, especially in and around Mohali district. With top politicians, cutting across party lines, making a killing from extracting these minor minerals (sand and gravel), the rates of sand and gravel have shot up like never before. In the past two years, the rates of these minor minerals (used for construction purposes) have shot up by over 100 per cent.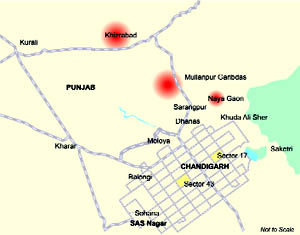 From Rs 700 per 100 feet two years ago, the rates have now shot up to Rs 1,800 per 100 feet. With legal mining operation in the state being monopolised by contractors allegedly owing allegiance to the ruling party in Punjab, prices

of sand and gravel are jacked up at will. Also, with a ban on mining in Haryana since February last year, and the ever-increasing demand for these minor minerals for construction purposes, the construction industry is left with no choice but to pay the price demanded by these mining contractors.

Foreseeing huge profits from selling these minor minerals and with no fear of any checks by state government authorities, illegal mining operations are on even on private farmland and rivulets where quarrying is not allowed under the rules. Sand mining is also going on in the belt in the city's periphery (Mullanpur-Naya Gaon- Nada), where Punjab Land Preservation Act (PLPA) is in force. Irrespective of the threat to the fragile ecology of the lower Shivalik range, the sand mining mafia is targeting any piece of vacant land which is available.

Mining activity is also being carried out in areas which have not even been auctioned as quarries by the state government. Those associated in the sand mining business estimate that the illegal mining activity across Punjab generates Rs 3 crore per day, as against legal mining which generates Rs 50 lakh per day. In Khizrabad village of Mohali, huge earth mowers and trolleys remain deployed in Budh Ki Rau for digging the riverbed and carrying away sand and gravel. And unlike in the past, when illegal mining was carried out at night to avoid being caught, mining operations now continue 24x7. Not only is this village becoming a victim of illegal mining, but those involved in this activity have also set up stone crushers on agriculture land, located on the fringes of this village - in contravention of rules for keeping a crusher at a distance of two kilometres from a populated area.

Interestingly, in spite of several protests by villagers in this area against illegal mining activity and setting up of illegal stone crushers, authorities seem to have turned a blind eye, thus ensuring that their political bosses have a free run. While the Forest Department has the authority to check illegal mining in areas where PLPA is in force, the mining branch of the State Industries Department is supposed to check illegal mining elsewhere. But surprisingly, both departments have failed to check this illegal activity, citing manpower constraint and inability to control mining on private farmland where owners have given their land on lease to the contractors, or are doing it on their own. It may be noted that the state government has not held a regular auction of its 366 quarries, though their two year contract ended in March last year. Official sources informed The Tribune that following an order of the Punjab and Haryana High Court, making it mandatory for all contractors to get an Environment Impact Assessment report and an environment management plan in case the size of the quarry is over five hectares, they have not been able to hold auctions. For quarries that are of size between 5- 50 hectare, this EMP has to be approved by the state environment impact assessment authority, and incase of bigger quarries, the same has to be approved by the Central Environment Impact Assessment Committee.

But sanctioning of these EMPs has since been stuck in red-tapism between the Ministry of Environment and Forests (MOEF) and the state government. As a result, the state government held an auction of quarries for just six months, beginning July 2010. Since then, a regular auction has not been held and the contractors who were successful in the auction since 2008, are still continuing by enhancing the lease money by 10 per cent (over Rs 38.50 crore that the state earned in six months between July 2010 and January 2011). Though officials in the Industries Department deny any mala fide behind this, it is alleged that the state government is not ready to auction the quarries as it would lead to a huge jump in the lease money for the contractors. "No environment impact assessment is required for 165 quarries, as the area of each quarry is less than five hectares. The state government can easily auction these quarries and earn huge revenue. Generally, after every auction, the lease amount goes up by 100 per cent. But they want to favour those who are presently holding the contracts, because of the political patronage they enjoy. No wonder by paying just 10 per cent over last auction's revenue, they are making a huge profit," alleged a Ropar-based contractor, who had a mining contract prior to 2008. Officials in the Industries Department, however, say that they are waiting for a final approval to the new mining policy by the Chief Minister. "We will auction the quarries once the new policy is approved. The state has recently announced its intent of coming up with a new mining policy and start e-auction. This policy will stop cartelisation during auctions", said the official, while requesting anonymity. However, the new policy, too, might not be able to control illegal mining.