M A I N N E W S
The Last Word
Jayalalithaa
Rani of the south rides again
N Ravikumar
"Fear is foolishness and courage is the characteristic of Dravidians. I am a true Dravidian, possessing courage, the real characteristic of the Dravidian race". This is how the newly anointed Tamil Nadu Chief Minister J Jayalalithaa identified herself at a public meeting three years ago at Theni, a southern district bordering Western Ghats when she was out of power.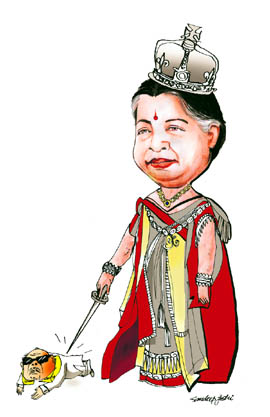 The occasion was the birth anniversary of CN Annadurai, whose "Arya Maayai" (Myth of Aryans), lashes out at Brahmins and appeals to Tamil youths to liberate the state from their domination. As the first Brahmin lady to lead a Dravidian movement, which is named after the staunch anti-Brahmin leader, whose portrait decorates the party's flag, Jayalalithaa was defending herself from her arch rival and DMK chief M Karunanidhi, who was trying to portray her as a "Brahmin lady working against the self-respect and culture of Tamils".
She was actually quoting a film song from AIADMK founder MGR's "Mannaadhi Mannan" (King of kings), which was released in the early sixties. Whether people accept her as a Dravidian or not, no one questions her assertion of being a courageous lady.
Vow to avenge insult
The opposition to her taking over the AIADMK leadership was so aggressive and tough that she herself recalled the power struggle and said she thought of self-immolating herself after MGR's demise. She overcame stiff opposition by proving her popularity among the masses and everyone was forced to accept her as leader of the united AIADMK.
During Karunanidhi's third term as Chief Minister, she was assaulted inside the Tamil Assembly in a major scuffle. With her saree torn and hair dishevelled, she came outside and declared that she would enter this Assembly only as a Chief Minister.
The episode was compared to the humiliation of Draupadi in the court of Kauravas in the epic Mahabharatha. While her followers described her vow as "Panjaali Sabatham", (vow taken by Draupadi) her opponents made fun of her statement. Finally, she came to the same Assembly as Chief Minister in 1991. Her mentor MGR also took a similar vow when chappals were thrown at him inside the Assembly and captured power in 1977.
That Jayalalithaa remains an "iron lady" was displayed last year, when she visited Madurai, once considered the bastion of Union Minister MK Alagiri, despite a series of threats to her life. Besides attending a public meeting there, she took on Alagiri in his home turf, by focusing on his "rowdy raj" and said "I am not afraid of those threats. I treat such death threats as invitations".
"Ammaa", as she is fondly called by her followers, ordered midnight arrest of Karunanidhi and did not backtrack, despite much pressure from the Centre. She was not afraid to order the arrest of Kanchi Seer Jayendra Saraswati and never blinked in the face of strong opposition from Hindutva groups.
Revolutionary leader
For her followers, she is a "revolutionary leader", (Puratchi Thalaivi") and cadres see her as a Goddess Durga, who punishes evil and protects good people. The encounter, which led to killing of notorious forest brigand Veerappan, is considered as a major achievement of her government in her second term.
When she sees merits in a scheme, she is not afraid to impose it on people, without worrying for their votes or opposition. The rainwater harvesting scheme, which was implemented forcibly, was one such scheme, which improved the ground water resources.
Her political astuteness cannot be underestimated as shown by her shrewd political calculations and campaign strategy, which led to a landslide victory in this elections. Her victory ended a string of defeats, which began from the 2004 Lok Sabha elections and continued for several by-elections in the state.
Sensing the double anti-incumbency against the DMK and the Congress, she prevented a split in the opposition votes by forging an alliance with actor Vijaykanth and ousted Vaiko's MDMK at the eleventh hour, without giving him time to form a third front. This ensured that she alone was the sole beneficiary of the people's anger and resentment against the ruling combine.
Immediately after the DMK's manifesto promising mixers and grinders, she also made similar promises and neutralised the freebies effect. 'Amma', who began her campaign with promises of freebies, stopped mentioning it, since it failed to elicit enthusiastic response.
When the campaign on 2G scam failed to evoke good response, she turned her focus on price rise, power cuts and nepotism of Karunanidhi. After the MDMK leader Vaiko announced poll boycott, the AIADMK chief recalled how the DMK leader failed to stop the military offensive against the LTTE and said "if I was the Chief Minister, I will have sacrificed power to prevent the massacre of Tamils". This effectively nullified a possible adverse impact against the AIADMK and ensured that Vaiko's ouster did not affect her front's prospects.
Sometimes, she is accused of taking hasty decisions and undemocratic attitude. She toppled the AB Vajpayee government in 1999, forcing a mid-term election.
While her opponents tried to brand her as a Brahmin ruler, she cleverly supported the reservation for backward classes and won kudos from even the Dravidar Kazhagam, the parent body of the Dravidian parties.
On the other hand, while leading a Dravidian party, she is not reluctant to show her religious leanings, belief in astrology and Hindu ceremonies. Her staunch belief in numerology and her special liking for number nine is widely known in Tamil Nadu.
MGR's protegee
Jayalalithaa also shows flexibility and does not hesitate to change her opinions, according to the changing mood of the people. Withdrawing the anti-reservation bill and shifting her stand on the Sri Lankan Tamils issue can be cited as major examples.
Hailed as the "Margaret Thatcher of Tamil Nadu" Jayalalithaa was initiated into politics by the late MGR, who appointed her as a member of the nutritious noon meal scheme monitoring committee in 1982. She was elected to the Rajya Sabha as the AIADMK's representative the same year and soon became the party's propaganda secretary.
Born to Sandhya and Jayaraman in Mysore, Jayalalithaa had her education at the Church Park Convent in Chennai (then Madras) and at the age of 15, she took to acting to support her family.
Making her film debut in well-known Director Sridhar's "Vennira Aadai", she acted in more than 300 films in Tamil, Telugu, Kannada and Hindi in a career spanning three decades. She paired with all top heroes, including her mentor MGR and Sivaji Ganesan, but most of her films were with MGR, whose legacy lives as "Ammaa", ensures that his mentor's flag flies high again.