Shells and pebbles
Reviewed by Shalini Rawat
First Proof 6: The Penguin Book of New Writing
Penguin Books. Pages 217. Rs 250.
"Writing can be a pretty desperate endeavour, because it is about some of our deepest needs: our need to be visible, to be heard, our need to make sense of our lives, to wake up and grow and belong." — Anne Lamott, Bird by Bird: Some Instructions on Writing and Life.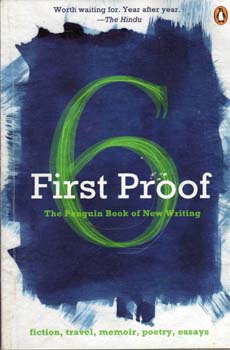 THE enchanting world of words throws new surprises both for the reader as well as the writer at every corner. The sculptor of words looks deep within the dark recesses of his mind, for therein lie memories. He forages through them, waiting and examining the ones which reflect more vividly on their surface the passage of time. Like the strangely shaped shell on the shore, a lustrous pine cone on a secluded path or a shiny pebble on a stream bed, one of these suddenly catches his fancy. This volume, too, is a congregation of a handful of shells and pebbles carefully hewn and stacked together.
There are short stories like Triptych by Ranjan Nautiyal and Soul Mates by Kanchana Ugbabe, which explore the zenith of selflessness and the nadir of selfishness, respectively. It has stories like The Memory Technique by Makarand Sathe, where the protagonist's world has shrunk to zilch in a mental hospital cell, whereas Aaba and Other Mysteries by Deven Sansare reminisces about the thinly veiled incidents of strikes by textile workers pitched against an adamant administration where the workers, in the end, plunge into a world of despair and nothingness.
Similarly, while Mrs Dhillon by Purnima Rao talks of the unending frequency and extent to which parents forgive and shelter their kids, Stink by D. Rege describes the disgusting and ruthless way in which society treats those on the periphery — the eunuchs in this case — and their subsequent "equal and opposite" reaction.
Ethnographies, memoirs, profiles and essays make up the non-fiction section. A Young Man by Sunanda Sikdar and Cabbie by Anindita Ghose are the portraits of people, dead and living, respectively, who impact our lives long after they have breezed past. In Freedom's Shade, Anis Kidwai acquaints us with women who were displaced due to Partition and discovers reasons unique to the situation where they never want to "go back" even if given a chance.
This sixth book of new writing by Penguin, of new writers writing in established genres and vice-versa for old writers, is proof that the literary vein is live and throbbing in the 21st-century India. The translated texts speak of the richness and variety of work being done in our languages and give lie to the belief that local languages are dying out. The texts are experimental — whether in terms of genre, characters or subjects, etc. — as well as brutally honest, exemplified in the final lines of Ashoke Bhatacharjee's poem, "everything false/ everything falls".