Red carpet role call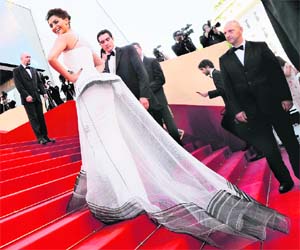 Best foot forward: Sonam Kapoor made her debut on the Cannes red carpet this season Photo: AFP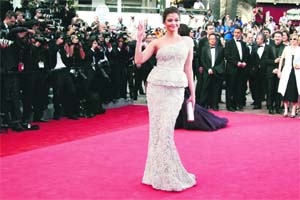 Riviera regular: Aishwarya lends visibility to India at Cannes, but her red-carpet appearances have little to do with cinema Photo: Reuters
CANNES opens the doors to global fame. So, it is easy to understand why Bollywood stars and wannabes make a beeline for the red carpet. These personalities and the celebrity-obsessed media that feeds off them love going into overdrive when all eyes in India are fixated on the Riviera. It is no different this year. 'Red carpet' has become a buzzword and every Mumbai actress who is anybody, even Minissha Lamba, wants to be seen on the Boulevard de la Croisette.
For several years, Cannes was Aishwarya Rai's unchallenged preserve, an association that began and continues to this day because she happens to be a brand ambassador for French cosmetic giant L'Oreal. Her Cannes sojourns, therefore, have little to do with Indian cinema. In 2002, the doe-eyed beauty was on the red carpet alongside Bollywood's undisputed 'badshah', Shah Rukh Khan, for a special screening of Sanjay Leela Bhansali's Devdas. Since then, she has been Bollywood's most famous face on the French Riviera.
India might not have any films to showcase in the festival's official selection, but she has never failed to put in an appearance on the red carpet. Details of every trip that she makes to Cannes are avidly lapped up by her fans and the Indian media never fails to tap into that obsession. Every move she makes and every outfit she wears to the red-carpet screenings finds generous space on the airwaves back home.
In recent years, Aishwarya has been joined by other Mumbai lasses – Mallika Sherawat (who made her first appearance here in the company of Hong Kong superstar Jackie Chan), Preity Zinta (an infrequent visitor) and Deepika Padukone (who made her Cannes debut last year).
The annual Cannes trip has assumed the proportions of a pilgrimage for many, and every Mumbai actress worth her salt wants to be seen on the red carpet. The mad scramble turned a tad ugly in 2009, when it was announced that L'Oreal had roped in upcoming star Sonam Kapoor as their second Indian brand ambassador. It was then reported that Aishwarya had pulled strings to prevent Sonam from securing a formal invite to Cannes. But the latter got her own back this year and walked the red carpet to announce that she has arrived on the world stage.
From the Indian point of view, the red carpet indeed was very crowded this year what with Ash, Sonam, Mallika, and Minissha adding to the glamour quotient. One question: how on earth did Minissha wangle an invite for an after-party for the opening film, Midnight in Paris? It will take some investigation to unravel that mystery. — SC