Maverick of the skies
Air Cdre Mehar Singh was an ace pilot. But for his innovative bombing with Dakotas followed by the landing of the first one at a strip in Poonch, that tract of India would have been lost to Pakistan. He also landed the first Dakota at Leh on an unprepared surface, writes Lieut-Gen Baljit Singh (retd)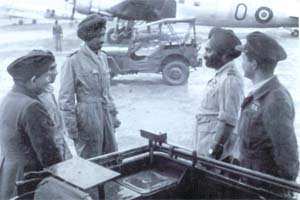 Air Cdre Mehar Singh (second from right) with Flt Lt Lal Singh Grewal at the Leh airfield in May 1948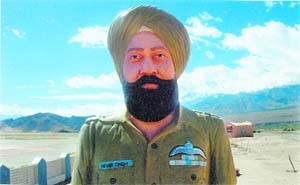 A statue of Mehar Singh, 'Saviour of Ladakh', was unveiled at the Leh airfield in the 1970s
ONCE the history of any war is diligently imbibed, certain actions and deeds of individuals get imprinted so firmly in memory that they resurface time and again, with the least provocation. So it was that the mere mention of a school child's last name, a few days ago, brought to mind in a flash her late uncle, the indomitable Air Cdre Mehar Singh, D.S.O., M.V.C.
Now, Squadron Leader Mehar Singh was conferred the first and the only D.S.O. of the Royal Indian Air Force during World War II. Again, within weeks of India's Independence, Air Cdre Mehar Singh would be marked for the IAF's first Mahavir Chakra. On both occasions, recognition came for gallantry and exceptional leadership on the battlefield in two different wars and under gruelling circumstances. By the time Field Marshal William Slim launched the reinvigorated XIV Army to defeat the Japanese in the India-Burma theatre in 1944, Mehar Singh's actions and deeds had already placed him in the league of legends. His reputation was aptly and amusingly summed up by the Field Marshal in his memoirs, recounting an impromptu visit to No 6 Squadron of the RIAF in the Arakans (Burma): "The last air patrol had run into a bunch of Zeros (Japanese fighter aircraft) and had been shot down. The Sikh Squadron Leader, an old friend of mine, at once took out the next patrol himself and completed the mission. His methods, rumour had it, were a little unorthodox. It was said that if any of his young officers made a bad landing, he would take them behind a basha and beat them. Whatever he did, it was effective; they were a happy, efficient and gallant squadron."
It was not unusual to find entries in Mehar Singh's log book, flying upward of one hundred hours in a month, time and again. Flt Lieut Asghar Khan, who later became the Chief of Air Staff of Pakistan said: "With the solitary exception of Sqn Ldr Mehar Singh, a pilot of exceptional ability, no one was able to inspire confidence among us."
Mehar Singh was probably in the class of born ace pilots but more than that, he was innovative and daring in his modus operandi. Perhaps his calibre as a flyer and leader was best illustrated when one of his pilots crash-landed but survived and walked back to the base. Within minutes of debriefing the pilot, Mehar Singh had the whole squadron airborne.
It was an unmitigated tragedy when men of this one subcontinent would now be pitched in battles against each other but as citizens of two different nations. When on January 26, 1950, the Republic of India announced its first gallantry awards, Air Cdre Mehar Singh received the IAF's first Mahavir Chakra. Unlike the foot soldiers, Mehar Singh in his fighter/ bomber aircraft would be dropping bombs in the Poonch-Rajouri area in the west by night, and at dawn, strafing the enemy bunkers in the north along the Zoji La-Amarnath crest line, hundreds of kilometres apart.
The moment of his ultimate glory came when he created aviation history by landing the first aircraft on the outskirts of Leh, by the banks of the river Indus.
By January 1948, Pakistan's armed misadventure was fully contained in the Jammu region as also in the Srinagar valley. But for Mehar Singh's innovative bombing with Dakotas followed by the landing of the first one at a manually-levelled, mere 600-yard strip at Poonch, that tract of India would have been lost to Pakistan. However, it was the lack of road and aerial access to Ladakh year-long which was now a cause of serious concern. It was evident that for the moment airlift of troops and materials to Ladakh was the only course open. It was equally evident that the only man who could pioneer the aerial landing at Leh was Mehar Singh.
In a one-to-one meeting, Major-Gen K S Thimayya emphasised that "the fall of Leh would be a strategic blow to India. It had to be saved at all cost`85that he was prepared to risk his own life with the IAF to save Leh."
Mehar Baba (as the Air Cdre was now affectionately called) explained that "the Dakota was not designed to fly at such high attitude." General Thimayya knew that Mehar Singh never asked his subordinates to undertake a task that he himself had not first carried out, and so he closed the discussion on a positive note : "I will be on that flight in your cockpit. So lets go!"
The stage was thus set for Mehar Baba when, on May 24, 1948, he landed the first Dakota at Leh, on an unprepared surface, 11,540 ft ASL. His passenger was Major-Gen K S Thimayya D.S.O., GOC 19 Div. To land at Leh, one had to negotiate towering mountains in an ancient Dakota with no heating facilities, no pressurisation and without any surveyed route map. A great pity that no photo-record was made of the first landing, though the next flight of six Dakotas also led personally by Mehar Baba on May 28 was fully covered. The aircraft and crews were literally engulfed this time by the astonished Ladakhis.
Four months after the Leh landing, Mehar Singh resigned his commission. On March 11, 1952, nine days short of his 33rd birthday, he died when the Bonanza aircraft, caught in a freak, sudden storm crashed on the outskirts of Delhi, snuffing out a charmed life.
Death, be not proud;
For, Mehar Baba flies forever;
In his immortal shroud.