From fame to notoriety
Major-Gen Pushpendra Singh (retd)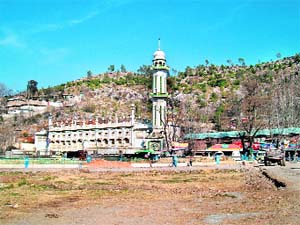 Capt Sir James Abbott established the cantonment town of Abbottabad
SOON after the British defeated the Sikhs at Sobraon, Capt Sir James Abbott, KCB, an officer of the Bengal Artillery, was appointed the first Deputy Commissioner of Hazara district bordering the Pakhtun lands. He was immediately faced with lawless gangs of soldiers of the Sikh Army, who harried the British and ravaged the land to make a living.
Meanwhile, the Pashtun tribes astride the Hindukush, disciplined and suppressed for decades by the Sikh kingdom, were only too happy to at last resume their plunder of Punjab. Captain Abbott had been greatly impressed with the valour of the Sikh artillerymen during the Anglo-Sikh wars. These gallant soldiers epitomised the finest traditions of the gunners and established the norm of defending their cannon to the very last man — at great cost to the British.
Sir James decided to kill two birds with one stone. Persuading his boss Sir Henry Lawrence to make an exception to the British dictum, 'no natives in the Gun-Park', he raised the Hazara Mountain Battery in 1848. Later, this valiant and distinguished officer rose to the top as a General. In 1851 the Punjab Irregular Frontier Force or PIFFERS was also formed there and the cantonment town, which Sir James established, became known as Abbottabad of erstwhile fame and recent notoriety.
The Hazara Mountain Battery was almost continuously in action with various mule-pack guns, which proved to be the undoing of the Pathans. The daring and skill of the Mountain Gunners inspired the immortal lines of 'Screw Guns' by Kipling. Thus was born the legend of the 'big men with their little guns.' Initially, the Battery helped defend Hazara district and later enabled Sir Sam Browne to take the Khyber. The unit was at the relief of Kabul, remaining there until it joined Lord Roberts on his march on Kandahar.
On Independence, the Hazara Mountain Battery was en route from Nowshera in Pakistan to India and was immediately pressed into the first Kashmir war, 1948. One troop was airlifted into besieged Poonch by the legendary Wing Commander Mehar Singh, even as his aircraft was hit on the landing strip and rendered AOG (aircraft on ground) by machine-gun fire. The Hazaras were instrumental in turning the tide and saving Poonch.
The Troop Commander, late Colonel Gopal Singh, was decorated with the Vir Chakra for his gallantry. It is perhaps the only Battery in our artillery to win two Vir Chakras.
Such is the other legacy of Abbottabad.