'Awards do not make sense to me'
Says Salman Khan, who is back with his latest film Ready, in conversation with Jyothi Venkatesh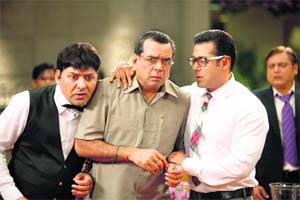 Salman Khan with Paresh Rawal and Sudesh Lahiri in Ready
You have been working in the remakes of hit South Indian films. Is it a strategic move?
It is sheer coincidence that my three films Wanted, Ready and Bodyguard have been remakes of South Indian hit films. I did not consciously plan any strategy. It is just that when you remake a Hollywood film, the whole world has already seen it but when you set out with a remake of a South Indian hit, only the South Indians have been able to see them. It is now the reverse. Besides the fact that several punches from Dabangg have been lifted by quite a few South Indian films of late, I am told that they are remaking Dabangg in Tamil and the Tamil remake of 3 Idiots is also being made by Shankar, who had made Robot.
Why do you think your films in the South click in a big way?
The reason people liked me in films like Wanted and Dabangg is that heroism has been brought back in these films with the hero emerging as a larger-than-life character. In the South, they have not let heroism go away and hence, the masses go to watch South Indian flicks. However, as far as Bollywood is concerned, it is true that we have started missing heroes' big time. I agreed to act in Wanted because I was fed up watching the so-called niche or romcom films and wanted to go to a theatre and see a hero film.
How would you compare Bollywood films with those churned out by Hollywood?
Hindi films always used to work big time because of the sound music track and strong mother/father themes. One can't ever forget the strong mother theme in Manmohan Desai's Amar Akbar Anthony or for that matter Yash Chopra's Deewar. Wanted worked because of the emotional father track in it. The film took a turn when Vinod Khanna, who played my father in the film, was killed. Though you cannot compete with the budgets that they have in Hollywood, nothing can stop you when you make films, which have emotion backed by action. It is a sure-shot formula to win over the audiences.
What is your role in Ready?
I play the role of Prem, a very loveable character, who takes off from where No Entry ended and gets into the mode of Hum Aapke Hain Kaun. It is Anees Bazmee's version of Hum Aapke Hain Kaun. It is today's Hum Aapke Hain Kaun. It is out and out a naughty film in which every one has a sense of humour, from father to son to chacha to chachi.
Why do you think Dabangg clicked in a big way?
Dabangg was made for the masses. Arbaaz did not make it keeping in mind the niche audiences. Dabangg had a cop from Uttar Pradesh and a new actress. I remember people telling Arbaaz tum mar jaaoge but we went on to make the film, because we knew what we were doing. We had been hit big time by recession. Some people thought we were making some kind of C-grade stunt film, with a title like Dabangg, which no one on earth could even comprehend. The film clicked in a big way because children caught on the film, and especially because heroism always works big time.
Do you love playing to the gallery?
Ever since Dabangg clicked in a big way, every producer wants to go desi. Though I may go wrong with my formula, the fact is that I love playing to the gallery as a larger than life hero, though I do not want to play the Superman or Spiderman by wearing my chaddi over my pants. After Wanted and Dabangg, I am looking at hat-trick with Ready. I am looking at hundred hat-tricks. Who wants to have a flop? Everyone today wants to make a hit like Hum Aapke Hain Kaun, Deewar, Mughal-E-Azam and Andaaz Apna Apna.
Why do you shun award functions?
Awards do not make any sense to me. I'd rather walk away with the claps that the audiences give me when they come to watch my films in theatres.
Can we see you acting in any film written by your father Salimsaab?
People ask me why my father is not writing for any film when any director would gladly give his right arm to have a script written by the man, who had written legendary films like Deewar and Sholay. I am glad that my father is enjoying his retired phase because I do not think he has the patience to deal with the directors and the kind of sensibilities that they come with today.
How do you react when your films click at the boxoffice or flop?
As a person, I do not change whether my film clicks at the boxoffice or turns out to be a disaster. Today people call me a lucky mascot just because my films are clicking one after the other but there was a time when my films were bombing big time left, right and centre but I did not panic and took them in my stride. I have always believed that success se insaan ka dimaag kharab nahi hona chahiye aur failure se depression nahi aana chahiye.
You replaced Jacqueline Fernandes with Zarine Khan in Ready. Why?
Jacqueline Fernandes was slated to do a song in Ready with me but at the eleventh hour, she could not do and Zarine Khan stepped in. I did not do any favour to Zarine by suggesting her name. On the contrary, it was Zarine, who did us a big favour by agreeing to be part of the film though Asin had already been signed as the leading lady of the film and had the bigger role. It is another thing altogether that we did not ask any other actress to step in that role.
Do you feel it is right to interfere with the director?
I feel that it is entirely my responsibility to the guy in the audience, who pays from Rs 10 to Rs 500 per ticket to see to it that I come up as an actor with a film that entertains him. If I do not interfere, the film flops like Tere Naam did. I had heard as many as 30 different tunes but loved the song when Pritam came up with the tune though I hated the lyrics. Finally, I asked him to make two songs into one and come up with the song "Character dheela". If I like the script, I think I have every right to put my foot down and see to it that the film is properly edited.
Have you thought of taking up direction?
Though I take interest in every department of the film in which I am acting, whether it is the subject or music or the action sequences, I feel I am not yet ready to be the captain of the ship. I do not want to dabble in direction though I know that my colleagues like Sunny Deol, Ajay Devgn and Aamir Khan have already dabbled in direction. However, I am game to work with Aamir Khan if he is ready to direct a film with me, provided I get the time to do a film with him.
Of late, you have been promoting your films in a big way.
Nowadays you have to spend more time to promote films. The new funda is that you need to devote at least 15 days to promote your films. I am game to tie up with corporate for my promotion provided they are ready to pay to my NGO Being Human or for needy and poor kids directly without deducting their administrative costs. Let's face facts, today I do not actually need money.