Penelope
not afraid of ageing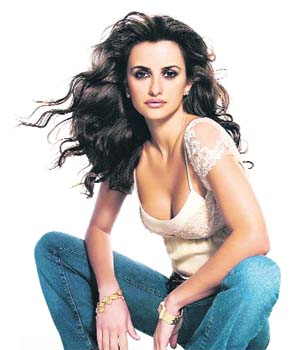 The 37-year-old Spanish beauty has not resorted to any artificial add-ons to make her skin wrinkle-free
UNLIKE other Hollywood actresses, she goes with the notion Ďchange is goodí and feels that this conviction she imbibes just because she is a European! Perhaps that is why Spanish beauty Penelope Cruz, 37, has not resorted to any artificial add-ons to make her skin wrinkle-free! Cruz said that she did not share the Hollywood obsession with eternal youth because she is Spanish. While her fellow actresses turn to Botox doctors and plastic surgeons, Cruz is content to let nature take its course.
"Birthdays are always something to celebrate. Iím looking forward to every step of the way," the Telegraph quoted her as saying during an appearance at the Cannes Film Festival.
"Maybe itís because Iím from Spain, so I look at it in a different way than in a place like Los Angeles. I will always be a Spanish actress in Hollywood or wherever I work," she said.
"There are a lot of things I keep from my roots and that is one of them ó the way we look at ageing. I never want to be afraid of that. Change is good," she added. ó ANI