ULTA PULTA
Levels of corruption
Jaspal Bhatti

SHAME on Raj Khurana, who was arrested by the CBI in the Rs 1.5-crore bribery case. The Congress legislators of Punjab demanded that Chief Minister Parkash Singh Badal must resign on this issue.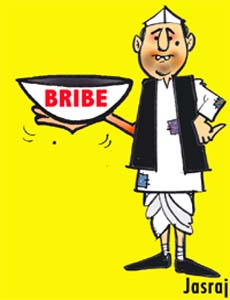 Their demand is quite legitimate because if the charges are proved, he really would lower the levels of corruption. When the country is facing scams to the tunes of thousands of crores, Raj Khurana has tarnished his name for a measly amount of bribery money. It is a well-known fact that the Congress, in its regime, had uplifted the levels of corruption.
The senior Badal says Capt Amarinder Singh should see his own track record before levelling charges of corruption against others. What does he mean? Does he mean that the cases of low-level Raj Khurana-kind of bribes were also in prevalent in the Captainís government too? Or is Badal sahib looking at Capt Amarinder Singh with awe that he couldnít compete with Raja sahib in the game of corruption.
Maharani Perneet Kaur has also stated that the corruption cases against Badals would be reopened once the Congress came to power in the state. I think the greatest fear the Badals have is that the Congress may demean and malign their image by opening petty bribery cases of a few thousands or hundreds of rupees.†