M A I N N E W S
Strauss-Kahn: More hotel staff 'propositioned'
By David Randall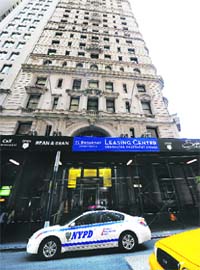 A police car is parked outside the building where former IMF chief Dominique Strauss-Kahn is being held under house arrest in New York. — AFP
FORMER IMF chief Dominique Strauss-Kahn, who eight days ago was one of the most powerful men on the planet, spent his first full day as an electronically tagged, armed guarded, rape suspect yesterday at a temporary address in Manhattan — a flat equipped (at his expense) with sensitive alarms and 24-hour CCTV to deter him from fleeing. Not that he is likely to do so. And, to make sure he can't so much as slip out for a sandwich, he is forbidden to leave the premises.
All this for a man who, just over a week ago, was sitting in a business class seat of an Air France flight to Paris, whiling away the time before take-off, according to one report, by making a loud remark about the shape of one of the female cabin crew. Then, 10 minutes before scheduled departure, police entered and hauled him off for questioning about the alleged attempted rape, sexual assault and false imprisonment of a maid at New York's Sofitel hotel. He has since been charged with attempted rape and assault, the most serious count of which carries a maximum sentence of 25 years. He denies all charges, but resigned from the International Monetary Fund last week. Officials from that office, according to the New York Times, said on Friday that at least two other Sofitel employees have claimed that Strauss-Kahn "made advances toward them during his stay".


Wife 'mortgages mansion to raise bail bond'
Washington: Disgraced former IMF chief Dominique Strauss-Kahn's wife has put her mansion in the US on the block to raise US dollars six million as bail bond to get her husband, facing sexual assault charges, released from New York's Rikers Island prison, a media report said.
The 62-year-old French politician's bail was set at US dollars one million in cash and a US dollars five million insurance bond, which his wife, heiress and French television presenter Anne Sinclair, raised by mortgaging her mansion in Washington DC, the 'Daily Mail' online reported.
If her husband absconds, she will forfeit the money and the house in the exclusive Georgetown district, which she bought in 2007 for US dollars four million, the report said. His wife is also understood to be paying the rent for his "golden cage" — an exclusive block of flats near the site of the former World Trade Center, the report said. — PTI
Whatever evidence is finally accumulated, neither he nor his accuser could escape the continued build-up of hearsay and online speculation about their pasts. New claims about Strauss-Kahn's behaviour towards women are contained in a 5,000-word Reuters special report which was released late on Friday.
While containing much praise for his achievements at the IMF (former German official Stefan Collignon said he was "a genius in getting economics and policy together"), there was much about his incorrigible pursuit of women, regardless, sometimes, of whether they wanted his attentions or not. There was his affair with Hungarian economist and IMF staffer Piroska Nagy, which, says Reuters, was a brief, and - by her - bitterly regretted fling in Davos.
"Margaux", a former student at the prestigious Sciences Po university in Paris, where Strauss-Kahn taught for two years, said: "It was known he was a ladies' man, but I never heard anything concrete." Still, she recalled being made to feel ill at ease by a "diabolic and severe" look Strauss-Kahn gave female students sitting in the front row.
A former IMF official told Reuters that when Strauss-Kahn arrived at the IMF, "women were deliberately careful not to be alone around him". There was an understanding in the IMF press department never to leave a female reporter alone with DSK, just in case something inappropriate happened. The one relief for the former IMF chief and his legal team came from France, where the lawyer for a French writer who alleged Strauss-Kahn had sexually assaulted her eight years ago has said she won't file a criminal complaint against him, for now. David Koubbi, who represents Tristane Banon, 31, said: "Our decision has been reserved for later for a simple reason: neither Tristane Banon nor I want to be manipulated by the American justice system. Meanwhile, the alleged victim in New York is herself the subject of much speculation, mostly online. She is known to be a 32-year-old West African-born single mother with a daughter of 15, who has been in the US for a number of years. Just how many differs according to the accounts, as does her status (immigrant or asylum seeker), marital past (widow or divorcee), and even her health.
Some reports say she has lived in apartments in buildings reserved for those who are HIV-positive, something strenuously denied. More disturbingly, her identity is widely asserted online, often accompanied by photographs purporting to be of her. She is staying with her daughter at a secret location and, says her lawyer, vigorously contests Strauss-Kahn's claims that what passed between them in Suite 2806 at the Sofitel was in any way consensual. The prosecutor, John McConnell, says the maid tells "a compelling and unwavering story" Such was the seriousness of the charges, and the fact Strauss-Kahn had been apprehended sitting on a plane just about to taxi on to a runway, that it took all week for his lawyers to successfully argue that he could be granted bail. He spent most of the time in a cell on Rikers Island, and when he was released, it was into a farcical toing and froing over his and his wife's first choice accommodation.
The plan was for Strauss-Kahn to move into a luxury residential hotel under armed guard on Manhattan's well-to-do Upper East Side. Even though the address was never officially released, police and media converged on the building, the Bristol Plaza at 210 East 65th Street, and that, in effect, scuppered any chance of him enjoying the rooftop health club, Italian marble bathrooms, flat-screen televisions, king-size beds with goose-down pillows, which are a feature of the place.
His next court appearance, at which he will formally answer the charges against him, is set to be on June 6.
— By arrangement with The Independent