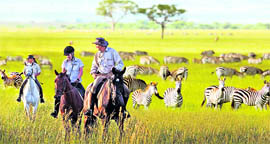 Off to lands abroad!
Gone are the days when the 'Indian tourist' could only dream of going abroad. Today, more and more people are taking a flight to foreign shores. Call it the effect of liberalisation or fruits of a fast growing economy, the Indian traveller can now think of a visit to Macau or even Europe or North America.
The African safari
A prelude to opulence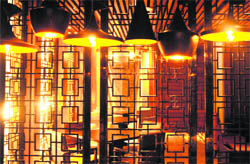 Even if it had persisted longer, we wouldn't have regretted the confusion. A spoonful of Tiramisu, then a bite of Crème-Brulee, a nibble into Mango Moose and finally a repeat with a chocolate pastry… the confusion to pick the best was pure bliss. When finally, we were about to announce the first prize in favour of the creamy and delicate Tiramisu, Pallav Singhal, the executive chef casually adds, "We will have 50 desserts in the dessert buffet."

Master Class: The saffron restaurant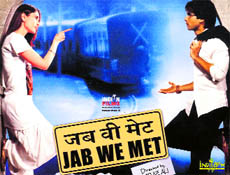 Fallen stars
B-town Divas fall out of fashion race. The scramble to own a saree worn by Madhuri Dixit in Hum Aapke Hain Kaun or the short kurti teamed with a Patiala salwaar donned by Rani Mukerji in Bunty Aur Babli are a thing of the past say designers. The culprit may be extensive exposure to international fashion, thanks to the TV, fashion magazines and the Internet say some while others believe it is the fading popularity of Bollywood stars when it comes to style.

Fan following: A still from Jab We Met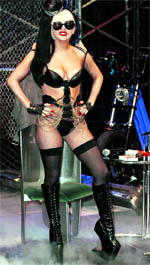 Born Free:

Singer Lady Gaga arrives at an album signing event for her new release Born This Way at Best Buy in New York City.—Reuters


astro turf

Signature style
Priyanka Chopra
We completely adore her hair and make-up; she looks fabulously stunning! The knotted white blouse is elegant and the embellished skirt is glamourous and classy! Thumbs-up for the true star!


Saif Ali Khan
He is one man who can carry off a stubble. Glares are his trademark and he wears them well. The chocolate brown linen shirt is very stylish and classy. It's refreshing to see a man in chinos and his clean feet make his slippers look great too. It is no wonder that the good-looking and charming nawab is a style icon!
Katrina Kaif
She looks gorgeous, as always, but the light green blouse doesn't gel with the pleated skirt. The matching flats are too tacky and would look best with jeans. This semi-formal look doesn't work for Kat.

Imran, Vir and Kunal
Kunal looks relaxed in his shirt and jeans. Imran Khan looks cute, as usual and we particularly like his shoes. Vir Das' t-shirt is cheeky and in-sync with his personality.
Hrithik Roshan
The handsome superstar looks great in anything he wears (or doesn't!). The bright blue colour suits him well.

Watch out for Big B's style statement
Amitabh Bachchan is looking uber-cool in his stylish avatar in Viacom 18 Motion Pictures and AB Corp's Bbuddah Hoga Terra Baap complete with scarves, jazzy shirts, designer denims, branded glares and even two watches!



Time keeper: Amitabh Bachchan

Dancing to Salman's tune
Salman Khan is going all out to promote his next release, Ready. He talks about the controversial success of the music of his movie, his hopes from the film, turning producer, his conversation with Anu Malik and more.

Salman Khan

Juhi stressed out
Juhi Chawla is known for her vivacious personality but she is not happy these days. Her brother Sanjiv suffered from a stroke last year and has been in coma ever since. Juhi visits her brother regularly but has no strength to see him in this condition.

Rough time: Juhi Chawla
Not a happy tune
Hollywood actress Gwyneth Paltrow's singing career may fizzle out before it even began as music label Atlantic has reportedly scrapped the deal to bring out her debut album.
Neil wants a time machine
Actor Neil Nitin Mukesh, a gadget freak, hopes he can have a time machine to access his past and future.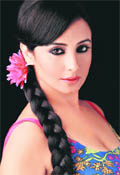 celeb point
Mumbai calling
divya dutta
As I told you last week, with my legs trembling, my heart pounding, but with a confident smile, I was all set to perform in front of all the big directors. They were keenly observing me - Yash Chopra, Shekhar Kapoor, Subhash Ghai - and I couldn't take the nervousness anymore. So, I began and after my mono-act performance, there was pin-drop silence. Some of them had no expressions on their face and some had an amused smile. I was eagerly awaiting a response. Finally Yashji spoke, "Beta, very good…hum batate hain."

Play Full!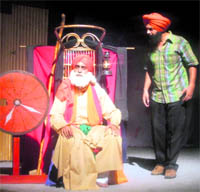 "Practicing theatre today is not a late evening pastime, but a serious art, which seeks to deepen the viewer's understanding of life in all its manifestations," opines Sahib Singh, acclaimed actor-director and playwright of the region. Sahib Singh has written as many as 57 plays and given over 300 performances for his Adakar Manch Mohali. "Theatre festivals promise a variety of performances on diverse themes," he says while announcing the 4th theatre festival Adakarian-2011. Sponsored by the NZCC Patiala, the five-day theatre festival opens at Government College Sector 46, Chandigarh, on May 25.
green thumb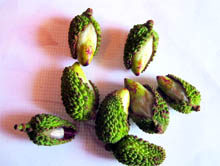 Unfruitful efforts
Nothing could be more frustrating for a gardener than to see the fruits of his labour lost. There are a number of maladies responsible for such losses which could be due to insect-pests, sudden changes in the weather conditions, stress, nutritional deficiencies etc. However, the most common is the fruit drop or splitting of fruit. The fruit drop and splitting are common in this region for fruits like mango, litchi, lemon, pomegranate, pear, peach etc.

Floral fetish
Stilettos, kitten heels, flats, gladiators, buckle boots, the list is endless. A new name is regularly added in the list of footwear. With summer just around the corner, markets are flooded with trendy footwear. This season, footwear is all about making a floral statement.
Flying wheels


What if your car could fly? You won't have to be jealous of Hrithik Roshan who flew in his helicopter to reach shooting location for Jodha Akbar just 70 km away. If only you could change your car gear to fly. Every ambitious freak or a dreamer must have given it a thought while struggling to speed past a long traffic jam.
Caught in the web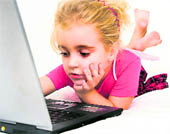 Researchers at the University of Gothenburg have concluded that increased usage of computer leads to poor reading habit among children. This trend was primarily observed among 9-10-year olds in different countries. A research team led by Prof Monica Rosén of the Department of Education and Special Education studied how pupils' reading skills have changed since 1970. They discovered that reading ability has improved steadily in Italy and Hungary, while it has fallen rapidly since 1991 in the US and Sweden.