Luv ka punch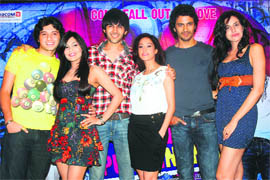 The director of the film Pyaar Ka Punchnama, Luv Ranjan, in Chandigarh on a promotional tour, has no love lost for the censor board
Statutory warning: the film is injurious to relationships; don't watch it with your partner. It's a 'generous' sum up of all the atrocities that women have inflicted on men over a period of time. It's about their leisure time zones; their obsessive compulsive disorder to ask their partner before dressing up for an occasion; their incessant questions just about everything. Sorry ladies!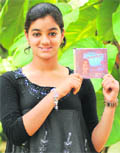 SINGING glory
Patiala girl Asmita comes out with a solo album
You're crazy girl/ Tauba nazara tera/ Shining like a pearl/ Tauba ishara tera/Just one in the world/ Saara zamana hai tera...lilt singers Asmita Garg, Prekher and Vaibhav...a pleasant, refreshing number that makes us forget the blazing sun outside and the accompanying dreariness of life!
FIRE in the belly
With reality television in the forefront, we find one person who introduces us to the flip side of these TRP-hogging shows
The house did not afford a very worthwhile look. An old television set occupied the computer table and the crockery table was gathering dust. From the façade, the setting could not build a success story.
chatter box
Salman in Gokuldham society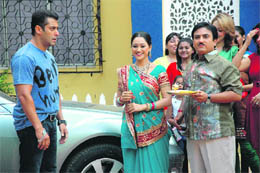 Members of Gokuldham society from Tarak Mehta Ka Ooltah Chashmah on SAB TV will have special guest from Ready to meet them in the upcoming episodes. It is none other than superstar Salman Khan who will appear in the show to promote his movie.
Ready for more: Salman Khan
Bollywood Gossip
Action packed
Kareena Kapoor will be seen doing action scenes in Ra.One and Agent Vinod and Salman Khan's Bodyguard will obviously have action scenes. She has different roles in the big budget movies. She is not fond of action scenes but she listens to her directors.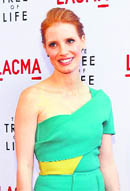 What a Treat: Jessica Chastain pose at the premiere of "The Tree of Life" at LACMA in Los Angeles. —Reuters
Tigress no more
Hollywood superstar Angelina Jolie says that she owes her present "softer" personality to her children.
Bags of charity
Hollywood celebrities Lindsay Lohan, Taylor Swift and Jessica Simpson have donated their carry-on flight bags for charity. They are among 50 people who have donated signed luggage - including briefcases, carry-on cases, party purses and guitar cases - to an auction by JetBlue Airways, which will donate 100 per cent of the proceeds to their charity partner - DoSomething.org.
Knot now!
Hollywood star Johnny Depp has said that he has no plans to get married in the near future.
The 47-year-old actor said that his greatest achievement has been meeting his partner Vanessa Paradis, but added that he has no plans to tie the knot with her.
No going Gaga over love


Pop superstar Lady Gaga has revealed that she would never go out looking for love because she thinks it comes by itself unexpectedly. But the Judas singer, who recently split from boyfriend Luc Carl, doesn't think being romantically involved with someone is the key to happiness. "I would say don't go looking for love, let love find you. That's when it will happen," she said.
Bald & not beautiful!
With baldness becoming the middle name for the youth today, we explore various options available around Chandigarh to ensure you retain your mane
So, you recently added the 30th candle to your birthday cake? Have a great career? Your personal life is settled? Feel healthy? Look good? Really? Look again…maybe you are one of those men suffering from the 'dreaded' receding hairline syndrome -baldness. If yes, the information below could prove useful for you.
Trendsetter
Simply elegant
Beauty today is not just skin deep, it's found in the attitude and confidence of an individual. Armaan Mann, an engineering student from University Institute of Engineering & Technology, has oodles of both.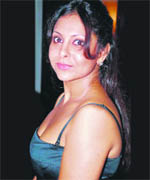 Inside the criminal mind
Actress Shefali Shah, who went to the extent of meeting an under-trial prisoner in Thane Jail to give authenticity to her role in the forthcoming film Kucch Luv Jaisaa, discovered that there is a human within every criminal and one can easily connect with that side of their personality.
GET PHYSICAL
Back to basics
This yoga pose is recommended for spiritual reasons and general improvement of internal organ functions. The Supta Vajra asana pose offers a good stretch of the upper body and massages the abdominal organs to reduce constipation. It also alleviate the disorders of the abdominal organs, the liver, the kidney, the spleen and strengthens the muscles of the legs, thighs, pelvis and abdomen.
Master Chef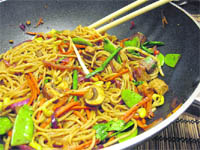 Thoda sa Thai ho jaaye?
Thai food! A medley of lemon grass, basil, galangal, tamarind, kaffir lime and chillies with lemon juice and garlic overtones! Perfect, light and aromatic food befitting the summer heat! Harmony and balance between the various flavours is the guiding principle behind each Thai dish. There is a great deal of emphasis on the freshness of every ingredient and being light, you can eat a belly-full without acquiring a pot belly!
Why women love moody men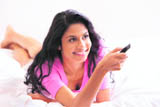 A new University of British Columbia study has concluded that women find happy guys significantly less sexually attractive than swaggering or brooding men. The study- that helps to explain the enduring allure of "bad boys" and other iconic gender types - found dramatic gender differences in how men and women rank the sexual attractiveness of non-verbal expressions of commonly displayed emotions, including happiness, pride, and shame.