THIS ABOVE ALL
Born to fly
Khushwant Singh


Khushwant Singh
I applaud the Gujarat High Court's verdict that keeping birds in cages amounts to denying them their birthright to fly about freely and is, therefore, illegal. As a result, thousands of birds were released from cages and allowed to enjoy freedom of the skies. However, I have once reservation. Birds should have the right to stay in homes which give them shelter, food and companionship. I give a few examples.
Retired Air Chief Marshal Latif lives in a spacious bungalow in Hyderabad. He has one room stretching into his garden. He has two to three dozen quails living in it. Every morning he joins them for breakfast and every evening for tea. He feeds his birds; they are all over him, twittering happily. A couple of cats eye the quails from the outside. The quails watch them from their "cage." The quails enjoy security, food and love they get from their owner.
There is Kamal Nain Singh, a retired IAS officer, and his Jain wife, also a retired IAS officer. They live in Chandigarh and have a summer house in Kasauli. In their sitting room, live a variety of birds — chukors, partridges and quails. Also, a dog or two. The birds can fly away if they want to. But they prefer to stay at home. When Kamal Nain and his wife come, the birds give them a noisy welcome. The sight is heart-warming.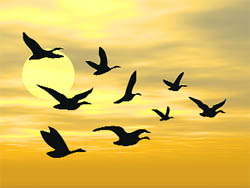 Birds have the right to fly freely in the sky. They should not be caged
The third case is that of Ramesh Singh, who lives in Frankfurt (Germany). His German wife Ella bought a grey African parrot. At first they kept it in a cage. Then they closed the windows of the room and let it fly round. When I first called on them, the parrot was perched on a swing specially designed for it. It would welcome its master by squeaking loudly, flying round the master's head, sitting on his turban and then his shoulder and tweaking his beard. Ella died two years ago. Ramesh lives with his close companion — the grey African parrot. While interpreting the Gujarat High Court judgement, I hope no one will come in the way of birds bonding with human beings.
No hell, no heaven
Stephen Hawking, 69-year-old physicist in Cambridge, is recognised as the greatest living genius of our times. When he was just 21, he was stricken by a serious disease and was told he would not live very long. He mentions this in his book, The Grand Design, published last year: "I have lived with the prospect of an early death for the last 49 years. I am not afraid of death. But I am in no hurry to die."
In a recent interview with a press reporter, he repeated why he did not believe in God, heaven or hell. This is nothing startling about his assertion as two centuries before him Mirza Ghalib said the same thing: Hum ko maaloom hai jannat kee haqeeqat lekin;
Dil ko khush rakhney ko Ghalib ye khayal achha hai (I know the truth about paradise. But it is a good idea to keep one's heart happy).
Likewise, another Urdu poet wrote:
Hakayat-e-hastee sunee to dermiyan sey sunee;
Na ibtida kee khabar hai, na intiha malloom
(What we have heard of the tale is only the middle. We do not know the beginning. We do not know the end). I have been saying the same since I started writing these columns over half a century ago. And I am no genius. I exhort my readers who do not know the answers to life and death to admit that ignorance and say: "I do not know."
Pakistani English
Pakistani cricketers who do not know the English language well, prepare the answers before a match takes place. After a match was over, Tony Greig interviewed Inzamam-ul-Haq.
Tony Greig: "So, Inzy, that is fantastic. Your wife is pregnant for the second time."
Inzamam: "Masha Allah, all the credit goes to the boys. Everyone worked hard for it, specially Afridi. His performance was really fantastic. Also, a good crowd had gathered to see his work."
With love
Last evening, I was in the pub with my wife Savinder. I said: "I love you." My wife said: "Is that you or the Scotch talking?"  I said: "It is me, Savinder, talking to the Scotch"
(Both contributed by JP Singh Kaka, Bhopal)