The Mr Green of Chandigarh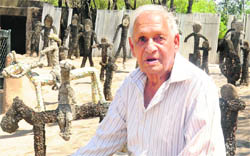 Chandigarh's ecology is incomplete without Nek Chand. Rock Garden, the landmark creation of his imagination that has become synonymous with the town, grows organically like trees planted amid the rocks in his garden. If you took an aerial view of the garden, only green appears, overshadowing all those marvels created out of recycled waste under its canopy.
Photo: Pradeep Tewari
Out of your mind!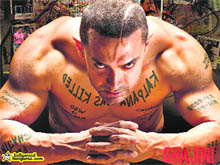 The threat of amnesia has scaled such heights that even a minor 'head bump' between two people on screen can lead to memory loss. Going by how our TV actors are losing their memories, we suspect it will soon become an epidemic! Ishaan, played by Jai Soni, in Sasuraal Genda Phool is the latest victim; Nakusha (Mahie) of Lagi Tujhse Lagan is fighting the battle, thankfully, Rudra, played by Iqbal Khan in Sangini, has just recovered!

Body mapping: Aamir Khan in Ghajini

Dress rehearsal for life
Marriage is a small, but life-changing word. This holds true for the couple and particularly for the bride-to-be. All the jitters and the butterflies in the stomach are evident in the glow on the face! All preparations are taking time, the trousseau is not ready and suddenly you realise that you haven't learnt your fiancés favourite Mexican dishes. So, young, beautiful brides-to-be, if you are dreaming for the monsoon wedding this year, read on.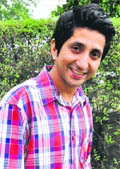 Back to SCHOOL
He is a man of assorted interests. From composing Punjabi songs to working in a radio channel, Parminder is busy exploring his capabilities further and has now landed himself as the host for ETC's brand new show 'Sadda School'. Talking about the programme, which will go on air on June 3, Parminder tells us about his affinity to children and how it all translates on to the screen. "People love connecting with the youth; we are going a step ahead and taking them to school," he smiles.


Photo: parvesh chauhan
Yes, mate!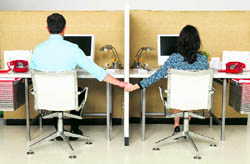 Jasleen, 26, fell for this co-worker of hers who talked the least and gave the best work. Working on assignments together, they grew from friends to lovers and it was not long before that they tied the knot! If one goes by the number of people getting hooked to co-workers, it looks like office romance is in the air. ISpending most of the time at work and socialising more with co-workers, there are some obvious advantages of being in a relationship (dating or marrying) with someone from work.
Sonu back with X Factor

Superstar singer Sonu Nigam is back on television with a brand new music reality show Sony's X Factor. Sonu who has judged many music shows calls X Factor one of its kind and cherishes the fact that he won't have to get involved in fake fights with co-judges or contestants for TRPs. Sonu explains why he chose the show, what is special about it and what one can expect from X Factor.
What made you chose X Factor?
X Factor is the world's biggest music show and has been adapted by several countries successfully.
Trendsetter
Evergreen Fashion
Style is individualistic and that conviction warrants a second glance, feels six feet tall Anmol Soin. He is president of Havard Model United Nations a World Student Programme, shares his ideas on style:
Route to fitness
Katja Wollenweber, a German fitness expert with mastery over Pilates, yoga and ballet, keeps coming to India again and again. "I can't explain why, but I guess there is some strange, special connection that makes me visit this fascinating country," shares Katja in a press meet to announce her classes in Chandigarh.
High Spirits
Bahama Mama
A perfect drink for summer that is very popular and a crowd pleaser. Also called the national cocktail drink of the Bahamas.
Are you date worthy?
You may think that your success in the dating world may lie in your honesty, humour, and so on, but a new study has revealed these may have little to do with what your date may actually like. Certain personality traits contribute to being a good judge of whether someone else thinks you're worth meeting again, according to the study.
Marriage suits Hilary


Hollywood star Hilary Duff has said that her life has changed a lot since she married hockey player Mike Comrie. The 23-year-old singer and actress, who married the Canadian NHL player last August, said she is delighted at how much more time they have spent together since they became man and wife.

Kicker: Hilary Duff
Beautiful mind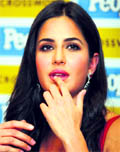 Katrina Kaif is known for her sexy avatar, but this actress remains grounded. She says, "The audience love me and that's my biggest asset. I have learnt in life that one should always stay grounded and never let success go to your head. One day it's there, the next day it's gone. I believe in working hard. The people who were with me will always stay with me- from my friends, to hair dresser, to spot boy and driver. They were with me from my initial days and are going to be with me unless and until they quit the job for some reason".

Girl next door: Katrina Kaif
Bloom in The Hobbit
Orlando Bloom is reuniting with his Lord of the Rings director Peter Jackson for The Hobbit, the much hyped adaptation of JRR Tolkien's original novel. Jackson says he is thrilled to work again with Bloom, who played elf Legolas in the 'Rings' series. But the actor will appear in a different role in the new movie, the Hollywood Reporter said.