Time to get high on energy effeciency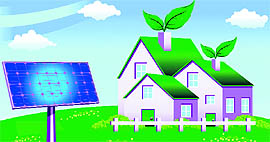 The building sector in India is growing at a rapid pace and is the third largest consumer of energy after industry and agriculture. Development has its flipside too, as one can see in the case of our major cities that have become virtual concrete jungles in the race to accommodate the burgeoning population. The building construction industry is increasing rapidly at a rate of over 49 per cent per year with more than 40 million sq m of commercial and residential space being added annually.


Price Index
GURGAON Apartments - III
JALWAYU VIHAR(G.C ROAD)
7200 TO 7300
JMD GARDEN (SOHANA ROAD)
4500 TO 4600
KARAM HI DHARAM Cghs(Sector-55)
5200 TO 5400
KENDRIYA VIHAR
(SECtor-56)
4200 TO 4250
MAPPLE HEIGHTS,SUSHANT
LOK-1
5900 TO 6000
MAPSKO PARADISE(SECtor-83)
3700 TO 3800
NIRVANA ESCAPE
(SECtor-51)
6150 TO 6300
PALM HILLS, MGF.
(SECtor 77)
PALM SPRINGS
(G.C ROAD)
10000 TO 10300
3600 TO 3675
PARSAVNATH EXOTICA (SECtor-53)
7172 TO 7300
PARK VIEW-CITY 1
7220 TO 7300
PARK VIEW NEXT
(SECtor-67)
4400 TO 4500
PROVIENCE ESTATE(GURG-FARI ROAD)
6600 TO 6700
RAHEJA ATLANTIC,NH-8
4475 TO 4550
RIDGE WOOD ESTATE(DLF 4)
8550 TO 8600
ROYALE VILLAS
(SECtor-82)
3600 TO 3700
Price in Rs per sq ft
Please note: The prices may vary as per the size and location of apartments, and are subject to change from time to time.
Source: Nirmal Infrastructures. Mohali
nirmalinfrastructures@yahoo.com
Heat and Trust
Resentment is brewing among plot holders in Maharaja Yadvindra Enclave, Nabha Road, Patiala against the notices served upon them by the Improvement Trust, Patiala to complete the construction of houses on their plots by June 30, 2011, failing which their plots could be resumed by the trust along with forfeiture of their deposits.
Tax Tips
nAnnual value as starting point for computing tax
nShare in property
nNo claim to rebate
nAgri income not taxable
nSelling non-residential plot
Water management
During summer months, the watering woes of the garden are unending if not tackled judiciously. In the last column we had discussed the potted plants and their management during the time of water shortage. This week we move on to the home gardens. A home garden comprises many units like seasonal flowers, lawn, fruit trees and vegetable beds. The gardener has to look after all the plants in the garden. It is, therefore, important to know the priorities and fixing them.
Nitesh Estates
Nitesh Estates Limited has announced impressive performance for the financial year ended March 31, 2011 clocking a growth of 58 per cent at Rs 144.06 crore (including other income) as against Rs 91.4 crore in the last fiscal. The company posted a higher net profit at Rs 12.19 crore compared to a loss of Rs 3.05 crore in the last financial year.
Withstanding disasters
Every year lakhs of houses are destroyed and damaged in India due to natural disasters like earthquakes, floods, landslides and cyclones.
Secure your home
Security is a major issue for home owners all over the country. The traditional concept of a security guard at the main entrance is passe as technology-based solutions are gaining ground in different cities.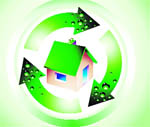 Keep it cool
Scorching summer sun makes people in the region crave for a shady and cool ambience. Keeping their houses cool and comfortable in the hot summer months is a major concern of householders. While there is an unsatiating demand for electrical equipment capable of bringing down the room temperature , it is very important to look for other "natural" options that will make homes cooler and are conveniently available in market.
Rule of law
Q. I would like to know the main laws concerning zonal and environmental issues on the use of land. — Dr.S.K.Kapoor
Sushma Elite Cross
Infrastructure company Sushma Buildtech Limited recently launched its project Sushma Elite Cross. Located at Sushma Square the new project has on offer 360-degree open view apartments in the tricity.
One-stop solution
Gurgaon-based real estate development management company V Square has brought a unique concept in the real estate industry.