Reckoning with the rest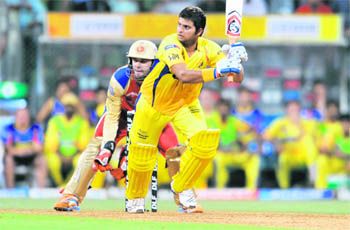 Abhijit Chatterjee
The new-look Indian cricket team, which will take on the West Indies in a one-off Twenty20 clash and then a series of five One-Dayers, might just be the thing which Indian cricket direly needs at this point of time. Why does one say so? For one, if India are to remain on top of the ICC pecking order this is the right time to develop its bench strength.

The task of leading India in the first segment of the West Indies tour has fallen on Suresh Raina, whom many rate as the fittest player at present Photos :AFP

Whither West Indies?
At one time, the West Indies were the strongest team in the cricketing world, both in Tests as well as in the one-day format. But no more. They struggle to find adequate replacements for their fading stars and have to battle a huge migration from cricket to other games, notably basketball and athletics. From the mid-1970s to the early 1990s, the West Indies team ruled the cricketing world. A number of cricketers considered among the best in the world have hailed from the West Indies. Sir Garfield Sobers, Lance Gibbs, Gordon Greenidge, George Headley, Clive Lloyd, Malcolm Marshall, Andy Roberts and many more have been inducted into the ICC Hall of Fame not to forget Brian Lara and Sir Viv Richards.
Look, the label!
All the gym sessions may be futile if you're not reading food labels right in the battle of the bulge
Shilpa Raina
Wondering why all your gym sessions and health food are not making any difference to your expanding waistline? The problem may be your reading skills! Experts say that getting the true meaning of food labels and culling precise facts from them is often the difference between flab and fit. Ritika Samaddar, chief dietician at Max Healthcare, points out the trap most of us fall into while reading a food label.
Hip and happening
Hips power our walk and ankles our run, says a study
Researchers at North Carolina State University have for the first time compared the role of hips, knees and ankles for human walking and running motions. They found that hips generate more of the power when people walk, but the ankles generate more of the power when humans run. Knees provide approximately one-fifth or less of walking or running power, according to the study.