Flute finesse
S. D. Sharma

Noted flautist G. S. Rajan comments on the contemporary and classical music scenarios
AN invincible flautist and globe-trotting performer with mastery over Hindustani and Carnatic music, composer, vocalist, acclaimed art critic and able administrator, Delhi-based maestro G. S. Rajan cannot be described in a single epithet. Born and raised in the musical family of Gayathri and G. S. Srikrishnan at Calicut, Rajan gave a foretaste of his musical potential by regularly performing for AIR station even while he was still imbibing the nuances of classical music from his guru parents, who were revered names in Carnatic music. Rajan, like any youthful aspirant for fame, first worked as a musician for films in Chennai only to realise that it could not nourish the artiste in him.
The resolute Rajan thus came to Kalakshetra and trained under the care of its founder, the legendary Rukmini Devi Arundale. Besides winning accolades and awards for music compositions for plays, films and art criticism, his excellence as a flute maestro and composer won him popularity in India and abroad. A graded artiste of AIR, Rajan remained deputy secretary of the Sangeet Natak Akademi of the Union Government and officer in charge of the German Festival of India for one year. Under a one-year fellowship from the France Government, he composed and presented raga symphony with French artistes.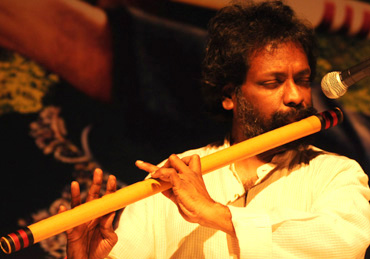 In the city recently on the invitation of the Chandigarh Sangeet Natak Akademi for a concert, Rajan shared his views and experiences on the music scene. Excerpts from an interview:
Any fond memories and inspirations of childhood or college days that contributed to your rising career graph in music?
Since childhood, I had the golden opportunity to be with great maestros at home ó `A0my parents, Gayathriji and Srikrishnanji, who were both musicians and working in All India Radio. An inclination for music was natural and mandatory, too. In my school days, I composed for AIR's youth programmes as also light songs for AIR and Doordarshan.
What were the factors that shaped your sensibilities and made you choose the flute when you had shown equal brilliance in other genres?
One of the major factors in being drawn deep into music was my joining the internationally reputed Kalakshetra when Rukmini Devi Arundale was still at the helm of affairs. I studied vocal music from M.D. Ramanathan and Puthokode Krishnamoorthy and flute under H. Ramachandra Shastri. While studying in Kalakshetra, in my free time, I started playing the keyboard for mainstream films and also composed and arranged for many famous music directors. After moving to Delhi, I did a lot of work in music composition. I have done music for albums, ballets, films, plays, dance-dramas, documentaries and so on, besides light songs for the national network of Doordarshan and also music television advertisements.
A feature film, Miles to Go, produced at Singapore with my music direction went well and I am awaiting more offers. Flute is a tiny but melodious musical instrument, which is difficult to play.
Are there many artistes who are proficient in both the Carnatic and Hindustani traditions?
To be frank, I am 'Jack of all, master of none'. To me there are only two gharanas in our classical music and they are Carnatic and Hindustani. I relish Carnatic music but find myself at home with north Indian classical ragas. In any case, both streams are derived from the common Vedic heritage.
Which of your skills ó that of the acclaimed flautist, composer, music critic, performer or administrator ó is close to perfection?
In whatever I do, I look for perfection and quality. Perfection is next to God only, I am just a humble human being.
Why are there more takers for classical music in the South than in the North?
Classical music and classical dance are normally taught to children in the South, where itís a tradition and perhaps a marriage qualification, too. Whatever the reason, this tradition has created the much-wanted rasikas.
While the North has been subjected many invasions and wars, compared to the South, how do you see their impact on our musical arts?
The influence of Iranian music is evident on Hindustani sangeet. Even the instruments like the sitar (original name satar), sarod and many other instruments must have had their roots in Iran and some states of the erstwhile Soviet Union. However, today the quality of music is higher in the Hindustani tradition and the Indian contribution in shaping these instruments and their adaptation to our classical music are worth mentioning.
The gharanas get much credit for their role in propagating music, but why is there no gharana concept in the South?
The equivelent of the gharana in the South is called baani or style. As I said earlier, to me there are only two gharanas in Indian classical music ó Hindustani and Carnatic.
How necessary is patronage by the government or corporate sector in promoting music and saving it from alien influences?
Classical arts were never the common manís cup of tea. In olden days, the maharajas used to promote the classical arts. Now, it is the duty of the government to do so. Even in western countries, classical symphonic orchestras are funded by the government.
Indian classical music is like the vedas. The vedas till date have not died or lost their colour. So, nothing will influence Indian classical music.
Yes, innovations will take place. Without innovation traditions will become stagnant.
Your opinion on fusion and remix?
Fusion often becomes confusion. If we fuse traditional music with popular music or the traditions of other countries, it should be done with a lot of care and without losing our roots.
Why not many film compositions are based on classical music these days?
Ragas are such that any popular tune can find similarity to one raga. Well, the success of Illayaraja or Rahman may be because they have beautifully orchestrated raga-based songs.
The sitar is still said to be more popular in the West. What about the flute?
The sitar naturally is famous in the West due to maestro Pt Ravi Shankar, who can be termed as the father of Indian classical music abroad. Pt Chaurasia's flute is also famous in the West, especially in Europe and many students from there are learning the instrument.
Your advice to budding artists who are assured of overnight stardom by reality shows these days.
Only with dedication and selfless surrendering to the classical arts can give them that eternal happiness.
Any future projects and your earlier experiences with the foreign audience?
I was fortunate to get this patronage from the French Government to live in France and compose 'raaga symphony'. I did lived there, composed western scores using ragas and presented my compositions with the orchestra of cite de la musique in Marseille.