M A I N N E W S
Ramdev evicted from Delhi, drama turns political


Yoga guru bundled into a police van, flown to Haridwar

Barred from entering Capital for a fortnight

Over 100 injured, claim supporters
Himani Chandel
Tribune News Service
New Delhi/Haridwar, June 5
In a high-octane midnight drama, police today cracked down on Ramdev and thousands of his supporters forcibly shutting their hunger strike against black money, triggering a political war between the government and the Sangh Parivar, including BJP.
The Delhi Drama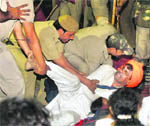 June 1: Ramdev arrives at Delhi Airport. Four Union Ministers meet him and discuss issues with him on eradication of corruption and black money.
June 2: Back-channel talks held
June 3: Ramdev holds talks with Sibal and Sahay. Both sides claim consensus on most of the issues. Ramdev sticks to his decision to go on fast.
June 4: Fast begins. Govt shows a letter from Ramdev's camp declaring that the indefinite fast would be called off Ramdev calls govt's action a betrayal.
Midnight June 4-5: The police swoop down on the venue a little after1 am
2:10 am: Ramdev appeals for calm
2:30 am: Ramdev jumps from the stage into the crowd and vanishes.
The 46-year-old Ramdev, who sought to escape disguised as a woman and was served with an externment order that barred him from entering into the capital for a fortnight, was bundled into a police van before dawn and flown to Haridwar in a small plane, hours after both sides blamed each other of betrayal.
A heavy contingent of Delhi police personnel, including the Rapid Action Force, descended on the fast site a little after 1 am and fired teargas shells and resorted to lathicharge when they met with resistance from the followers of Ramdev who had just completed a day's fast demanding measures to repatriate black money stashed abroad.
The yoga guru, who was met by a high-power delegation of ministers led by Pranab Mukherjee on June one at the Delhi airport, vowed to continue his fast-unto-death and threatened to re-enter the capital in the night. It was a nightmare for thousands of followers of Ramdev, who had come from all parts of the country to join his 'satyagrah' against corruption.
The yoga guru and his followers were in a restive mood well past midnight. They were taken by surprise when police personnel entered the ground and started dispersing the crowd with batons and teargas.
Ramdev's supporters claimed that over 100 persons were injured in the pandemonium, including women and children, who were admitted to a nearby hospital. Police, however, disputed the claim, saying 39 persons had suffered injuries.
Ramdev later claimed that he, too, was manhandled by the police as cops tried to strangulate him while arresting him.
He was physically lifted and carried away, which further agitated his supporters. "It could have been a big massacre similar to Jalianwalla Bagh had I not appealed to my supporters to calm down," said Baba in a press conference done in his Pantanjali Yogpeeth Haridwar afterwards.
During the ruckus that went for around two hours clashes erupted between security personnel and Ramdev supporters, some of whom armed themselves with iron rods and fire extinguishers. To defend themselves, many of Ramdev's followers hurled stones at police, to which the security forces hit back forcefully.
Within two hours of the operation, the Ramlila ground was in a shambles and looked like a war zone. In the morning it wore a deserted look with scattered, unclaimed articles lying around. The midnight police action came just about 14 hours after Ramdev went on his indefinite fast after his talks with senior government ministers failed.
The police action drew sharp criticism from civil society members and opposition parties. The police, however, justified the action, contending that he was allowed to use the Ramlila ground for the yoga camp and not for protests.
"We will appeal to the Chief Justice of India to order an inquiry into the police brutality," said Jai Kishan Roy from Tamil Nadu, who was among Baba's supporters injured in the incident. (With inputs from PTI)
n Edit: Pendulum swings

Caught in woman's white attire
New Delhi: Ramdev lived up to his billing as a maverick as he jumped from the dais in the Ramlila Maidan and melted in the crowd before resurfacing in a salwar-kameez in a bid to dodge past the police posing as an injured woman.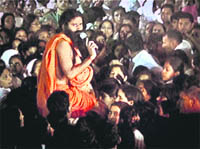 Ramdev addresses his supporters moments before the police raid on the venue
But the script went wrong for the 46-year-old yoga guru as some cops grew suspicious after the "seriously injured woman", who was walking with both arms thrown over the shoulders of two women, refused to board an ambulance offered by them. For Ramdev and security establishment, it was a high drama - from his going missing to finding him and then sending him to Dehradun in a special plane. It was 4 am and almost three hours had gone by after the police lost track of the yoga guru, who leapt from a three-metre high rostrum into a sea of his followers teeming under a giant tent and did a vanishing act.
Ramdev had sought five minutes from the police to gather his belongings but he swiftly picked up the microphone and shouted "Vande Mataram" to rouse his followers from slumber and resist the police plan to break up the protest.

HARIDWAR: Angry at the disruption of his fast, Baba Ramdev on Sunday lashed out at the government and targeted Sonia Gandhi over the "police barbarism" on his supporters while threatening a nationwide agitation.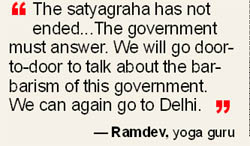 Terming the police action on women and children at the Ramlila ground as a "blot to democracy", he claimed that there was a conspiracy by the Centre to get him killed and a threat was issued to him during a meeting with senior ministers. Ramdev, who was bundled out of Delhi, said he will resume his agitation against corruption in Haridwar from Monday after being denied entry in Uttar Pradesh. "No one should violate law and so I am not going to Delhi. I was not allowed to reach Noida in UP to continue the protest," he said. Ramdev said if the rulers of the country were honest enough, then there was no need for him or social activist Hazare to hit the streets to protest against corruption.
The yoga guru said he would like to join Hazare on Wednesday for the hunger strike announced by the Gandhian to protest police action against his followers.