M A I N N E W S
Congress goes all out against Ramdev
Blames yoga guru, BJP for trying to destabilise govt
Tribune News Service
New Delhi, June 6
A combative Congress today promised to deal sternly with 'communal forces and those wanting to destabilise the government'. The party also accused yoga guru Ramdev, whose fast against corruption and black money was forcibly ended after Saturday midnight, of being a 'mask for the rightwing RSS'.
Upset over Congress president Sonia Gandhi being targetted by Ramdev, party general secretary Janardan Dwivedi said a man who claimed to be saint had tried to escape wearing a woman's clothes, something that a true 'sanyasi' would never do. "Satyagrahis don't run away wearing woman's clothes. They stay on to fight," he contended.
He also accused the BJP of trying to foment trouble in order to return to power at the Centre. Lashing out at BJP for comparing Ramdev with Mahatma Gandhi and Vivekananda, he said: "Those who are backing Ramdev did not even have anything to do with satyagrah, not even the struggle for independence."
Congress counter-attack came after the party's core group meeting yesterday where it was decided to deal with challenges posed by 'communal and other forces' head-on, instead of treating them with kid gloves. Sources say Sonia Gandhi was upset at the police crackdown at Ramlila Maidan agitation venue as also several other decisions taken by the government.

Delhi Crackdown
There was no option: PM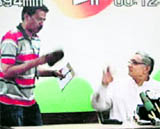 New Delhi, June 6
Prime Minister Manmohan Singh today broke his silence on the eviction of Baba Ramdev and his supporters from the Ramlila Maidan, saying the police crackdown on the yoga guru was "very unfortunate" but there was no alternative.
Talking briefly to reporters after a function here, Singh also asserted that his government was serious about combating corruption but hastened to add that it did not have a "magic wand" to remove this malaise. — TNS