M A I N N E W S
After Headley, Rana nails ISI on 26/11
Reveals Pak spy agency supplied arms to Kashmir terrorists
ON-CAMERA ADMISSION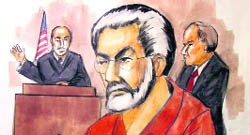 n Headley was affiliated with both the ISI and the LeT and also met Ilyas Kashmiri
n Major Iqbal was Headley's contact in the ISI and I had also spoken to Iqbal over phone
n Headley told me that although the ISI knew that he was working for LeT, the terror group was unaware of his links with the spy agency
Chicago, June 7
Pointing at ISI's direct involvement in providing arms to militants in Kashmir, Tahawwur Rana, one of the key accused in the Mumbai terror attacks, has told the FBI that Pakistan's spy agency gives weapons to terrorists when they are about to enter the Indian territory.
Rana's questioning video played for the first time during his trial here shows the 50-year old Pakistani-Canadian giving details about his conversations with LeT operative David Headley, another accused in the case, who had identified targets in Mumbai which were attacked in November, 2008.
In over 17-minute clips of seven videos, part of Rana's interrogation on October 18, 2009, hosted on the official website of the court as evidence submitted, he is shown telling FBI officials that Headley had promised him that he would help him return to Pakistan and settle his case in that country's army which had declared him a deserter.
Rana had been declared a deserter by the Pakistani army, where he was a doctor, after he declined to go to the glacier region following his posting there.
FBI agent Jeffrey Parsons, while deposing before the court yesterday, said Headley used his personal links to favour Rana. Parsons along with FBI agent Benabides had interviewed Rana after his arrest in October 2009.
Rana, knowing well that his statements could be used against him during the trial, told the FBI investigators that Headley had told him that ISI was providing weapons to "freedom fighters" in Kashmir.
When asked about the ISI and weapons, and Headley's role, Rana said, "No guns but now obviously it's, uh, a freedom fight...in Kashmir. I think he said ISI gives them weapons."
"When he says, when they (terrorists) about to enter into India. So, at that very moment, when they say bye-bye to each other...ISI at that time gives them, you know, guns," Rana told the investigators.
Rana, who was a Pakistani army regular before being declared a deserter, said Major Iqbal was Headley's contact in the ISI. He also said that he had spoken to Iqbal over phone. "He (Iqbal) call and he call me sir, and I'm. I was a captain, when I deserted Pakistan Army," Rana said. — Agencies