Baba threatens armed rebellion
Tribune News Service
Haridwar, June 8
Threatening an armed rebellion, yoga guru Ramdev today said he would raise a force that would be trained to retaliate if authorities crack downed on their anti-corruption campaign.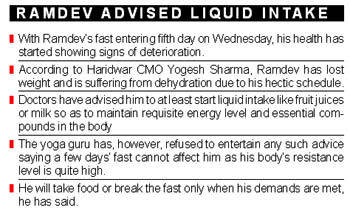 "I appeal that 20 young men from every district should come here. We will train them in both shashtra (vedas) and shastra (weapons)," Ramdev said in Haridwar during his morning yoga session. He pointed out that he needed both boys and girls aged less than 35-40 years with a sense of nationalism. Initially, approximately 11,000 youth would be trained at Patanjali Yogpeeth in Haridwar, mainly from the 624 district centres spread across the country of Bharat Swabhiman Trust.
Applications would be sought from centre in charges with scrutiny of capable candidates that will be done by a committee of the trust which then will be given strenuous training in Haridwar.
This voluntary army being touted as 'Swabhiman Sena' will be trained in martial arts, weapon warfare as well as in the art of yoga aided with knowledge of ancient scriptures.
This development is being seen as a fallout of June 5 Ramleela ground police crackdown on Ramdev and his supporters in Delhi.
Immediately after this announcement, criticism of Ramdev's statement came from varied quarters. Gandhian activists termed it as "undemocratic" while the Congress termed it as the hardline ideology of RSS which is backing the yoga guru's movement.
Union Minister of Agriculture and Food Processing Harish Rawat in Haridwar termed Ramdev's army as "undemocratic" as he was taking the law into his own hands while there was a constitutional police-army set up in the country against whom only criminals or enemy fought. While the Uttarakhand Women Congress general secretary, Dr Santosh Chauhan, demanded a case of treason against Ramdev on the basis of his statement as every major organisation or personality would otherwise follow suit, creating anarchy in the country.