M A I N N E W S
Mumbai-born designer a hit with Michelle O
US First Lady shimmers in Naeem Khan gown at Merkel State Dinner
Washington, June 8
Indian-born, American fashion designer Naeem Khan seems to have become a big hit with America's chic First Lady Michelle Obama, who is increasingly flaunting his dresses at state dinners.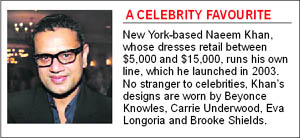 For the second time, Michelle shimmered in an all-over embellished sleeveless, floor-length gown by Khan at Tuesday night's State Dinner at the White House in honour of German Chancellor Angela Merkel. It was an ivory, V-neck column dress embellished with silver beads, white sequins and metallic thread in a geometric pattern - and she's back to what seems like her favorite seasonal sleeveless look, which shows off Michelle's famously toned arms.
Mumbai-born Naeem Khan also designed the gown Michelle Obama wore to the first State Dinner she and President Barack Obama hosted for Prime Minister Manmohan Singh in 2009. In fact, Tuesday's ivory, V-neck column dress was reminiscent of the 2009 one-of-a-kind handmade gold strapless gown adorned with sterling silver-plated appliqués, which was instantly labelled a style success.
She accessorised with gold bangle bracelets by Alexis Bittar. Grandson of a textile entrepreneur who specialises in elaborate embroidery, Khan moved to the US to attend school when he was 20. Later, became an assistant for the iconic minimalist designer Halston. — Agencies