HIGH-RISE TIME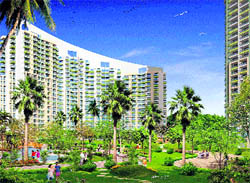 Ludhiana is the "crown jewel" of the real estate market of Punjab. Being the fulcrum of the economy of the region, the dynamics of real estate market over here have a cascading effect on the entire Punjab. The market is plush and the denizens have a lot of surplus money which gets invested in real estate. "The city is experimenting with new metropolitan style of living — high-rise luxury apartment living. Homebuyers today are going in for apartments which come with all modern infrastructure and facilities.
Property prices up in Delhi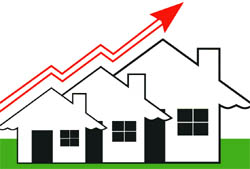 Property prices in the national capital have increased by up to 28.02 per cent in the January-March period this year in comparison to the year-ago period as per the report of real estate portal 99acres.com. "Capital values in Delhi continue to move upward even though the market seems to be in a phase of stagnation and (there is) lots of talk about imminent price reduction," 99acres.com Business Head Vineet Singh said in a statement.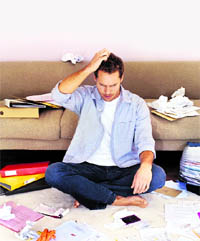 Ground Realty
PAPER perfect
Meticulous maintenance of papers and records during the construction of your house can go a long way in helping you to keep things under control. Construction period normally spans over one to two years. One tends to lose track of quantities of materials purchased, payments made to different labour gangs, dates on which the machinery, scaffolding or shuttering was hired and many other things. Your papers help in retrieving the forgotten points, avoiding over purchases as well as over payments. And by the time the construction work is completed you will have an invaluable store of information that may be of help to relatives and friends.
Maintaining complete record of documents and expenditure incurred during construction will not give sleepless nights to house builder later on
REALTY BYTES
Awarded
Jones Lang LaSalle has been named 'Best Property Consultancy' in Asia Pacific at The Asia Pacific Property Awards 2011 in association with Bloomberg Television event held in Shanghai earlier this week. The firm dominated the award categories across 10 countries in the region, winning the 'Best Property Consultancy' awards (five-star) in Australia, China, Japan, New Zealand, the Philippines and Singapore, and Highly Commendable awards in Hong Kong, India, Taiwan and Thailand.
tax tips
n No tax liability
n Get possession in time
n Take loan from wife
n No tax on gift to son
DLF launches 1,300 plots at Indore
As part of the company's strategy to focus on plotted development, the country's largest realty firm DLF today launched 1,300 plots at Indore, expecting a sales realisation of about Rs 300 crore from it.
LAUNCH PAD
Exclusive Floors
The real estate market in the tricity is buoyant and booming not only as far as prices and new launches are concerned, but also in assimilating and offering the latest trends in housing. With a growing number of home buyers preferring independent floors a number of builders are now offering these in their upcoming projects. Taneja Developers and Infrastructures Ltd. (TDI) became the latest entrant in this segment this week by unveiling 'Tuscan Residency Exclusive', a part of TDI City Mohali-II, Sector 110 and 111, Mohali.