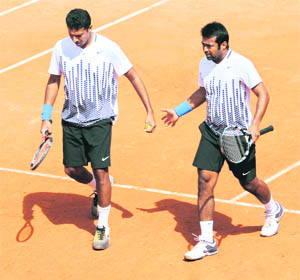 Net gains and losses
Vaibhav Sharma
With the French Open just concluded, and Wimbledon looming large, tennis fans are surely in for a treat. There is enough high-quality tennis on offer to keep just about everyone glued to the TV sets. Especially when the Indian contenders are doing well, the interest does go considerably higher.





The duo of Leander Paes and Mahesh Bhupathi needs to make more magic at Grand Slam events Photo: PTI

Fitness mantra
WATER WOWS
Sunita Bhatti
As everyone knows, water is essential for living organisms and the human body. It is not just a simple tasteless fluid but nature's gift for the human body and the first step towards a healthy life. Water plays a vital role in maintaining good health by providing so many health benefits. Seventy per cent of the human body consists of water. Ninety per cent of blood and 85 per cent of the brain is water. Due to their higher muscle mass, a male's body requires more water when compared to that of a woman. So, it is very important to consume sufficient amount of pure water to fulfil the body's daily requirement.