CHANDIGARH SCAN
Awareness against child labour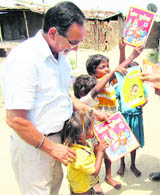 On the World Day Against Child Labour, the Emax Group of Institutions organised a series of activities in labour colonies for creating awareness to prevent child labour and to generate awareness about requirement of basic education in human life. Free books, copies, etc, were also distributed among children of labourers. Om Parkash Aggarwal, chairman of E-Max Group of Institutions, said the International Labour Organisation has estimated that some 165 million children in the age group of 5 to 14 years are involved in child labour.
Read Bapu Dham Contest
Yuvsatta, an NGO, launched a "Read Bapu Dham Contest" through their Kitab Ghar library in the Bapu Dham Colony, Chandigarh. Hushang Garmroud, an educationist and social worker, was the chief guest. Giving information about the initiative, Parmod Sharma, coordinator, Yuvsatta, shared that from the last four years, they are organising this annual 15 daylong event, in which their volunteers motivate young children to spend their time in reading books. The best young reader will be honoured with a new bicycle for the maximum number of books they will read. To popularise the culture of reading, Yuvsatta volunteers also organise programmes like book talks, story telling sessions, educational excursions, etc. The Kitab Ghar library has more than 500 active members in this slum settlement.
Janjagran abhiyan
The Bharatiya Janata Party, Chandigarh, lashed out at the Chandigarh Administration for their inaction in the booth allotment scam. While addressing mediapersons, Sanjay Tandon demanded an independent inquiry into the booth scam and resignation of central parliamentary minister Pawan Kumar Bansal till the pendency of the inquiry. He declared that the Chandigarh unit of the Bharatiya Janata Party had given time till June 10 to the administration to take action in the booth allotment scam or the party has planned "Janjagran Abhiyan" on four issues, which includes corruption, inflation, black money and bad administration of the Congress, throughout the city from June 15.
Action demanded
FOSWAC demanded action against those cops, which are facing allegations of their involvement in crimes, forgery, rash driving, cheating, theft, robbery, rioting, murder, outraging modesty of women, rape, abetment to suicide, drug peddlers and suppliers and illegal possession of arms. Appreciating a web portal recently set up by the Chandigarh Police on Facebook, members said it would help in maintaining law and order with public cooperation and to keep a check on different traffic violators and erring constables.
Office-bearers
A general body meeting of electrical staff union, Chandigarh, was held on Saturday to elect new office-bearers of the union. The union elected Rachna Ram as chairman, Dhani Ram as president, Mohammad Nadeem as vice-president and Harish Kumar as general secretary.
Condolence meeting
A condolence meeting of faculty members and research scholars of the department of Guru Nanak Sikh Studies was held on Friday to mourn the demise of Harnam Singh Shan, former professor and chairperson of Guru Nanak Sikh Studies. Recognising the contributions of Harnam Singh Shan, Dr Jaspal Kaur Kaang, chairperson of the department, said he was efficient and active in his academic activities.
Meeting
A general body meeting of the Chandigarh Industrial Area Tenants' Association was held on Saturday on the issue of proposed new rent. At the meeting, members raised long pending issue of rehabilitation of the tenant in the upcoming Industrial Area, Phase III. They also demanded that the Rent Act should be taken by the UT Administration after consulting tenant bodies.
Physiotherapy centre
An ultra modern physiotherapy centre has been set up on the premises of Gurdwara Sri Guru Singh Sabha, Sector 37, on Saturday. It was inaugurated by Senior Citizen Association secretary general DS Grewal. The centre will provide free of cost treatment to all senior citizens, along with counseling and recreational facilities.
MOHALI SCAN
Proclaimed offender held
Mohali SSP GPS Bhullar said a proclaimed offender, Jaswinder Singh, a resident of Rajpura, has been arrested by the Matour police. He was wanted in a case registered under the Arms Act at the Phase 1 police station on March 25, 2000. A 31 -bore pistol, a live cartridge and one empty cartridge have been recovered from him, said SHO Matour police station, Tarlochan Singh.
Teachers' protest
Members of RMSA teachers, who have been sitting on hunger strike for the last four days to demand regularisation of their job, on Saturday marched towards the residence of Mohali Deputy Commissioner. The teachers submitted the memorandum of their demands to the DC. Earlier, Congress, Kharar MLA, Balbir Singh Sidhu came in support of the protesting teachers.
Credit camp
The Lead Bank office, Punjab National Bank, Mohali, organised a farmers' debt swap awareness-cum-credit camp at Majra village to sensitise farmers for making them free from the clutches of moneylenders. The major banks of Mohali district like Punjab National Bank, State Bank of Patiala, Punjab & Sind Bank, Oriental Bank of Commerce, UCO Bank, Punjab Gramin Bank and Co-operative Bank, etc, participated in the camp. Amit Talwar, sub-divisional magistrate, Mohali, presided over and the guests of honour were AGM RBI and Toolika Pankaj, DDM, NABARD. A large number of farmers, sarpanches from the nearby villages and bank officials also attended the function. PK Jain, chief lead district manager, informed that a scheme to swap the debt of farmers from the money lenders with the bank loans was launched by the Government of India and target of 3 per cent of the disbursed agricultural credit has been fixed for this purpose. Under the scheme, loan up to Rs 1 lakh can be given to a farmer on his declaration only. The main purpose of this camp was to make the farmers aware of the scheme and to provide loan to the farmers to redeem their outstanding dues to moneylenders.
PANCHKULA SCAN
CGPA meeting today
A meeting of the Central Government Pensioners' Association (CGPA) would be held on Sunday at Shri Radha Madhav Mandir Complex in Sector 4 at 10.30 am. Stating this in a press release, CGPA general secretary Ram Parkash Gharu said members would discuss the problems being faced by the retired employees and try to resolve them by taking up the matter with the authorities concerned. — TNS