ART & LITERATURE

'ART & SOUL
ENTERTAINMENT

TELEVISION

GARDEN LIFE

NATURE

FOOD TALK

CONSUMER, BEWARE!

FASHION

GLOBOSCOPE

BRIDGE

ULTA-PULTA
EARLIER FEATURE

TRAVEL

RELATIONSHIPS

DREAM THEME

TIME OFF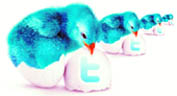 Tweet nothings
Jyothi Venkatesh
With several celebrities garnering a record number of followers on Twitter recently, we check out whether too much tweeting is good or bad for the stars in tinsel town …
LADY GAGA's followers on social networking site Twitter reached 10 million recently, making her the first celebrity to attain that number of followers. Earlier last month, Priyanka Chopra also notched a record of sorts by garnering more than a million followers on Twitter, joining the likes of Sachin Tendulkar and Shashi Tharoor.
A certain idea of India
A major exhibition at the Centre Pompidou in Paris is giving a peep into the Indian society through the eyes of Indian and French artists, writes Vandana Shukla
IN 2002, when Bombay Dreams opened to a packed hall in London and ran for two years, it penned a new cultural chapter for India in the West. The musical, then, went on to break records at Broadway.
Touch of history
Chingas Sarai, near Rajouri, is built at the site where Queen Noor Jahan buried the intestines of her husband, Emperor Jahangir, to save the Mughal kingdom, writes Jupinderjit Singh
TOMBS of kings, queens, soldiers and even lovers are found all over the world, especially in India, where kingdoms prospered and vanished. But have you heard about a tomb of an Emperor, built at a place where just one part of his body was buried? That too, an internal organ?
Problems of an oily skin
Oily skin conditions have trademark symptoms — large pores, blackheads and dullness. Healthy eating habits and cleansing can give softness to your skin, says Sita Mehta
THE largest organ in the body — our skin — is not only the shield that protects the inside of us from the outside, but also creates the visual aspects of any human being. Of all skin types, an oily skin condition has poured billions of dollars into the cosmetic industry and is one of its primary monetary contributors.
A home away from home
With holiday season in full swing, we bring you a collection of some of the world's best boutique hotels offering stylish getaways at a pocket-friendly budget
MONA Pavilions, Hobart, Australia
It's not often that a hotel comes with its own art gallery attached, which is why Hobart retreat MONA Pavilions in Tasmania is a must for culture-vultures. The 2011 opening of cavernous cliffside MONA (ambitious private venture the Museum of Old and New Art) has brought local and international art to this one-stop style shop.
Notes of harmony
In a chat wih Mithun Dasgupta, Ustad Amjad Ali Khan says creativity needs a world of peace
Creativity can be harnessed only in a peaceful world, sarod maestro Ustad Amjad Ali Khan says, voicing concern over the mounting threats to peace since the 9/11 attacks in the US ten years ago and the recent retaliatory killing of Osama bin Laden.
Iron in the fire
From a story of people surviving within the sponge iron industry, the National
Award-winning film Loha Garam Hai evolves into a scathing comment on the lopsided concept of industrialisation at the cost of human lives, writes Shoma A. Chatterji
LOHA Garam Hai won the Best Environmental Film Award at the 58th National Film Awards in the non-fiction category. It had won the same award from IDPA (Indian Documentary Producers Association), Mumbai, in July 2009. Meghnath and Biju Toppo, two founders of Akhra directed the film jointly.
Man for all seasons
Naseeruddin Shah's latest film Michael explores the father-son relationship, writes Ranjan Das Gupta
A father-son relationship has hardly been explored in Indian cinema, especially Hindi films. Many a film has dealt with either the father-daughter or mother-son relationship," Naseeruddin Shah asserts as he speaks about his forthcoming film Michael. The acting icon, considered the greatest after Balraj Sahni, has just completed three and a half decades in films.
'Cinema is being misused'
Priyanka Sharma
KAY Kay Menon, the management graduate-turned-actor, who has been in Bollywood for more than a decade, feels cinema is being misused as most of them are riding on marketing gimmicks while content has taken a backseat.