Anna camp, Cong exchange fresh salvos over Lokpal powers
Vibha Sharma/TNS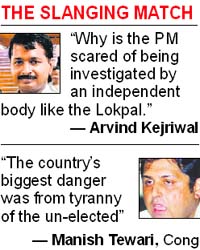 New Delhi, June 13
With barely a month to go for the monsoon session when the government has promised to introduce the Jan Lokpal Bill, the two main players in the joint drafting committee - Team Anna and the Congress - today engaged in a fresh slanging match, making the fate of the contentious Bill even more uncertain.
Upset with Finance Minister Pranab Mukherjee's deriding statement that "the civil society members and Ramdev were undermining democratic institutions," the Hazare camp hit back at the government, asking why the Prime Minister was scared of being investigated by the Lokpal.
"Why is Prime Minister Manmohan Singh scared of being investigated by an independent body like Lokpal," questioned activist Arvind Kejriwal.
The Congress retaliated by calling activism a "tyranny of the unelected". "The country's biggest danger was from tyranny of the un-elected," said party spokesman Manish Tewari. Slamming the very concept of the civil society movement, he asked: "Are we all uncivil….there is a need to clear the confusion on what constitutes the civil society?"
Tewari, however, preferred not to comment on the debate over bringing the Prime Minister within the ambit of the Lokpal. When asked about Digvijay Singh's favourable views regarding bringing the PM under the Lokpal's purview, Tewari said the PM had already made it clear that it was his personal opinion.
Reiterating Pranab's point of view regarding Hazare's political leanings, Tewari said Anna was backed by saffron forces. "After breaking his fast, the first person he praised was Gujarat Chief Minister Narendra Modi and BJP-supported Bihar Chief Minister Nitish Kumar. He does not see the corruption of Yeddyurappa government in Karnataka when he visits Bangalore but never misses to make statements against other persons from the state," he said.
According to party sources, Ramdev's fast ending in whimper has given a great boost to the morale of the Congress, which has launched a nationwide counter campaign against "corruption crusaders trying to undermine the democracy". Sources said the government knows how to deal with those who may think of indulging in Ramdev-Hazare type of exercises in the future.
"Governments do not function under threats. Whether they (Anna's camp) come for meetings or not, we will prepare draft of the Bill and introduce it in Parliament," they added.
Meanwhile, Team Anna also wrote to Manmohan Singh, stating that leaving the PM out of the Bill would be a retrograde step. "You are one of the most honest Prime Ministers that country has had. Ironically, your own government is seeking to take the Prime minister out of the purview of Lokpal investigations," the letter says.