teleprompt
Media's reaction knee-jerk
Mannika Chopra

India never was one of those countries which had people being shot all over the place, especially journalists. That anomaly was left to the unstable neighbourhood. Yet, last week, without walking into a kidnap trap like American journalist Daniel Pearl did in Karachi, or being the target of extremist elements who killed Lasantha Wickramatunga in Colombo, and most recently Saleem Shahzad outside Islamabad, Jyotirmay Dey was assassinated in the middle of the day by assailants on motor cycles.
His crime, we were told repeatedly by news channels, was that in pursuit of his professional duties, he was following the trail of Mumbai's oil mafia/building mafia. That was enough to eliminate him, said Sheila Bhat, one of the few journalists who has also followed the underbelly of Mumbai, on Headlines Today. Frequent attacks on journalists — 27 last year alone — far too infrequent arrests, and now killings, are sadly becoming commonplace events.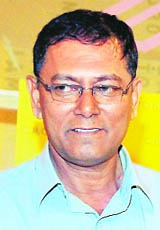 Dey's careergraph showed that he was constantly engaged in uncovering the underworld
But even more commonplace is our lack of horror. Perhaps viewers are so numbed with the corruption, the sleaze, the rapes and the general murders that are shown on TV that a journalist's assassination becomes only part of a daily string of injustices. Only it isn't. When a journalist is eliminated because he is going to uncover a national misdeed, then it is about time the establishment and the electronic media react, perhaps in the same measure they reacted to Jessica's death in the`A0past, and more recently to Anna Hazare and Baba Ram Dev's fast. Though there were discussions galore — Aaj Tak's primetime focus was especially riveting — coverage was limited to mostly spot reporting and knee-jerk reactions. NDTV 24X7 was caught so off-guard that anchor Amitabh Revi, referred to the killing as the death of a journalist by an "unidentified paper." A slip of the tongue is not abnormal in the case of breaking news but perhaps a correction should have followed.
An investigative reporter in the old-fashioned sense, Dey's careergraph showed that he was constantly engaged in uncovering the underworld. In fact, this plain-speaking journo was for Mumbai's hardcore media community the defining face of investigative reporting. So it was not unusual that dramatis personae of his stories loved to hate him. His death will not go wasted if a strong visual medium like television picks up where he left off and proves that, like the print media, it too can follow the hard stories with conviction.
M.F.Husain's death also received a sporadic response from TV. In self-imposed exile after he was threatened by Hindu extremists for allegedly misrepresenting Hindu gods, the artist, living in Dubai for the greater part, perforce changed his nationality, though he continued to`A0pine for India and paint with the passion of a 20-year-old. As Arun Vadhera said in one of his comments highlighted in a CNN-IBN scroll, Indian art has lost the roof over its head. But if you looked hard at the tone and the tenor of TV's frenzied coverage, it focussed more on Husain, the controversial artist, instead of his legacy. You would have thought that with Husain being 96, news channels would have had some sort of programme ready in the bank for a quick broadcast. Alack and alas.
Simi, Simi, Simi, what can one say about your new series India's Most Desirable, aired on Star World this week? That it is fundamentally flawed, a blatant advertisement for Neutrogena's skin care products and for earrings that shimmer and shake like crystal chandeliers. All that in that order. When Simi Garewal began her Rendezvous with Simi, yonks ago, there were many who rolled their eyes at the thought of her weekly t`EAte-`E0-t`EAte.
Dressed in pristine white, in a set that resembled a boudoir, she would softly needle her guests who ranged from stars to corporates to cultural icons. The programmes were part-confessional (remember the teary Rekha?), part-recreational (remember Priyanka Chopra's extempore singing?) and part-psychoanalysis (recall Ratan Tata's ramblings?). With her phony accent, she was the original pioneer of the celeb chat show format, preceding the Karan Johars and Koel Puries of the TV world.
With its non-stop celebrity moments, the show overnight became a talking point. But this series — it really cannot be called a new season because the format is as different as is the name of the show— is not true to the lady who had a calling (Past tense deliberate). Limited to singletons (hence desirable) in the first episode, Ranbir Kapoor was interviewed by a clearly smitten Simi. One segment had Simi, dressed in a strange skirt which matched her earrings, coquettishly imitating Ranbir's pretend girlfriend, Kiki. My toes were curling. Earlier, the host understood that the focus of her chat show was her guest; now somehow she believes that the focus of her chat show should only be her guest's relationships. Yuck.