Grooming on the greens
Even as elite clubs are holding camps with the 2016 Olympics in mind and
the National Golf Academy is grooming school-goers, public courses are
the need of the day if golf is to be promoted as a competitive sport,
writes Donald Banerjee
There has been too much of tamasha cricket, it is golf time now," screamed five kids in unison as we asked them about the IPL cricket fever at the Chandigarh Golf Association (CGA) Range recently. Going by the turnout at the greens, golf fever seems to have gripped the Tricity as more and more kids are converging on the CGA Range, Chandigarh Golf Club and the Panchkula Golf Club. The most in demand is the CGA Golf Range, which also houses the National Golf Academy of India. Taking personal interest in the young trainees is the academy director and national Grade A coach Jessie Grewal and his team of coaches, Mahesh, Akshay and Saaniya Sharma.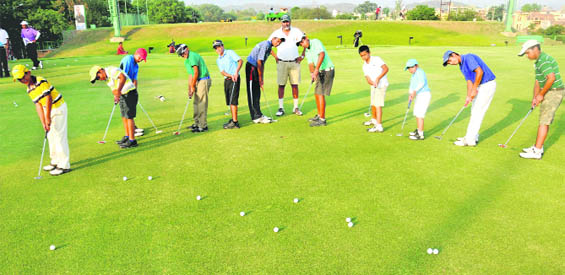 National Golf Academy of India director Jessie Grewal (C) hones the talent of budding golfers at the CGA Range Photo: Pradeep Tewari
child's play
He is barely 10, but already on a birdie hunt. A Class V student of Chandigarh's Vivek High School, Aadil Bedi fired four birdies on the back nine for a superb 75 on the last day to win the Northern India Junior Golf Championship at Noida.
Power of PILOXING
Fusion workouts are not just a fad but they actually maximise the benefits of two types of exercise and how!
Sachin Kalra
Over the past few years, the focus of fitness enthusiasts has been on fusion, which mixes and matches different exercise styles in one workout to burn calories while having fun.`A0 And this paved the way for fusion fitness, also referred to as hybrid fitness. Fusion takes exercise to an altogether different level, offering an unconventional yet effective workout. It is flexible, challenging, fun and boredom free. The aim of fusion is to challenge your body differently while adding the spice factor to your workouts. It also aims to increase the effectiveness of your workout by targetting a variety of things like core, strength, balance, endurance and agility all at the same time.