An album from Bengal
A number of works done in the Murshidabad variant of the Company style of
paintings, which have surfaced recently, give a peep into the times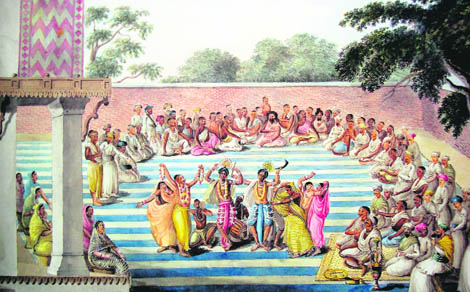 A Krishna festival in a haveli courtyard. From a Bengal album; ca 1795

"See how invitingly the creatures dance ...
What shall we say of the nose-encircling rings
Or the rich pendants of the loaded ear
But chief the bells they round the ankles wear
That to the motion of their well-made feet
Jingle in cadence to the native ear ..."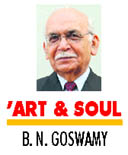 THe words are those of Charles D'Oyly (1781-1845), senior civil servant of the East India Company, best remembered as a distinguished painter of the life and landscape that he saw in Bengal all around him. And D'Oyly — Sir Charles, later in life — wrote them while describing an 'entertainment', as 'nautch' performances were then called: seductive dancers whirling around in exotic costumes while accompanists made music on their instruments. It all related to what not D'Oyly but traditional Indian painters, then serving the British, were painting so often. For this was the age of 'Company Painting' as we now designate it: work done by Indian painters for European, mostly British, patrons. Murshidabad — a little over 200 km from Calcutta, which was not yet a centre of power and culture — had, by the beginning of the 18th century, emerged as the seat of the Nawabs of Bengal, who owed only nominal allegiance to the declining Mughal authority in Delhi.
And to the court of these Nawabs, who shifted their capital from Dhaka to the new place in 1704, had started veering a number of Mughal painters from Delhi where the great old ateliers were languishing for the want of taste and patronage.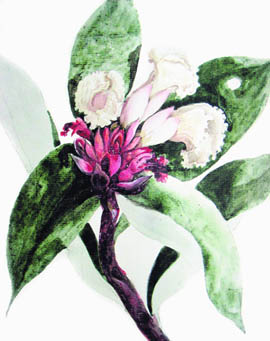 A botanical study. From a Bengal album; ca. 1795
Under Nawab Alivardi Khan (1740-1756), especially, painting flourished at Murshidabad, memories of late Mughal painting still alive and fresh inputs coming in first from local and nearby talent and then, a little later, from European sources. One has to recall that from the second half of the 18th century, and with the British gaining increasing control over these territories, European painters had started coming to India in search — both of the picturesque and of work: some 60 names have come down, among them Tilly Kettle, Johan Zoffany, Ozias Humphrey, George Chinnery.
The story has been told several times before. How, for instance, while these artists, and others, went about recording in their own mediums and using their own conventions whatever they saw in India — places, people, spectacles, professions — or offering their talents and services to different clients, some patrons and collectors began to engage Indian painters, trained in the 'native' tradition, to work for them. One also knows how, when it came to preparing large series, or sets as they were called, of works that required very painstaking work — natural history drawings, people of different castes and professions, ceremonies and observances, and the like — Indian artists were often pressed into service. There may have been reservations about their lack of understanding of the tricks of European perspective, or naturalistic ways of rendering things, but there was respect for "their quick eye", and for the fact that they worked with admirable patience: "the laborious exactness", as was observed, "with which they imitate every feather of a bird, or the smallest fibre on the leaf of a plant".
In what manner, and through what means, the Indian painters learned the art of working in a new medium — water colours — for instance, or adapted themselves to a different way of rendering space or nature, etc. can be told or guessed at, although not here. But the fact remains that some of the most talented among Indian painters were employed by persons of very high rank — the Chief Justice Sir Elijah Impey, for instance, or Marquess and Lady Wellesley — to work for them. Extensive sets were produced: some of uneven quality, others of exquisite craftsmanship. It was easy to see that while the Mughal empire was declining rapidly, not everything had died.
Clearly, not all 'Company' work was produced in the East: there was much activity — and it has been documented — in other parts of the land. In Punjab, Andhra Pradesh, Mysore and Patna artists were busily at work. But Murshidabad was certainly a centre humming with activity. A large number of works done in the Murshidabad variant of the Company style have surfaced and many of them figure in histories of Indian painting. But I was especially struck by a recently published group of paintings, consisting of various sets, which form an album that has featured in a recent sales catalogue from London. Most of the works in the album, as Jeremiah Losty (who has written on it and dates it between 1795 and 1810) notes, are painted "on laid English papers ... and then mounted on to large sheets of laid paper and bound up in album format". Many of the sheets bearing the 'Whatman' watermark, clearly of English origin, it is certain that the work was done for a British patron, possibly "a senior British officer portrayed enjoying a nautch" on one of the folios in the album: a somewhat dissipate looking, ageing character seated smoking a huqqa at one end of the work.
Some of the folios in the album bear relevant inscriptions in French, indicating that the album must have passed through different hands. And must have been valued for its quality, for it has some sharply observed and crisply rendered scenes and vignettes of life. There are delightful studies of individuals: a faqir holding up his floor-length hair, a 'bibi' swathed in layer upon layer of finery, a fierce-looking guard resting a sword on his shoulder as if ready to strike, and so on. Botanical drawings drawn not only with great accuracy but almost with affection — delicately balanced flowers, dew-drop fresh, astir with life — form one section of the album. And then, there are, apart from views of monuments many of them around Murshidabad, delectable renderings of festivals: Muharram processions, boating expeditions on the Bhagirathi, elephants being taken out for airing.
But possibly the most striking among these is a rendering of a "Krishna festival": a group of 'raasadhaaris' performing in a vast, open courtyard of a haveli as a markedly mixed audience — men and women, Hindus and Muslims, men of rank and bare-bodied sadhus — delightedly watches, having formed a circle round the performers. Like Chaitanya-ite devotees, the three male dancers, two of them dressed as Krishna and Balarama, move their feet in rhythm, two musicians sit on the floor playing on their instruments, and five sari-clad women, evidently 'gopis', enticingly sway around. The somewhat loose brushwork keeps one from registering the emotions on individual faces in the crowd, but one knows that there is excitement in the air here and a strange kind of peace has descended upon everyone. How much of it a British patron would have been able to savour one would never know of course.