Whiff of Punjab's mitti
Stories of the Soil
Edited and translated by Nirupama Dutt.
Penguin.
Pages 314. Rs 350.

Reviewed by Nonika Singh

AT first glance, the simple title of the book Stories of the Soil and rather unimpressive cover do little to excite one's imagination. But unfurl the pages of the book, and soon enough the fragrance of the soil begins to overpower and grip your senses. Of course, in this translation of Punjabi short stories, the whiff of Punjab's mitti is unmistakable. More so in stories like The Spilt Milk by Nanak Singh and the poignant Kith and Kin by Waryam Sandhu. Above all, as one moves from one story to another, there is a positive affirmation of why in the galaxy of Punjabi literature the genre of short story is hailed as the very best.
For, these stories take you into the world of imagination where felicity of pen meets the potency of thought, acute perception and keen observation. This anthology of short stories translated into English includes stalwarts of Punjabi literature. Kartar Singh Duggal Kulwant Virk, Dalip Kaur Tiwana, Sant Singh Sekhon, Mohan Bhandari Amrita Pritam,`85.you name it and they are all there. Without doubt, Dutt who has edited and translated the stories has chosen with great discretion and judiciousness. Hardly any story makes you feel that it should have been excluded. Besides, she has done well to segregate stories into varied sections; one is even devoted to women writers which has a tender feel and tugs at one's emotional chords.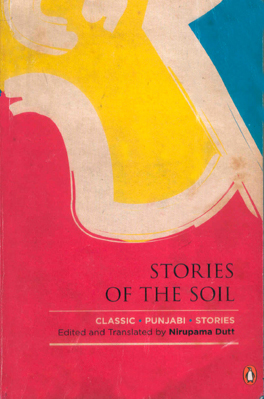 Expectedly, Punjab's tale can never be told without encapsulating cataclysmic events that dot its turbulent history. So, besides Partition, there is one on anti-Sikh riots and the dark chapter of terrorism in Punjab pulsates in Eh Oh Jasbeer Nahi by Prem Prakash. Many stories are about pre-Partition Pakistan, but Navtej Singh's story An Evening in Lahore is about the Pakistan of today and how human ties remain strong between the people of two bordering nations. Voices from across the Radcliffe line get an entire section and make for an engaging read. To ensure that the book is comprehensive, Punjabi writers from the diaspora too make their presence felt and emphatically at that in the concluding section. So, while the rural-urban divide manifests in stories like Sukhwant Kaur Mann's Nothing is the Same, Samajh Nahi Aaundi, the predicament of the Punjabi immigrant in foreign shores is beautifully captured in The House by Surinder Sahota.
As the book offers a kaleidoscopic peep into Punjabi life and literature, it becomes a must-read for all those who don't know Punjabi or those, like this reviewer, who can read it alright, albeit haltingly.
Actually, the book is highly recommended for those who may have read the stories in the original language, too. If for nothing else, then to know how remarkably the translator has retained the essence of the original yet transcended it and enthused a new freshness into stories many of which have by now become milestones in themselves.
Though the stories remain rooted in its terra firma, they are by no means hackled by its geographical limitation. Bound by humanist thought and emotions, the simple tales carry within the import of universal language of love, fear, agony, passion and jealousy. Even when subjects hover around the ills of modern society, the sex determination test and female foeticide, the manner in which the story has been connected to the past lends it a universal appeal. Then, some like Kartar Singh Duggal's Majha is Still Alive is not merely a story of a Punjabi tongawallah but a testimony to transition and changing times.
While most stories are simply recounted, there are few with abstract metaphors, too. While Dalip Kaur Tiwana's God and Seasons stands out, yet another that makes an impression is the Proclaimed Offender by Ahmed Salim that talks of the collective legacy of two Punjabs, of Waris Shah and more. The Ideal Town, also from across the barbed wire, by Ilyas Ghuman, reminds that problems like urbanisation and commercialisation are no different in the neighbouring nation.
Several stories with multi-layered meanings and interpretations like Amrita Pritam's The Shah's Harlot linger long, long after the book has been put away. Of course, it's a book that one is likely to return to. For, this is a rare and rich collection that needs to be browsed over and over, time and again.