Archie in aamchi Mumbai
Comic hero Archie goes desi, dances to Bollywood songs
THE iconic red-haired Archie, a comic book heartthrob with a perpetually hassled look and two girlfriends, will soon be dancing to Bollywood numbers in the book's Indian avatar published in Hindi and Malayalam. Seventy years after its birth in the US, 12 titles of the popular Archie comics will be published in 2011 by Variety Book Depot and distributed by EuroBooks, a leading publisher of children's books in India, a release issued by the publisher in New Delhi said last week.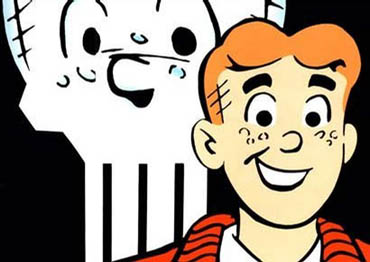 Teen comic book heartthrob Archie gets an Indian makeover Photo: IANS

Commenting on the launch of the book in Hindi and Malayalam, Jon Goldwater, co-CEO of Archie Comics, said: "Archie Comics have entertained fans for several generations. We wanted to give our fans in India something they could relate to. The move is to bring in some Indian flavour to the comic. It will be the same Archie, the same Veronica and Betty but with a desi twist."
"Fans can now expect Archie and Veronica to dance to the popular Bollywood number Aakhon ki gustakhiyaa or see the gang sing some popular songs like the college classic Purani jeans and oldie kankariya maar ke jagaya as smart chicks walk past the brood," he added.
The company plans to launch 36 titles by 2012. In the Archie double digest number nine, titled Love me Baby, Mumbai, the plot is Bollywood like. A love triangle, which has been the staple for Bollywood filmmakers, has crept into the comic world.
Raj Patel, the Indian character in the comic book, dreams of becoming a filmmaker. The amateur's ITube movie Love Hate Triangle that receives accolades from thousands catches the eye of Kunal Desai, an established Bollywood producer. The script of the comic book written by Tanua Del Rio explores whether Raj can turn a love-hate triangle into an epic film.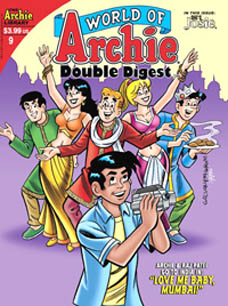 The characters, spruced up in Indian attire will be dancing on Hindi film music. Archie will woo Betty and Veronica humming Ankhon Ki Gustakhiyan and Hum Dil De Chuke Sanam along with other tracks.
Also, in the world of Archie double digest number 10, Love me Baby, Mumbai Part 2, Archie and the gang call it a wrap on Raj's film and learn that there are always two choices to make when it comes to love and compromise.
The 12 titles in the first phase will include seven titles of the Archie-Betty-Veronica marriage saga. The books have been planned in such a sequence that they will bring to an end the vexed love triangle between Archie, Betty and Veronica.
The remaining five titles will explore the world of Archie and his friends through their funny escapes. Each title will be priced at Rs.30. The 12 titles in the launch include Archie Marries Veronica: The Proposal, Archie Marries Veronica: The Wedding, Archie Marries Veronica: It's Twins, Archie Marries Betty: Will You Marry Me?, Archie Marries Betty: The Wedding, among others. — IANS, PTI