Fourís company
Give your grey cells a break to enjoy corny situations in Todd Phillipsí The Hangover Part II

IF you havenít seen the original, The Hangover Part II is a real scream. If you have, it is grossly repetitive. This time, the foursome of American nutcases find their way to Bangkok to sample some of the pleasures of the Orient but are all at sea. Not the best kind of humour but slapstick, corny situations and even blatantly racist at times, but if you give your grey cells a break, it is ideal fare to forget this long torrid summer. Stu (Ed Helms), a dentist of sorts, is getting married in Thailand. His crazy pals Phil (Bradley Cooper), Alan (Zack Galifianakis) and Doug (Justin Bratha) decide to accompany him. But before that thereís a bachelors party. Stuís plea for a bachelorís brunch is instantly vetoed. Asked to include the brideís genius of a brother Teddy (Mosa Lee) they agree but not unanimously.
Itís a wild, whacky night in the dim, seedy quarters of Bangkok. Dancing girls, sex shops, the works ... and some blanks. The next morning, they wake up in a strange room, Stu with a tattoo on his face. And thereís a monkey to boot. Actually, the simian has more intelligence than the four Americans put together, even though his "finger act" is gross.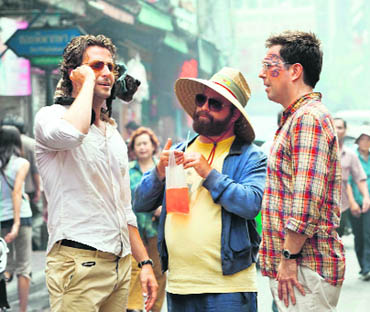 The American nutcases in Bangkok tickle the funny bone

Meanwhile, the bride and her dad Mr Chow (Len Jeong) are getting impatient. A strict disciplinarian, Chow dotes on his son Teddy and this cameo provides dramatic relief though his sudden switch in persona is quite inexplicable.
Director Todd Phillips has a vast canvas and the four jokers keep him quite busy. The script by Craig Mazin, Scot Armstrong and Phillips is endowed with "wildly inappropriate" that tickle the funny bone. When Stu says "Iím putting the little pieces of my psyche together," it is an understatement at its best.
Naturally, the mix of twain cultures is flogged dry but it also brings out slices of American insularity like when they fight wars in alien distant countries. But all said and done, it is harmless humour. Bradley Cooper continues to do what he does best and no wonder his star is fast rising. Zach Galifianakis is a natural comedian and Ed Helms and Justin Bratha do their bit. Cameo player Paul Giamati is wasted in a futile role and Mosa Lee is neither here nor there as are some of the situations.
But, despite some poor gags, The Hangover II is well worth seeing. It isnít unduly stretched out as some of the Hollywood potboilers these days are.