ART & LITERATURE

'ART & SOUL
ENTERTAINMENT

TELEVISION

GARDEN LIFE

NATURE

FOOD TALK

CONSUMER, BEWARE!

FASHION

GLOBOSCOPE

BRIDGE

ULTA-PULTA
EARLIER FEATURE

TRAVEL

RELATIONSHIPS

DREAM THEME

TIME OFF

New-age nanny dads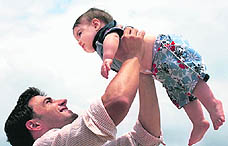 As is being reflected in many commercials and television shows these days, new-age dads carry out hands-on parenting with aplomb and love being called 'nanny fathers', writes Vimla Patil
THE intrepid modern generation of young men and women in India may not even remember the 1979 Hollywood blockbuster Kramer vs Kramer — a beautiful film by Robert Benton based on the same-name novel by Avery Corman.
Daddies denied
Nivedita Choudhuri
ALL too often, fathers get the fuzzy end of the lollipop — slaves to their jobs, chauffeurs to their children and incidental to their wives. This Father's Day, fathers and many father figures will be honoured.
---

Aliens in their own land
The Aryans of Ladakh yearn to be part of the state's developmental agenda, but their case has failed to find favour with the administration, reports Navreet Milton
I

S

there anyone in the country who worries for us?" These are the anxious concerns voiced by the native Aryan tribe, residing in the small mountain hamlets of Darchiks, Dah, Hanu and Garkhun in Kargil and Leh districts of the Ladakh region since ages.

The 'candy' of Lanka
Surrounded by hills and some of the best tea gardens in the world, with its cultural halo and ambience of history, Kandy is worth exploring, writes Ranjita Biswas
IF you are in Colombo, a trip to Kandy, Sri Lanka's former capital, is not to be missed. It is a pretty city, set in the hills at 1,629 feet above the sea level. As the road winds up from Colombo, in the distance a plateau-like hill called Bible Rock makes a grey watercolour landscape. Perhaps it is raining up there.

Delightful dahlias
A Georgina shimmering in the garden is the sweetest way to begin your day, says Daksha Hathi
ENGLISH humourist Thomas Hood said, "A double dahlia delights the eye" and he was right. This corpulent flower grows so tall that it shows its bright purple and white, yellow, deep red and orange ruffles against the blue skies and is very regal.

I believe in late marriages
The perfect bahu of the small screen Sakshi Tanwar on getting a second chance to play lead in a TV show and an image makeover
It is not easy to get a second chance to play a lead in a TV show or to get an image makeover, but Sakshi Tanwar, the perfect bahu of the small screen, has got both, thanks to Ekta Kapoor.

Deadly dialogues
Since the release of Alam Ara, romance of the spoken word remains unabated. Deepa Karmalkar on the eternal film lines that continue to stir emotions
Wait a minute! Wait a minute! You ain't heard nothin' yet!" declared Al Jolson in The Jazz Singer (1927), the first Hollywood film to incorporate both sound and dialogue. The audiences were stunned to see talking images for the first time.