New-age nanny dads
As is being reflected in many commercials and television shows these days, new-age dads carry out hands-on parenting with aplomb and love being called 'nanny fathers', writes Vimla Patil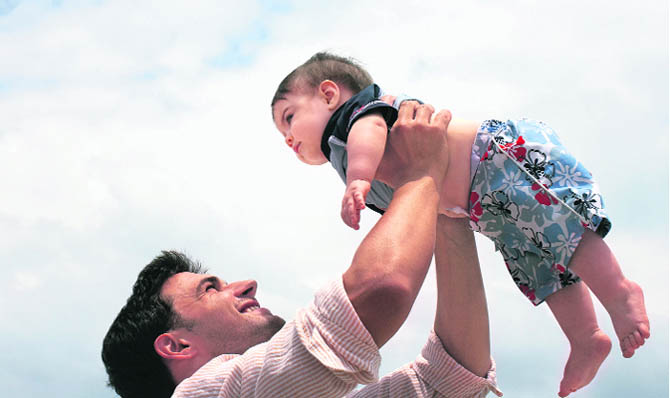 THE intrepid modern generation of young men and women in India may not even remember the 1979 Hollywood blockbuster Kramer vs Kramer — a beautiful film by Robert Benton based on the same-name novel by Avery Corman. The film — which won five Oscars that year — is considered an all-time classic because of the sterling performances of Dustin Hoffman and Meryl Streep, who act as a divorced couple with one son. The story of this film is simple and, in many ways, applies to the cases of divorced or separated couples even today. In the film, after the divorce, Meryl, the wife, leaves her son to the husband to seek career success. Years later, when she returns, she fights for the custody of the boy and the judge, going by traditional wisdom that mothers are best suited to be the guardians of the children, gives the custody to her though the father has brought up the boy with love and dedication. The helpless father agrees to the verdict only to save agony and stress to the little son.
More than 30 years have passed since this film made a huge impact on every heart worldwide. But laws across the world have hardly changed. Even today, in most countries, the mother is considered the natural guardian of her children. "This is not surprising," says Shibani Mehra, a family court lawyer, "Even among all animal or bird species, the mother nurtures her little ones until they can fend for themselves. In history, literature, folklore and art, a mother is venerated as the person who gives up everything for a child and always puts the kids' interest above hers. Compared to the number of divorced fathers who remarry, the number of divorced mothers who opt for a second marriage is fewer. Social observers say that a child learns the word maa before any other. So, the bond between a mother and her children is unique and too strong to be broken — especially when the children are young."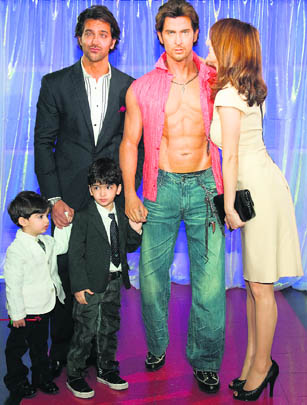 Hrithik Roshan (L) makes it a point to be seen spending time with sons Hrehaan and Hridaan Photo: AFP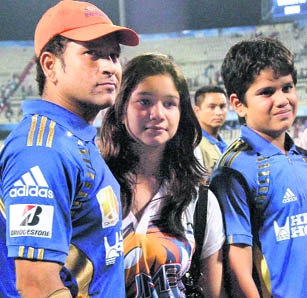 Sachin Tendulkar is a role model not just for his game but also for being a doting dad
Photo: AFP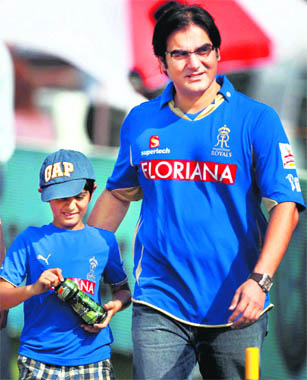 Many male celebrities, like Arbaaz Khan (R), embody the term 'nanny fathers' with their hands-on parenting Photo: PTI

Contrary to this is the view of Ramesh Desai, a divorced father who is still battling to have access to his young son. "I took him to school every morning and played cricket in the evenings. I taught him how to make friends and build teams. I was with him when he stumbled and hurt himself. Now I am left to see him at the school gate or in the family court under the supervision of the social worker because my wife proved me a drunkard in court. When a couple gets vicious in the court because of the trauma they have gone through, judges find it is easy to believe that fathers are no-good parents and cannot give the same nurturing to their children as the mothers. They go by centuries of tradition, where the mother is accepted as the natural guardian, especially of young children. Very often, the older children also choose to stay with the mother because she can give them more time and a family feeling while fathers have to work and be in the competitive market if they are to support their children. Either way, life is not easy for divorced fathers."
Arguably, this is the predicament of divorced parents, whose number is growing in India by leaps and bounds. "This image of the 'absent' father has to change," says Rohit Khanna, who is fighting for the rights of the father, "The awareness about the rights of a father has caused many nations to observe a Father's Day, which is celebrated on the third Sunday of June every year in most countries . I hope this celebration helps fathers to get recognised for their huge contribution in the lives of their children."
However, this is not so with couples who are happily married or those who choose to bring up their children together though separated. In such cases, the story of the modern father is quite different and admirable. "Today's young fathers are hands-on dads," says social worker Hafiza Khan, "Being macho is no longer important. Ads, movies, television programmes and interviews with iconic men in films, sports, business and finance and entertainment show that family patterns have changed phenomenally. Fathers look after their children as much as the mother and work hard to contribute to their upbringing apart from providing the funds for their education, hobbies and career training.
They are happy to indulge in what is termed 'baby talk' and be seen as caring fathers. In fact, they love being called 'nanny fathers,' which is a new 21st-century title!"
These words acquire a special significance when you see some of the famous fathers in India showering love on their kids and spending special time with them despite being extremely busy. Some cases in point are superstar Shah Rukh Khan, who makes great efforts to project himself as a tender and caring father to Suhana and Aryan.
He makes it a point to be seen with them at cricket matches, on holidays and at home, setting an example for millions.
Ajay Devgn, who is reported to be shooting in London, recently personally searched for a European nanny for his children Yug and Nysa when they visit him in London with wife Kajol.
Aamir Khan has done all he can for his children though he is no longer married to their mother. Hrithik and Susanne Roshan make it a point to be seen together with their sons Hrehaan and Hridaan. Sachin Tendulkar is always seen with his children. These are famous men. But like them, millions of new-age men find it rewarding to be hands-on fathers today than ever before. They enjoy the responsibility of fatherhood and handle it with dedication.
So, just as there is a huge worldwide fanfare on Mother's Day, with children and grandchildren choosing presents and cards for their mothers, grandmothers and aunts, Father's Day has also become a worldwide celebration for the past several years. Today, it is a symbolic day of thanksgiving to fathers, grandfathers, uncles and even elder brothers.
Young children are encouraged to recognise the contribution made to their lives by all elder men in the family. It is also an occasion for such men to show their commitment and love for the children.
Daddies denied
Nivedita Choudhuri

ALL too often, fathers get the fuzzy end of the lollipop — slaves to their jobs, chauffeurs to their children and incidental to their wives. This Father's Day, fathers and many father figures will be honoured. Many men will get gifts, ranging from pens to mugs that say 'World's Greatest Father' or 'I Love My Dad'. However, the day will also bring pain and sorrow to many households, which have divorced or separated fathers.
But there is a ray of hope for such fathers. These men, some of whom are often denied access to their children for months and years, can now turn to the Children's Rights Initiatives for Shared Parenting (CRISP), which takes up cudgels on behalf of harassed fathers. CRISP is part of the Save Indian Family Foundation (SIFF), an organisation that primarily supports men trapped in false cases lodged against them by their wives.
Bangalore-based NGO CRISP was formed around five years ago, when some citizens came together to fight for the rights of single fathers and ensure that children did not lose touch with their dads if their parents divorced. "The courts are so geared to the mother that the father gets no justice and that means the kids don't get justice, too. So many people have lost contact with their children that it was inevitable something like CRISP would emerge," says Kumar Jahgirdar, one of the founders of CRISP.
CRISP activists receive calls from hundreds of aggrieved fathers each year, many of whom are 'falsely' charged by their wives with taking dowry. There are others who are unjustly booked under the draconian Domestic Violence Act. Their lives are in tatters when they approach CRISP. On the one hand, there are the mounting court cases and, on the other hand, there is total alienation from their children. The insensitive Indian courts take ages to hand out verdicts. The hapless fathers have no choice but to put their lives on hold and pray for divine intervention.
Anil (name changed to protect identity), a SIFF activist, has had to put his life on hold for the past few years ever since his wife told him she wanted to have nothing to do with him but that she was not willing to go in for a divorce either. After exhausting all means for a reconciliation, Anil suggested to his wife that they divorce. However, she responded by filing a false case under the Domestic Violence Act against Anil and his father. `A0Anil has not stopped paying for her upkeep or for their two children even for a single day. Unfortunately, he has not met his children for the past two years or set foot in his own house, which his estranged wife is currently occupying with their children after throwing him out along with his belongings.
"It comes down to the simple fact that we face a Herculean struggle. The politicians are not dealing with this with the degree of urgency this matter deserves. Fathers are forced to support children`A0even when mothers are not being forced to allow those fathers access," says Jahgirdar. He wants fathers and grandparents to be given a legal right to see their children and grandchildren.
According to the members of CRISP, couples contemplating divorce should be counselled on the benefits of shared parenting. This will eliminate unnecessary child custody battles, stress caused to both the parents and the children and save the precious time of the already overburdened courts. `A0Jahgirdar wants the law changed so that equal parenting is presumed, whereas at present the pendulum swings in favour of the mother. "All we want is equality between the genders, equality of treatment," he adds.