I believe in late marriages
The perfect bahu of the small screen Sakshi Tanwar on getting a second chance
to play lead in a TV show and an image makeover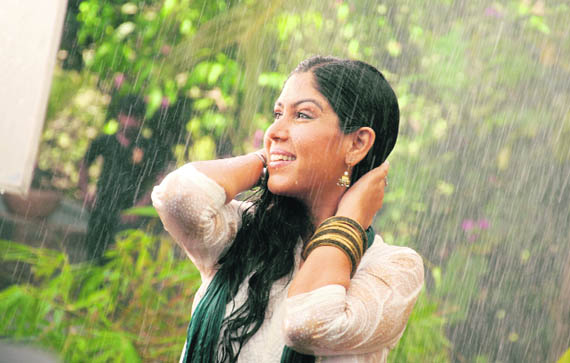 Sakshi Tanwar has also done films like Saluun, Coffee House and C Kkompany.
Her next movie is with Sunny Deol called Mohalla Assi Photo courtesy: Sony TV

It is not easy to get a second chance to play a lead in a TV show or to get an image makeover, but Sakshi Tanwar, the perfect bahu of the small screen, has got both, thanks to Ekta Kapoor.
The actress thanks Kapoor for giving her Bade Achche Lagte Hain, in which her character is closer to her age.
"I play a modern day woman, who believes in love and late marriage. The show brings two people together, who have very different ideologies and shows how they fall in love after getting married," says Sakshi.
"One thing that I want to share is that when we did generation leap in Kahaani Ghar Ghar Kii in 2006, Ekta had promised me a show, which would be closer to my age and will help me change my image. She kept her promise and offered me this show soon after we ended Kahaani....," adds the 38-year-old.
Produced by Balaji Arts, the show revolves around a business tycoon, played by Ram Kapoor, in his late forties and a working woman in her late thirties.
Sakshi says just like her character in the show, she is believes in late marriages.
"I believe in late marriages — just like Priya, my character in the show who gets married in her thirties. I am very hopeful about such things. I have seen it. There is nothing in this show that has not happened in life."
So when is she planning to tie the knot?
"I believe in destiny, whenever destiny throws me into it, I will," she adds with a smile.
What kept you away from small screen for so long?
"I was offered the show two years back, but I was very sure that I wanted a break after working non-stop for eight years. So I took a conscious sabbatical. I didn't want to get into the same routine of daily soaps. I kept Ekta waiting for years, but she was determined that she would wait and would make the show with Ram and me only," Sakshi adds.
During her growing-up years, the actress wanted to join the civil services and entered showbiz just to earn quick perks.
"I was born in Rajasthan and but because of my father's job, we would get posted in different cities. It is strange, but I always wanted to be in the civil services. And I also had a bent towards creative activities like drama, elocution but I never knew that one day I would become an actress," adds Sakshi.
"It was during my graduation that I got few roles in Doordarshan shows, but that time I did it only for pocket money and that is when I realised that this is something more than that."
"At that time I did episodes of Bhanwar, then I did a show called Rajdhani for Star Plus. By that time, I had realised that people have started recognising me with my characters. I had never dreamt of this — my dreams are very small, but honestly the response has been overwhelming," she says.
During her TV sojourn, Sakshi featured in string of shows such as Dastoor (1996), Kahaani Ghar Ghar Kii (2000), Kutumb (2001), Devi (2003), Crime Patrol (2010) and a cameo in Balika Vadhu.
She also did films like Saluun, Coffee House and C Kkompany. Her next film is with Sunny Deol called Mohalla Assi.
"Ii is a very big opportunity for me. I play Savitri, who is Dharmnath Pandey's (Sunny) wife. Sunny plays a Sanskrit teacher. Backdrop is Benaras of 1980-1990, when the liberalisation phase was on. So the film brings forth the difficulties and how we deal with it," Sakshi adds. — IANS