Deadly dialogues
Since the release of Alam Ara, romance of the spoken word remains unabated.
Deepa Karmalkar on the eternal film lines that continue to stir emotions
Wait a minute! Wait a minute! You ain't heard nothin' yet!" declared Al Jolson in The Jazz Singer (1927), the first Hollywood film to incorporate both sound and dialogue. The audiences were stunned to see talking images for the first time. Four years later in 1931, it was the turn of Indian audiences in Mumbai to be awestruck similarly with Ardeshir Irani's Alam Ara. This prince and gypsy romance with numerous songs starred Prithviraj Kapoor and Zubeida and the police had to be summoned to control ecstatic crowds watching it. Alam Ara, India's first talkie, ushered in a whole new set of lines — smart, snazzy and straight. Dialogues like 'Mere paas maa hai' from Deewaar stirred up emotions while lines like 'Kaun kambakht bardaasht karne ke liye peeta hai' from Devdas found many takers to conjure the mood. The romance of the spoken word continues unabated.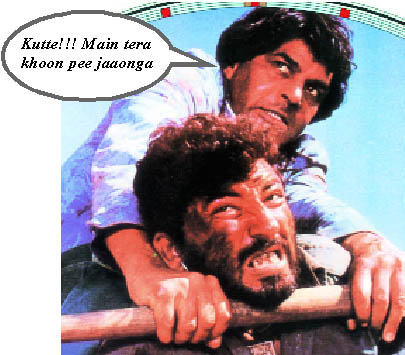 Dharmendra with Amjad Khan in Sholay. The dialogues of Sholay continue to be stand-up comedian artists' delight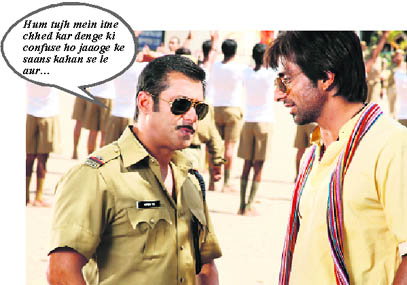 With its over-the-top lines, Salman Khan's Dabangg
once again brought filmi dialogues into focus

Salman Khan's punchy lines from Dabangg have already slipped into the GenNext vocabulary. "Hum tujh mein itne chhed kar denge ki confuse ho jaoge ke saans kahan se le aur`85" is a rib-tickler alright, never mind crude humour. Film lines are increasingly becoming informal — as in real life. Cinema after all is the mirror of society.
For instance, the B&W era of majestic historicals reflected its inherent linguistic richness. Mughal-e-Azam's "Salim tujhe marne nahi dega aur hum, Anarkali, tujhe jeene nahi denge" remains a cult dialogue to date. The rich phrases and puns are credited to noted Urdu writers like Amanullah Khan, Ehsan Rizvi, Kamal Amrohi and Vajahat Mirza.
Urdu nazaakat was also evident in the Muslim socials of the times. Pakeezah's "Aap ke paon dekhey, bahut haseen hain, inheen zameen par mat utariyega, maile ho jayengey" in Raj Kumar's throaty voice still rings a bell. Director Kamal Amrohi used his artistry as a dialogue writer to the fullest in the film.
Raj Kumar lent a new dimension to dialogue delivery in subsequent films and his frequent use of the endearment "Jaani" won him great popularity. "Jinke ghar sheeshe ke hote hain woh doosron ke gharron par patthar nahi phenka karte" (Waqt), "Na talwaar ki dhaar se na goliyon ki bauchaarse`85banda darta hai to sirf parvardigaar se" (Tiranga) are just a couple of his famous lines.
In the following era of action films, Amitabh Bachchan dominated the scene in his signature baritone voice. From the intense "Aaj bhi main phenke hue paise nahi utthata" (Deewaar) to comic "Munchche hon to Natthuram jaisi hon warna na hon" (Sharaabi), from romantic "Main aur meri tanhaai`85aksar yeh baate karte hain" (Silsila) to commanding "Rishtey mein to hum tumhare baap lagte hain, naam hai Shahenshah" (Shahenshah) and the all-encompassing "Don ko pakadna mushkil hi nahin, namumkin hai" (Don) — he delivered his lines with such conviction that you not only believed what he said but also remembered his lines long after.
Personality-based dialogues became popular with Rajesh Khanna urging "Pushpa`85I hate tears" (Amar Prem), Vinod Khanna proclaiming, "Tum jis school mein padhte ho, hum uske headmaster rah chuke hain" (Haath Ki Safaai), Shatrughan Sinha roaring, "Jali ko aage, bujhi ko raakh kehte hain, aur jiske raakh se barood bane use Vishwanaath kehte hain" (Vishwanath).
In the same vein, Sunny Deol's "Tareekh pe Tareekh, Tareekh pe Tareekh" (Damini), Akshay Kumar's "Ab kya bachche ki jaan loge" (Mr and Mrs Khiladi) and Shah Rukh Khan's "KKK`85Kiran" have become signature dialogues of these stars.
Character actors like Ajit made a career out of their unique style and sense of lines. His lines "Saara shehar mujhe layan ke naam se janta hai" ,"Smart boy", "Lily don't be silly" and "Mona darling" continue to provide fodder to mimicry artists even today.
Amrish Puri's "Mogambo khush hua" and Shakti Kapoor's "Main ek chhota sa, nanha sa baccha hoon" from Mr India and Chaalbaaz, respectively, can also be listed among immortal dialogues of Hindi filmdom.
Recently Arshad Warsi's Circuit act in Munnabhai series saying, "Tension nahi leneka bhai" has developed a cult following. If Gulzar won accolades for his writing and direction for films like Parichay, Aandhi, Angoor, Khushboo, Izazat et al, writer duo Salim-Javed created history with their tantalising lines in Sholay.
The dialogues of Sholay became so popular that audio cassettes of the dialogues of the film were released.
Dialogues like Gabbar: "Kitne aadmi the?", Jai: "Basanti tumhara naam kya hai?", Veeru "Suiciiiide!" and "Kutte main tera khoon pee jaaonga", Basanti" "Chal Dhanno! aaj teri Basanti ki izzat ka sawal hai", are so popular even today that they are still in circulation through various advertisements and comedy shows.
In recent times, Shah Rukh Khan's lines have made a lasting impression — "Haar kar jeetne wale ko baazigar kehte hain" (Baazigar), "Senorita`85bade bade shehron mein aisi chhoti chhoti baaten hoti rehti hain" (Dilwale Dulhaniya Le Jayenge), "Rahul`85naam to suna hoga?" (Dil to Pagal Hai), "Kaun kambakhat bardaasht karne ke liye peeta hai ...hum to peete hai ke tumhe bardaasht kar sakein' (Devdas).
Similarly, Dimple Kapadia's "I am Bobby, mujhse dosti karoge?", Bhagyashree's "Dosti mein no thank you, no sorry" (Maine Pyar Kiya) and Shabana Azmi's challenging retort "To tum kya karte?(Arth) are among the memorable lines.
There is also a very famous line in the great hit Bobby when the actor Prem Chopra whenever he comes on the scene says 'Prem Naam Hai Mera, Prem Chopra'. Similarly, Rajesh Khanna saying, "Babumoshai`85" in the film Anand stirred a chord with audience.
Over the years, some stock film dialogues have become a part of our vocabulary. A doctor advising, "Inhe davaa ki nahi dua ki zaroorat hai", cops summoning, "Police in tumhe chaaron aur se gher liya gaya hai". But then there is more to come, as Shah Rukh Khan said in Om Shanti Om, "Picture abhi baaki hai mere dost!"



While Amitabh Bachchan dominated the action scene in his signature baritone voice,
Raj Kumar (right), with his throaty voice, lent a new dimension to dialogue delivery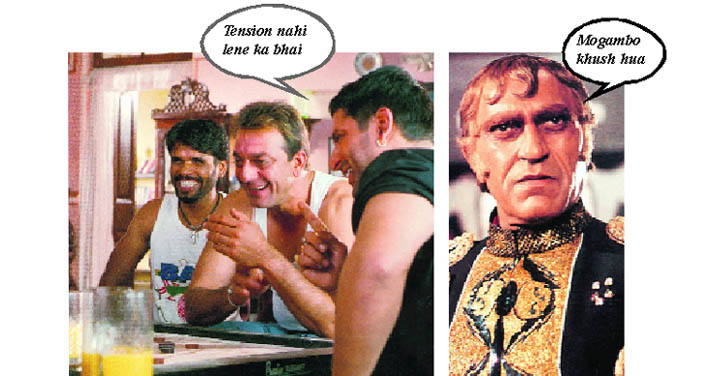 Arshad Warsi's Circuit dialogues in the Munnabhai series became an instant hit with
the young, while Amrish Puri (right) became immortal as Mogambo in Mr India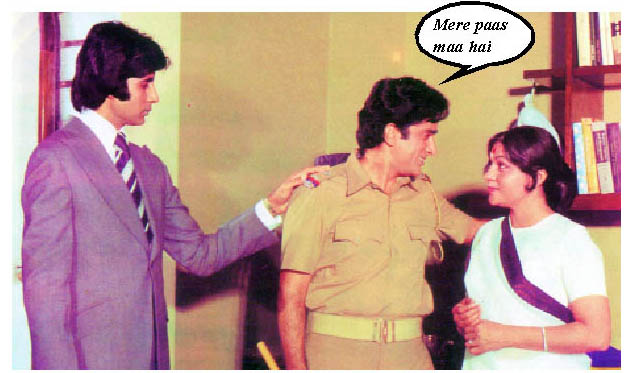 Amitabh Bachchan with Shashi Kapoor and Nirupa Roy in Deewaar. The dialogues
between the brothers have spawned many a spoof