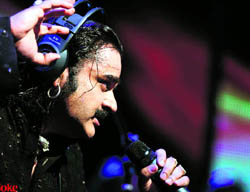 What's COKE-ing?
Against a backdrop created by a merger of instruments from all genres, different hues of lighting, Arif Lohar and Meesha Shafi collaborate on Pir Meraya Jugni Ji on Coke Studio Pakistan. The spirit of the song, the high, low and dramatic pitches of Arif, the trendy interludes by Meesha win hearts and 8,900 hits in a single day!



VOICE OVER: Arif Lohar
Keep grooving…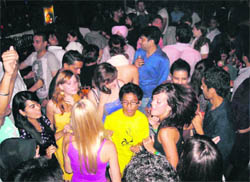 One track leads to the second. One kind of music gives way to another. One genre is replaced by the other. Party may still not be over, and shift venues, the music follows closely! When you party everyday, it can't be on the same music. When you party every week, it anyways changes. The current hit list encompasses some of the constant genres. The billboards, the chart busters would hardly ever tell you what's actually playing in the party circles…shares DJ KK, "Bollywood always rules. Apart from it, house music is popular too. Among Bollywood tracks, Char Baj Gaye, Party Abhi Baki Hai is the current fad."
Good thing in small package!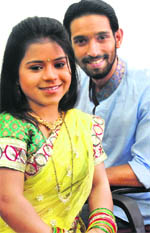 If it is television, everything has to be in loads. Loads of pancake, loads of glycerine, loads of kanjeevarams, loads of melodrama, loads of rebirths, loads of amnesia, loads of extra marital affairs… when it is television it has to be loads! Anything less wouldn't work. So, when we saw a 3.5-feet girl playing the lead in Imagine's Baba Aiso Varr Dhoondo, we wonder if television is doing away with the loads of conventional look-alike beauties. In Chandigrah to promote their serial Baba Aiso Varr Dhoondo, Juhi Aslam from Agra, who plays Bharti in the serial along with Vikrant Massey who is playing Murli, leading male actor, talk about breaking stereotypes, and transforming challenges into opportunities. Juhi, a 3.5-feet polite and sweet girl is not bubbling with stories. Her life has been one roller-coaster journey, which is now translated as an onscreen drama Baba Aiso Varr Dhoondo, with of course many directorial liberties! Juhi deliberates on every question asked to her.
Celebrating the Punjabi spirit
Any Punjabi who ever moves out of the state of sarson ensures that the 'Punjabi spirit' lives in his heart. One such person is TP Singh. A leisurely trip to London made him fall in love with the city and he decided to make it his hometown. Now ten years after living in London, this man is celebrating the Punjabi spirit on the screen. Now, ready with his third movie, the director is positive that it will have an impact on the NRI youth.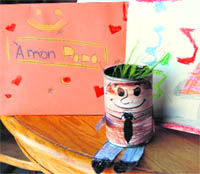 Love you Papa...
"A father is a guy who has snapshots in his wallet where his money used to be." He was there for your first step, your first fall, your first word and you can count on him to be there for you whenever you need him next. Fathers' Day is here and even though one day is not enough to show your father how much you love him, it will surely make a difference. So here, we help you in choosing the perfect gift for your dad, and make him feel special.
the foodies

Oriental flavour
Chandigarh has many Chinese restaurants but what makes Yin Yang in Sector 22 special is their Feng Shui inspired interiors, the bright colour combination on the walls and off course the food. Also open in Phase X, Mohali, the restaurant serves Pan Asian delicacies to please Punjabi taste. Though the menu is replete with various dishes of the Indo-Chinese origin, it also includes a few dishes of Thai and Indonesian fare.

Live healthy
If she is the essence of life, it is important you take care for her. Showering her with expensive gifts is just one way, but ensuring she remains healthy is one of the best ways to care for her! Bittu Sandhu, managing trustee of Rani Breast Cancer Trust, shares why and how the health of a woman is the most important thing, and the best gift that a man can give.


Bittu Sandhu
Art mart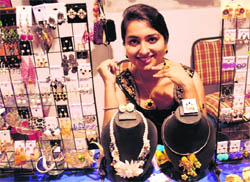 So, it's Sunday morning. If there is no brunch or relatives dropping in to say hi, trust us, the latest exhibition in Hotel Shiwalikview is not to be missed. Aptly called Delhi Haute Couture, it's a mixed bag of everything you can demand. From paintings to jewellery and of course, all kinds of clothes are stocked here. Although Rani Breast Cancer Trust will organise Harbhajan Mann nite on Saturday, Bittu Sandhu has added another chapter to healthy living.

Photo: Pradeep Tewari
Anand's fitness speak
Anand Suryavanshi aka Ranbir from Yeh Ishq Haaye is an actor with a fantastic body. We find out the secrets behind Anand's toned look in a candid chat with him.
Musical lineage for Kaul brothers
Sumit Kaul aka Sudarshan from Laagi and Suhail his brother have had the privilege and good fortune of having a mother who was a trained musician, with a Masters degree in Music. A renowned musician from Kashmir, she ensured both her sons were trained in Indian classical music. With a creative background and lineage both were destined to follow a creative profession. While Sumit followed his dream of becoming an actor, Suhail harnessed his skills as a singer.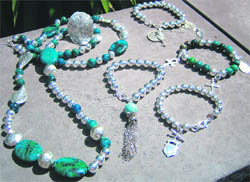 Breezy jewels
Summer is all about flaunting deep necklines, letting your skin breathe and wearing minimum clothes. Though it's the silhouettes and fabric that rule summer fashion, jewellery too is an important component to spell magic in summer dressing. Clean designs, use of quality material for that delicate look are important when it comes to this season's jewellery trends. If you are tired of the superficial bling look, this season's classic looks will be a breath of fresh air.
Don't sleep over a fight
A study has found that the way one interacts with his or her partner in daily life can affect the person's long-term mental and physical health. In one of the first studies to look at the longer term, Professor Angela Hicks investigated the physiological and emotional changes taking place in couples the day after conflict occurred, specifically taking into account the differing styles of emotional attachment between participating partners.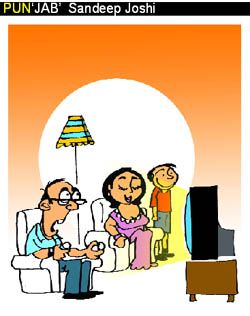 home censor: The song DK Bose is being played. Here are the ear plugs.

Asin is flying high
Asin made a splash with a spectacular debut opposite superstar Aamir Khan in Ghajini. Everybody had high hopes from her and London Dreams, but the film crashed at the box office. She is just three films old, but has already worked with stars in the league of Aamir and Salman Khan. She has come into her own again and won accolades for her performance in Ready. With Housefull 2 as her next film, she talks about her favourite genre, Salman Khan, and more.
B'day patch up
Sonam Kapoor had spoiled her equation with her mentor and director Sanjay Leela Bhansali.
Date problem
The crew and production designers and co-ordinators of Housefull 2 are in a dilemma. They are finding it difficult to co-ordinate the dates and schedules of their huge cast in London.
Right impression
When Randeep Hooda was a struggling newcomer, he went to Mahesh Bhatt on the sets of one film and asked for some work. The director didn't pay him much attention then.
Sporty gal
Chitrangda Singh will learn skydiving for the sequel to Krrishh. It is called Accelerated Freefall and she is flying to Los Angeles in America to learn it.
Resourceful director
The pre-monsoon showers in Mumbai initially made the producers of the Milan Luthria-directed The Dirty Picture jittery.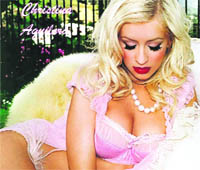 Victim of celebrity status
Singer Christina Aguilera has criticised cops, who arrested her early this year, accusing them of targeting her because of her celebrity status. The singer and her boyfriend Matthew Rutler were detained by Los Angeles police officers in March after allegedly spotting their car being driven erratically through West Hollywood. The singer was arrested on suspicion of public intoxication, but was later released without charge.

damsel in distress: Christina Aguilera
Going places


Anil Kapoor's Hollywood career seems to be going in the right direction - after completing shooting for Mission:Impossible 4, he is set to begin shooting for his next Hollywood film Cities with Clive Owen. "I have finished shooting for Mission: Impossible 4 and it is now in post production. I will start shooting for Cities. It's my pleasure to work with Clive Owen, whom I admire a lot," said Anil.

HOLLYWOOD CALLING: Anil Kapoor
Please silence the pets!


Reese Witherspoon, who lives with her two pet donkeys, named Honky and Tonky on a ranch in Ojai, has been asked by her neighbours to silence her noisy pets. The miniature donkeys are said to have upset the locals, who claimed that the asses are loud and disruptive. It's so bad that a few residents have sent her a letter.

PET'S SAKE: Reese Witherspoon
3D movies waste of money: James McAvoy
Scottish actor James McAvoy feels 3D movies are a "waste of money" and merely a way of making more cash out of cinema enthusiasts.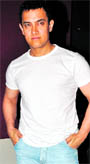 Aamir's fundas
Aamir Khan has stated that he will avoid Amole Gupte (creative director of Taare Zameen Par) and Anusha Rizvi (director of Peepli Live) as their relationship has gone sour. He doesn't need people in his life who don't like or respect him. He has also said that he is not interested in the National Awards, or any awards, for that matter. He is only interested in making quality films.



quality matters: Aamir Khan

Aunt Julia not behind my success: Emma
Emma Roberts, who is the niece of Oscar-winner Julia Roberts, has rubbished accusations that her success in Hollywood is because of her famous aunt. The 20-year-old actress says it's her own talent and not her relationship to Roberts that fuels her success in Hollywood.

Self-Made: Emma Roberts