Legacy of excellence
Basant Kumar & Sarala Birla: Life has no Full Stops
By Rashme Sehgal.
Amaryllis.
Pages 252. Rs 495.

Reviewed by Balwinder Kaur

THE business world is founded on partnerships and success depends on the strength of these partnerships. The most profitable of all affiliations are the ones that are long lasting. The most significant partnership anyone can undertake is no doubt marriage; it is the ultimate joint venture. The union of Basant Kumar and Sarala Birla is a partnership that has shaped the mighty Birla empire. The strong foundation laid by them has enabled the following generations to make the Birla legacy even grander.
Life has no Full Stops by Rashme Sehgal tells the spellbinding story of the exploits and fortunes of the renowned Birla clan as seen from the vantage point of Basant Kumar and Sarala Birla. Their story began 71 years ago when Basant found his ideal match in bold and liberated college student Sarala. He was no ordinary man either having been thrown into business at thirteen; told to find out what the stock market was for himself. Basant being a veritable genius with numbers succeeded splendidly and emboldened by his success started his own business. Soon we see him in three avatars—college student, apprentice and budding businessman. He also demonstrated an uncanny ability to nurse ailing businesses back to health, earning the chairmanship of Kesoram Cotton Mills at the age of nineteen.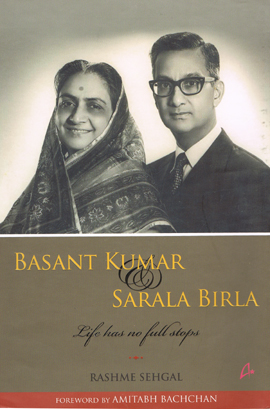 Basant was a man of unconventional views and wanted an English-speaking educated wife. The quest yielded Sarala, the daughter of prominent Congress leader Brijlal Biyani. She had grown up with considerable freedom; her days were filled with cycling, swimming and badminton. Demonstrating her independence, she came by herself to meet Basant, adamant on seeing him before consenting to their marriage. It was love at first sight and their union had an auspicious start when their betrothal was solemnised by Mahatma Gandhi and Kasturba, close friends of the Birla family.
After marriage, Sarala honoured all domestic responsibilities and spent her life adhering to and respecting the customs of the family. Their happiest days were spent raising their three children, to whom they passed on the Birla family values of honesty, dependability and hard work, which have served grandson Kumar Mangalam Birla well. The darkest period of their lives was that of son Aditya's illness and untimely demise.
Basant and Sarala are fascinating protagonists both possessing multidimensional personalities, enriched by their diverse range of interests. Basant has an insatiable craving for knowledge and is an avid reader. He is a musical soul and plays both the harmonium and the violin. They are inveterate travellers and spend much time on the move. While Sarala is an accomplished painter, he is a lauded photographer. Their love of art manifested in the foundation of the Birla Academy of Art and Culture in Calcutta and an impressive collection of miniatures.
The readers are quickly immersed in the story owing to the writer's expertise, gained as a journalist, poet and author. Rashme Sehgal has done a commendable job of condensing into a comprehensive read the exploits of the Birla clan, spanning more than a century and many continents. She has dextrously woven relevant information mixed with the personal accounts of family, friends and acquaintances, endearing them to us. The reader feels they have shared many an inside joke and actually know a lot about this intensely private family.
This book faces some of the inevitable pitfalls of a biography. It glosses over the unavoidable scandal and controversy that comes with running such a massive business, painting an unrealistically rosy picture. All the voices are in a symphony of agreement and a few notes of dissent would have enlivened the account.
Nevertheless, we marvel at the strength, dedication and hard work of this couple. They are an inspiration to us all. Basant Birla at 90 is one of the oldest business magnates in the world. Sarala is filled with boundless enthusiasm as well, constantly exploring new horizons.