Just chill
Keep aside the harmful carbonated drinks as M. J. Raju lists our desi
coolers to beat the summer heat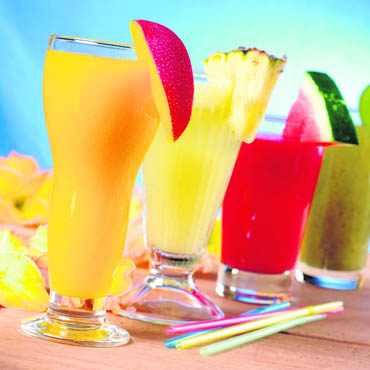 There is a wide variety available for those fond of
vegetable and fruit juices

THERE has been a revival of interest in summer drinks and sherbets all over India, as the carbonated drink multinationals slowly retreat from their cola drinks. Both ayurveda and Unani medical sciences, our indigenous medical systems, have formulated drinks for summer and they have withstood the test of time.
Of course, water is the best quencher and the most preferred drink all over India. Water helps the dilution of minerals that can accumulate in the body as internal water gets sweated off in the hot months. Ayurveda also advises us to drink plenty of water. However, ayurveda recommends that we should be drinking water at room temperature or that which is just cool. Ice cold water helps to douse the digestive fire called 'agi', making our digestion slow and sluggish.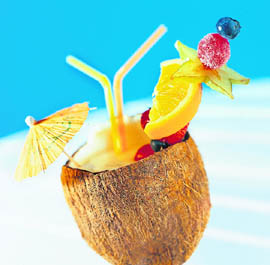 Coconut water is the best energy drink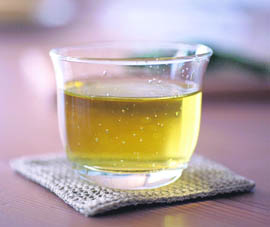 Herbal and green tea is fast replacing the traditional tea Thinkstockphotos/ Getty images

If you want a really classic cooling drink: ayurvedic texts recommend a combo of six herbs — khus, pitpapra, nagramotha, sugandhabala, lal chandan and saunth. Mix water and the herbs in an earthen pot and let it simmer. The decoction has high cooling potential and it is a great thirst quencher.
All over India, there are traditional summer coolers that are delicious and tempting. A few of these are:
Kokum
In Maharashtra, where the kokum fruit grows plenty, a wonderful rich purple-coloured, tangy-sweet sherbet called amrutkokum is made in every house. Kokum is a wonderful antihistamine and is known for its ability to counteract the heat. Maharashtra also makes 'solkadhi', where kokum is steeped in salted coconut milk, a dash of garlic, green chillies and fresh coriander to create a fresh pink cooler that is served at the end of a meal.
Tamarind
The people of Rajasthan counteract the fierce desert heat with a tamarind cooler called amlana that is spiced with black pepper. Spiced drinks are popular all over India. Jaljeera, a Gujarati favourite, is made with tamarind pulp, black salt, sugar and roasted cumin powder.
Coconut water
Coconut water is the best energy drink, which is available from the nature and it gives instant energy to the body. This water works as sports drink. The coconut water consists of many nutrients, which are helpful in giving instant energy to the body. The nutrient value in coconut water controls the levels of electrolyte in the blood.
Herbal and spiced teas
In the South, many types of herbal and spiced teas called 'kashaya' are drunk. They often contain barley, a known diuretic. In Tamil Nadu, coconut water is combined with lime and jaggery. Chennai's Kadalivanam restaurant serves a coconut milkshake made by blending coconut water and tender coconut flesh.
For those believing in vegetable and fruit juices, there is a wide variety:
Aam panna
One of India's favourite drinks is the aam panna. Green mangoes are boiled for this drink, but sometimes the raw mango is roasted and then turned into a drink with water and sugar, with a light tempering of cumin seeds and rock salt. This drink is truly awesome.
Faalsey
Faalsey ka sherbet is another drink that used to be quite popular in the North but is now fast disappearing. Years ago, summer meant a man with a basket on his head, who'd be loudly advertising his "kaaley kaaley faalsey." The faalsa, a kind of small berry, is actually not black but purple. And if you boil it, make a pulp and then strain the fruit, it gives you the concentrate for an excellent sherbet. You add cold water to this and some sugar syrup — and you end up with a beautiful drink that's light purple in colour.
Amla
Take the imli aur amle ka sherbet, which is a drink of tamarind and Indian gooseberry. The gooseberry is full of vitamin C, and this is one fruit that doesn't lose its nutritive value even when you boil it well. Together, imli and amla constitute a healthy dose of the vitamin which wards off infections, which are just waiting to strike in summer.
Watermelon
Watermelon juice is the best medicine for those suffering from blood pressure because the potassium and magnesium controls the blood pressure in the body.`A0One of the greatest quality in this fruit is it contains 92 per cent of alkaline water, which is not there is any fruit.
Cucumber
By taking a glass of cucumber juice every day, the skin tone gets improved and the skin starts glowing. It also contains innumerable foliate, besides vitamin A and C.
Sugarcane juice
Sugarcane stands next to water melon and cucumber, which contains large number of nutrients and carbohydrates in its juice.`A0It also gives instant energy to the body. The sugarcane juice become more effective by adding lemon juice and salt. When compared to the cool drinks, this juice slowly absorbs in the blood and gives energy to the body. It also protects the body in maintaining water levels, which are essential for the proper functioning of the body.`A0Sugarcane juice mixed with bits of ginger becomes a delicious drink.
Butter milk
In Punjab, summer heralds the arrival of yoghurt-based drinks like lassi. Salted, sweet or flavoured with saffron or mango, this drink is an eternal favourite. A thinner version of lassi is chaas, drunk in Maharashtra as 'taak' or when it is flavoured with spices and coriander, 'matthha', in South India as 'mor' or in other parts of the country as 'chaach'.
A rich source of probiotics, laasi is known to restore disturbed intestinal bacteria if mixed with roasted cumin (jeera) and asafetida (hing).
Thandai
For richer chaas, the milky coolants use dry fruit. Soaked almonds, for one, are an ingredient in the good old thandais.
Master chef Ram Chotrani of Status Hotel Mumbai, fine grinds almonds, saffron, fennel, black pepper, melon seeds and rose petals with sugar. The paste is made into milkshake and lassi, though should make sure the citrus summer fruits don't end up curding the blend.
Gastronome Jiggs Kalra suggests stewing any fruit with a tang to avoid such a calamity. One of his favourite coolant is the light jeera buttressed with milk and the final concoction served chilled. Yes, on the rocks.
Sattu
The people, especially the poor of the North, use basic kitchen ingredients, when they experience the notorious heat waves. Energy drinks out of sattu — roasted and powdered channa, dalia, wheat or bajra — are commonplace. Add water, sugar or salt and gulp it all down. In the villages of Karnataka, seasame, ragi and moong are soaked overnight and ground. Mangaloreans dilutes seasame paste with water, sugar or jaggery and elaichi. And ragi teams well with milk.
With the onset of rather an early summer on our continent, we can balance the effects of heat on our body and mind with our indigenous summer drinks; not only to save ourselves from ailments due to excessive heat, but also to control the anger and irritation arising due to the heat imbalance in the body.
— MF