ulta pulta
Non-corruption allowance
Jaspal Bhatti
WHEN a beggar died in Ajmer, it was found that he had Rs 1.98 lakh in his pocket. If we checked our Prime Minister's Manmohan Singh assets, he might not have as much cash in hand. A few days ago he had declared his assets to be Rs 3.96 crore. It is a kind of blot on us that in a country like ours where many have billions of dollars stashed in Swiss banks, our PM is as poor as a beggar.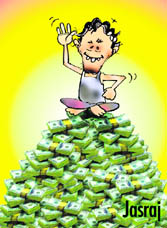 This beggar in Ajmer used to change all his collected coins into currency notes of 1000 and 500 denomination. In light of this incident, Baba Ramdev's demand of discontinuing the currency notes of 1000 and 500 looks bizarre. Because if the government discontinued with the currency notes of 1000 and 500 denomination, many more such beggars would die of heart attack, as they have collected alms, penny by penny, over the years. I have heard that Baba Ramdev takes sometimes Rs 50,000 from the people who want to learn yoga in the front row. If people start paying Baba in Rs 100 or Rs 10 notes for getting the privileged seats, he will be again in trouble big time.
No country can beat India's diversity. We have people who are among the world's richest guys. We can also boast of the poorest of the poor. It is high time the government passed a non-corruption allowance for the honest along with the punitive measures for the corrupt in the Lokpal Bill.