M A I N N E W S
Maria gets away with 3 yrs, Jerome with 10
Controversial verdict in Grover murder case sees two accused get lighter sentences; victim's family outraged, to move HC
Shiv Kumar
Tribune News Service
Mumbai, July 1
Kannada starlet Maria Susairaj, who was found guilty of destroying evidence in the Neeraj Grover murder case, will walk free anytime as a Mumbai court today sentenced her to three years in jail. She has already served this term as an undertrial.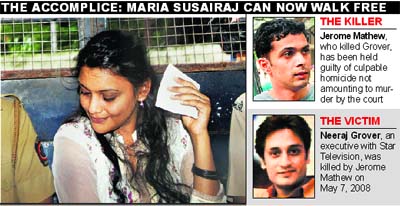 Former officer of the Indian Navy Emile Jerome Mathew, who killed Grover by stabbing him with a kitchen knife and was sentenced to 10 years for culpable homicide not amounting to murder in the case, will remain in jail for seven more years.
He was sentenced for another three years for destruction of evidence. Both the sentences will run concurrently. The court also imposed a fine of Rs 1 lakh and Rs 50,000 on Jerome and Susairaj, respectively. The money will be handed over to the parents of Grover.
Sessions Judge M W Chandwani pronounced the sentence after two hours of arguments even as both Jerome and Susairaj listened calmly. They were convicted by the same court yesterday.
Chief Public Prosecutor RV Kini unsuccessfully pleaded for the two to be sentenced for seven years for destroying evidence and giving false information to a police officer. He pointed out how Susairaj instead of going to the police went to a mall to purchase a knife for chopping up Grover's remains, then borrowed a car from a friend to transport the chopped-up body parts to a desolate spot. The court also rejected the prosecution's demand for Jerome to be given a life sentence. The prosecutor's arguments that Jerome be awarded a life term in jail for 'culpable homicide not amounting to murder' was also rejected. Jerome was sentenced to a jail term of 10 years.
The public prosecutor told reporters outside the court that the judgment would be challenged in the Bombay High Court. The sentence was received with outrage by Grover's father Amarnath, who demanded that Susairaj be convicted of murder as well. "Both of them deserve death penalty. She should be hanged as well," the senior Grover has been quoted as saying. He told reporters from his home in Kanpur that the case would be reopened and tried afresh.
According to the prosecution, the murder of Neeraj Grover happened around 7 in the morning of May 7, 2008, when Emile Jerome walked in suddenly into Maria's bedroom and found Grover naked there.
Maria and Jerome had spoken the night before and finding her behaviour suspicious, the latter boarded a flight from Kochi, where he was posted at the naval base. The prosecution submitted that Jerome and Grover had an angry exchange of words after which the former stabbed the television executive on his stomach with a kitchen knife.
According to Maria's statement, the blow was so violent that Grover's intestines spilled onto the floor. But an enraged Jerome continued to kick and stab Grover even as a stunned Maria watched.
In her confession, Maria said Jerome then had an argument with her after which he raped her twice. Subsequently, Jerome threatened Maria to co-operate with him in disposing of the body, she said in her confession.
She told the police that Jerome forced her to go to the Hypercity shopping mall to buy two large suitcases, air-fresheners, plastic bags and bed-sheets.
The two then chopped Grover's body into pieces and stuffed them into the bag, along with the blood-stained bedsheets and curtains. Later Maria borrowed a friend's car and accompanied by Mathew placed the bags and drove to Manor in Thane, where they burnt Grover's body parts before returning home around 9.30 pm.
Both Maria and Jerome knew each other in Karnataka before she came to Mumbai a few months before the murder. However, according to evidence gathered by the police, Maria carried on an affair with Grover even while being engaged to Jerome. Grover is said to have helped Maria in her career in television.
In his judgment, Judge Chandwani ruled that Jerome had indeed killed Grover. "On the basis of the confession coupled with the circumstantial evidence placed before the court by the prosecution, it has been proved that accused number two (Jerome) stabbed the deceased Neeraj Grover and therefore has killed Grover," the judge said.
He, however, ruled that it was not a premediated murder. "Looking into the circumstances which have been brought on record and the confession statement of (Susairaj), it does not appear that accused number two (Emile Jerome) had pre-meditation to kill Neeraj Grover," the judge said.
The judge went on to say that Jerome lost it when he found his fiancée with someone else. "Obviously, for the fiancé, in a situation where he finds a young boy with his fiancée, he is bound to get upset. He lost his control."
Film maker Ram Gopal Verma's decision to make a film on the murder has also come in for criticism from Grover's family. The movie titled, "Not a Love Story", shot in the same building where the murder took place is due for release shortly. The advertisements for the film say it is not based on any real life event but inspired by one.
Verma has added to the public sense of outrage over the verdict by stating today that he was planning a movie with Maria Susairaj in the lead after her release from prison.