Wimbledon
Great expectations
Not many Indian players have reached the highest level of world tennis since Ramanathan Krishnan made semi-final appearances at Wimbledon in 1960 and 1961. But there remains an air of expectation every June-July when this grand slam tournament takes place, reports K. Datta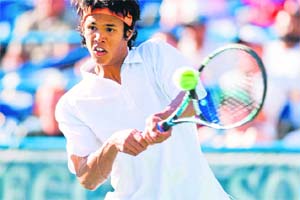 In five grand slam tournaments, Somdev Devvarman has not been past the second round. The disappointing sequence also continues at Wimbledon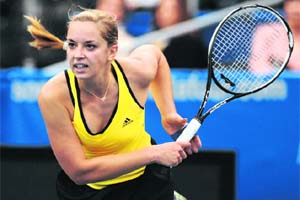 After winning the French Open earlier, Chinese icon Li Na (Below) has done the entire Asian continent proud. The strong point of Wimbledon's German wild card entry Sabine Lisicki (Above) is her lethal serve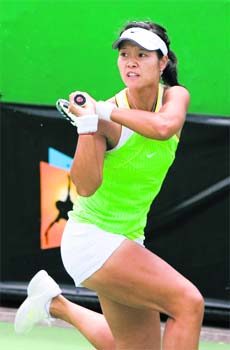 EVER since Ghaus Mohammad Khan figured in the Wimbledon singles quarter-final in 1939, the tournament has occupied a special place in the hearts and minds of India's sports fans. The attachment with this Mecca of tennis grew stronger when Ramanathan Krishnan sent a thrill of excitement through the nation with semi-final appearances in 1960 and 1961. That is the farthest an Indian has gone in the prestigious tournament.
Even if not many Indian players have reached the highest echelons of world tennis since then, there remains an air of expectation every June-July when this grand slam tournament is played on the lush grass courts of the old All- England Lawn Tennis Club.
India's hopes in the singles events this time rested on Somdev Kishore Devvarman and Sania Mirza. When Devvarman, with a world ranking of 68 on the ATP computer, got past Dennis Gremelmayr in the first round, 6-4, 4-2, the German, conceding the match because of injury, it was the first time since 2001 that an Indian had advanced to the second round. Leander Paes was there a decade ago, when he lost to Nicolas Kiefer. It shows how tough the competition has become in tennis at the highest level. Well as Devvarman fought, the 26-year-old Tripura-born player based in the United States, was no match for Mikhail Youzhny, the 18th seeded `A0Russian, who won the second round match 6-2, 6-4, 6-4. At the time of writing this column, the 17th ranked 29-year-old Russian is due to meet world No. 3 Roger Federer for a place in the quarter-finals. In five grand slam tournaments, Devvarman has not been past the second round, and the disappointing sequence continued also at Wimbledon.
Sania came to Wimbledon after a hectic year of competitive tennis, including the Commonwealth Games at Delhi and the Asian Games at Guangzhou, during which she played over 150 matches, including doubles, to raise her world ranking to 60. Her injured knee strapped, Sania lacked the sharp touch, a result perhaps of too much work, to overcome Virginia Rozzano of France, ranked over 30 places lower.
Sania's singles campaign was all over in 132 minutes, losing her first round match 6-7, 6-3, 3-6. It was her third round first round exit in seven Wimbledon appearances. She had progressed to the second round in the remaining four occasions.
Like a few other Indian players, Sania also has established herself as a doubles player. There is a future in doubles also. Sania and partner Russian Elena Vesnina, seeded fourth, are in the third round of the women's doubles at the Sunday break after a hard fought second round victory over the Czech-Kazakh pair of Renata Voracoba and Galina Voskoboeva.
Leander Paes and Mahesh Bhupathy, together a powerful force in the doubles and seeded third at Wimbledon, could go no further than the third round where they lost to Arnaud Clement (France) and Lukas Dlouhy of Czechoslovakia after promisingly winning the first set, 6-2, 3-6, 6-7, 4-6. It was good to see the estranged veteran pair had joined forces again at Wimbledon, those old chest bumps saying it all.
A victory would have been all the more sweet. But then winning and losing are part of life on the courts. And now a word about the Indo-Pak team of Rohan Bopanna and Aisam-ul-Haq Qureshi. They, too, are a force in the doubles game, as the tournament committee must have acknowledged when it seeded them fourth. They had come to Wimbledon with high hopes, having won their second ATP title together, the Gerry Weber Open at Halle, Germany. They got a congratulatory message from Pakistan Prime minister Syed Yusuf Raza Gilani from Islamabad. But a shock awaited them in the very first round when they were beaten by the Colombian pair of Juan Sebastian Cabal and Robert Farah, 6-2, 2-6, 19-21. Anyone for some tennis diplomacy?
There is the larger Wimbledon picture one can't help seeing. The emotional return of Serena, for one. The younger of the Williams sisters, a 13-time grand slam champion, broke into tears at the joy of being able to play on the hallowed Wimbledon courts after a year-long disability because of a foot injury and a huge health scare caused by pulmonary embolism, which left her on the death bed.
As for Venus, the older Williams sibling at 30, a five-time winner, she had to fight off the challenge of a 41-year-old Japanese Kimiko Date-Krum, who had retired in 1996. The score-line of the three-hour match, 6-7, 3-6, 8-6, says it all about the battle. When has Wimbledon seen a match between women players whose aggregate age was 71?
After winning the French Open earlier in the month, the Chinese icon Li Na had raised great expectations when she took the court at Wimbledon. Seeded third, she was shocked by the big-serving (120 mph) 5ft.10 inch German Sabine Lisicki, a wild card entry, 6-3, 4-6, 6-8, with Li wasting two match points in the third set. "She serves like a man," said Jiang Shan, Li's husband and coach, adding, "I mean this is impossible for women." Back home, Li said she had done enough to inspire other Chinese girls. It was time the Chinese men made their presence felt. Li warned the growing number of fans against the danger of too much expectation. Li has not only done China proud but also the entire Asian continent.
First Indian to reach men's singles quarter-final in 1939; lost to Bobby Riggs (US)

Sumant Misra/Jimmy Mehta:

Men's ubles quarter-final, 1947 and 1948.

Premjit Lall/Jaidip Mukerjea:

Men's doubles quarter-final, 1958.

Lall:

Boy's singles finalist, 1973.

Mukerjea:

Boy's singles finalist, 1960.

Ramanathan Krishnan:

Boy's singles title, 1954. Men's singles semi-finalist, 1960 and 1961.

Vijay Amritraj/Anand Amritraj:

Men's doubles semi-final, 1976.

Vijay Amritraj:

Men's singles quarter-final, 1973.

Ramesh Krishnan:

Boy's singles title, 1979.

Leander Paes/Mahesh Bhupathy:

Men's doubles title, 1999.

Paes:

Boy's title, 1990; mixed doubles title, 1999, 2003, 2010.

Bhupathy:

Mixed title, 1998, 2002, 2009. Men's doubles finalist, 2003.