Southern splendour
With some adaptations, the story content of hit South Indian films is being
used to make successful Hindi films, says V. Gangadhar

WAY back in the late 1940s when Gemini Studios boss and South Indian movie moghul S.S. Vasan found that his expensive Tamil film Chandralekha did not bring in the anticipated boxoffice returns, he planned a new strategy. He decided to remake the film in Hindi with the same cast and launched an unprecedented ad campaign. The Hindi version was a super boxoffice hit and Vasan was compared to Cecil B. Demille, the Hollywood filmmaker, who specialised in lavish productions.
Vasan set a trend which he himself followed making more Hindi films starring top filmstars like Dilip Kumar and Dev Anand (Paigham, Insaniyat and so on). Eager to taste the same success, other Tamil producers like the AVM group and L. V. Prasad 'invaded' North India and their movies became hits.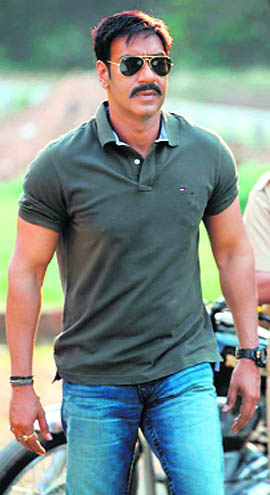 Ajay Devgn in a still from Singham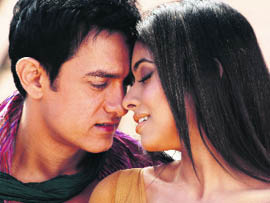 Ghajini, which was a blockbuster in the South, was remade in Bollywood with Aamir Khan and Asin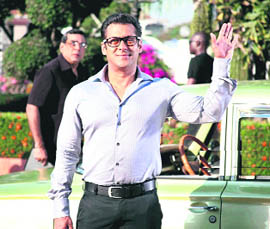 Salman Khan-starrer, Ready, which had a sensational initial opening, continued to rake in money

The South Indian producers adopted a twin strategy of making original Hindi films or doing remakes of popular Tamil, Telugu and Kannada films. Either way, they enjoyed success. AVM made a remake of their Tamil hit Vazhkai (Life). The film was titled Bahar and introduced Vyjayantimala to Hindi film world. S. M. S. Naidu, a leading filmmaker persuaded Dilip Kumar and Meena Kumari to shed their 'tragic image' temporarily and try their hands at swashbuckling adventure in Azaad, a remake of the Tamil-hit Malai Kallan starring MGR. In the 1960s, B Nagi Reddy, doyen of Tamil and Telugu Cinema, cast Dilip Kumar for his first double role in Ram Aur Shyam, along with Waheeda Rehman and Pran in the remake of a Telugu hit. Ram Aur Shyam went on to celebrate its diamond jubilee.
Top Hindi filmstars were wooed by South Indian producers to act in Hindi films shot in Madras studios and most of these were remakes of hit South Indian movies. Dozens of actors responded enthusiastically. Sunil Dutt, Jeetendra, Ashok Kumar, Waheeda, Bina Rai, Mala Sinha and even Amitabh Bachchan figured in these films and enjoyed working in Madras where filmmaking was more professional, disciplined and payment generous and prompt. Some of the earlier directors who handled these films did not know Hindi but that was not a handicap in extracting outstanding performances.
The strategy continued though, of late, Tamil producers found making Hindi movies prohibitively expensive because of the high fees demanded by actors and the additional cost of foreign location shooting, which had become popular. Yet, some of the remakes of South Indian films clicked in a big way. Films like Ghajini and Wanted were superhits. The most recent of such an experiment was the Salman Khan-starrer, Ready, which had a sensational initial opening and continued to make money. Trade experts predicted more remakes in the days to come. While the Hindi film industry boasted of star value and tremendous advances in filmmaking techniques and special effects, it was badly handicapped by the absence of good, original scripts.
"Where are the good stories," complained even established filmmakers like Abbas-Mastan. "So there is large-scale borrowing going on". Across the Vindhyas, the hundreds of Telugu, Tamil, Kannada movies offered better story content and screenplays. South Indian directors like Siddique explained that with some intelligent adaptations, the story content in South Indian films could be used in making successful Hindi films.
Naturally, there are many more remakes in the pipeline, adapted from mainly Tamil, Telugu and Kannada original hits. Singham, Kick and soon to be released Bodyguard are some of these.
One of the most successful remake specialist, writer-director Anees Bazmee hit the jackpot with Ready, starring Salman and Asin in the lead roles, a remake of the Telugu-hit with the same name which had also been remade into Tamil and Kannada, making it four 'avatars' of one film. Bazmee explained that each remake had to be slightly different and not all regional films could be remade into Hindi. He had just completed shooting for It's My Life, starring Harman Baweja and Genelia D'souza, remake of the Telugu film Bommarilla. While the original was shot inside a house, the Hindi version, meant for a different kind of audience, had location shooting in Norway, New Zealand and some Indian cities. Making his debut in Hindi films, writer-director Siddique admitted that he did not follow Hindi but that did not prevent him from directing another big-budgeted movie Bodyguard, with Salman Khan and Kareena Kapoor. This was a remake of the Malayalam film with the same name.
Though admitting directing a Hindi film was different (the star egos, big finance and so on), Siddique was quite at home with his work because he wrote the original story and screenplay. Besides the original Telugu version, Bodyguard was also being made in Tamil and Kannada, with changes to suit regional audiences.
The remakes were a boon to stars like Genelia D'souza and Harman Baweja, who did not get enough opportunities in Bollywood. The directors were skilful enough to create subtle differences in remakes in different languages.