star track
Blow-hot-blow-cold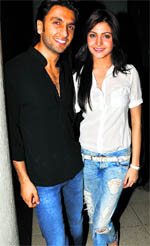 Ranveer has been endlessly linked with Anushka Sharma and both of them have denied their romance.
They are very good friends but their feelings for each other are apparent to everybody but them. Also, both of them are very ambitious so want to focus on their careers right now.
On a show Ranveer said that he and Anushka fight a lot. He said that she is a lovely girl and he does not have the time right now to give her the attention and time she deserves because he is focussed on his career and so is she.
He also said that the moment was mind-blowing when he kissed her in Band Baaja Baaraat. He has also previously said that he had feelings for Anushka during the making of the movie.
Ranveer is known for his spontaneous and endless energy. At the spur of the moment, he composed a rap song tracing his struggle in Bollywood and included names like Aditya Chopra in it.
We think it will be interesting.
Face of the new woman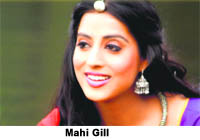 She is only a few films old in Bollywood but actress Mahi Gill is already eyeing women-centric projects and is elated to see that they are not portrayed as weaklings any more.
Gill, a well known name in the Punjabi film industry, shot to fame in Bollywood with her extrovert character of Paro in Anurag Kashyap's Dev D.
The actress feels that after the Tabu-starrer Chandni Bar, there has been a shift in the portrayal of women in Hindi cinema and they are shown as a strong character rather than weak and vulnerable.
"I want to give today's woman a new definition through my characters. They should be strong and flamboyant. Even my character in Dev D was an unconventional one."
The actress will be seen next in Tigmanshu Dhulia's Sahib, Biwi Aur Gangster, where she will be portraying the character of a revolutionary woman who rises from the feudal system of society. — PTI
Manish is the best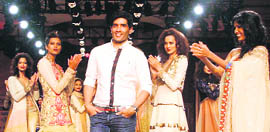 Stylist Manish Malhotra won the best costume designer award for the movie Robot at the Filmfare Awards South.
Director Punit Malhotra wished the designer on his success through his tweet.
"I like the 2nd of July for various reasons now. Super night... @ManishMalhotra1 wins the Filmfare Award for Best Costume Design for Robot!!!," he wrote.
One of the most expensive Indian movies, Robot starring southern superstar Rajinikanth alongside Bollywood diva Aishwarya Rai was a huge hit. — IANS
Model advantage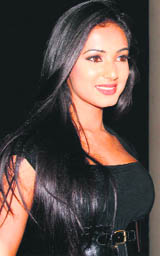 Many believe that modelling is a shortcut to Bollywood but model turned actress Sonal Chauhan feels the only advantage of modelling is that it makes a person camera friendly.
The 24-year-old made her debut in Jannat. She won the Miss World Tourism title in 2005.
"Modelling helps in a way ... it allows us to be comfortable in front of the camera. One is confident and doesn't have to fear the camera or wonder what to do and how to do. So, I think it is an advantage to be a model," says Sonal.
As there is no guarantee that a successful model can make it big in Bollywood but for their glamorous image, they do get stereotyped. Sonal doesn't agree.
"Every actor has a journey to take and they improve with time... They take time to explore. — IANS
London CALLING
Rapper Snoop Dogg thinks he would enjoy himself if he relocates to Britain.
The 39-year-old rapper who has three children, with wife Shante thinks he would have a great time if he was forced to relocate from the US. "Would I live in the Britain? I wouldn't mind living here. I think I could really enjoy myself,' he said. —IANS
Professional ties
Abhay Deol has worked with the likes of Imtiaz Ali and Anurag Kashayp, but the actor feels his best professional experience has been with Dibaker Banerjee, who directed him in "Oye Lucky! Lucky Oye!"
"My best experience has been with Dibakaer. I think its more to do with the team than the film for a good experience. Dibaker's team has been the nicest people I've worked with. I'm working with them again in 'Shanghai' and so looking forward to it," says the actor.
"Shanghai" is a political thriller directed by Dibakar and it also stars Kalki Koechlin, Prasenjit Chatterjee, Emraan Hashmi and Pitobash.
In the last six years, Abhay worked with Ali in his debut film "Socha Na Tha" in 2005, Reema Kagti in "Honeymoon Travels Pvt Ltd", Kashyap in "Dev D" and Dev Benegal in
"Road, Movie".
Banners are important: Vir Das

Stand up comedian-actor Vir Das, who is basking in the glory of the success of his recently released film Delhi Belly, says working with a big banner helps.
"It's definitely important what banner you are working with. Big banners are important because that guarantees a good release. Having said that, I believe if a film is good, it will run," says Vir.
Apart from working with Aamir Khan Productions' Delhi Belly, Vir has also worked with Yash Raj Films. — IANS
Footballer follows the rapper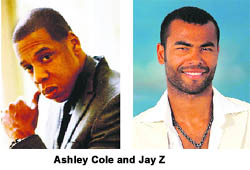 Footballer Ashley Cole is planning to open a restaurant-cum-nightclub in partnership with rapper Jay Z. Cole and Jay Z will take in unemployed young people and donate some of the profits for good causes.
They are looking at pricey properties in London's Pall Mall area for the nightclub, which will be called 40/40, the same as Jay's US chain of nightclubs. Ashley is said to be keen to support young filmmakers in London.
"This is the perfect way for Ashley to improve his image. He's aware his football career won't last forever and this is the ideal way to launch into a new area of expertise. He knows that his reputation isn't great and working with charities and disillusioned young people would help," said a source. — IANS
Harry charms Rosie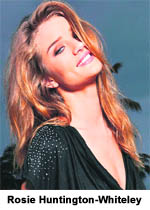 Actress Rosie Huntington-Whiteley is obsessed with Prince Harry and describes him as the ideal man for her.
Huntington-Whiteley, who played actor Shia LaBeouf's love interest in the recently released movie Transformers: Dark of the Moon, is currently dating actor Jason Statham.
Despite that, the 24-year-old expressed her feelings towards Prince Harry in an interview.
"I'm waiting for my proposal. I keep writing. I think he knows how obsessed I am. Well, he does now. He's so handsome," she said.
She even intitatex Prince Harry to propose to her directly, saying: "Come on Harry!"— IANS
Looking for love
Filmmaker Mohit Suri, who split from actress Udita Goswami after she moved to Los Angeles, is now looking for a new girlfriend.
"I haven't been in touch for a while. She (Udita) is in LA, trying to do some TV shows there. Long distance doesn't work for me. Now I will look for someone after my film," Mohit says. The director, who is currently busy with the release of his forthcoming movie Murder 2, started dating Udita in 2005. They had an on-off relationship before they decided to split this year.
Family first: Jada Smith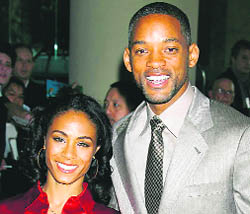 Family comes first for Hollywood actor Will Smith's wife Jada Pinkett, who sacrificed her own career for the sake of her family.
Jada, who made her foray into acting on the US sitcom True Colors and went on to appear in Hollywood films like The Nutty Professor, Matrix: Revolution, enjoyed a successful stint in acting besides a blooming music career.
But the 39-year-old star, who is married to actor-rapper Will, 42, and has two children Jaden, 12 and Willow, 10, preferred sacrificing her dreams for her family.
"I had to make choices. Living in
Hollywood, it's up to Will and me to teach them what's real and what's not," added Jada. —PTI