M A I N N E W S
Hansi-Butana Row
Ghaggar Bundh will flood villages: Punjab to SC
R Sedhuraman
Legal Correspondent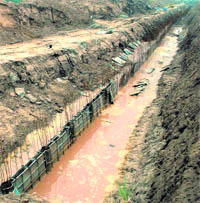 New Delhi, July 7
Punjab today strongly opposed in the Supreme Court Haryana's move to strengthen the Ghaggar bundh (embankment) on the 109-km Hansi-Butana canal, stating that this would result in flooding of its villages.
Arguing for Punjab, senior counsel Harish Salve contended before a Bench comprising Justices JM Panchal and HL Gokhale that there was a breach in the bundh last monsoon. This showed the bundh was the "pressure point" and strengthening this would result in back flow and obstruct the "natural flow" of rainwater in Punjab.
"Reinforcing the canal and making it unbreachable will accentuate Punjab's problem in the form of water-logging and excessive flooding," Salve said while arguing on the state's application in connection the original suit on the dispute over sharing of river waters.
The Bench said the original suit was likely to come up for hearing on July 11. At this, Salve said he did not have any problem if the court heard the application that day. Haryana said it would like to file a fresh affidavit by Saturday responding to the points raised by Punjab.
Acknowledging the urgency of the matter in view of the ongoing monsoon season, the Bench agreed to hear the application on the bundh first before taking up the main suit on July 11.