THIS ABOVE ALL
I applaud action against Ramdev
Khushwant Singh

BABA Ramdev, who has hogged front-page news in all our papers as well as top headlines of our TV channels, is a man of very modest learning. He was also a man of limited means till he moved from Haryana to Hardwar. Within a few years, he became a crorepati and a political leader. Since nationwide corruption was uppermost in the minds of Indians, he chose to spearhead the movement to eradicate it.
Fortunately for him, the BJP leadership, which has run out of new ideas, decided to exploit his popularity and backed him. His following was entirely Hindu. No Muslim, Christian or Sikh bothered to join him. He was planning to make a grand opening move at Ramlila Grounds. People joined him in thousands. The government sensed that if it allowed him to get his way, it could cause a serious law and order problem. So the Delhi Police made a pre-emptive strike by picking him up, flying him back and dumping him in Hardwar. I applaud the action taken against him. BJP leader L.K. Advaniís plan to utilise him to his partyís benefit misfired. His comparing the midnight hijacking of this "mischief-maker" to the tragedy of Jallianwala Bagh shows how little he knows about history.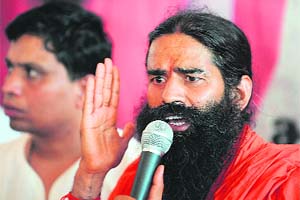 The BJPís plan to utilise the rising popularity of Baba Ramdev to the partyís benefit misfired
In Jallianwala Bagh, General Dyer had his platoon of Gurkhas open fire on the assemblage in which more than 300 people lost their lives. Even the enquiry commission set up by the British Government censured Dyer. He died a very guilt-ridden man.
In the operation carried out by the Delhi Police, there was not a single casualty. It only concludes that Advani made his irresponsible statement out of a sense of deep frustration.
Sense out of census
I had conflicting reaction to the census and thought it was wise to remain silent till after others had their way. The rising rate of literacy was heart-warming and reassuring that by the next census we will achieve 100 per cent literacy. But the increase in our population was a dampener.
No matter how many green revolutions we have, if we continue to breed at this rate, we will not be able to provide two square meals a day to the poor. You cannot put the blame on the government for not doing enough because in a democracy, a government has to win the support of other parties to be able to pass coercive legislation to enforce birth control.
What is more depressing is that not one of our political parties has given the importance due to it in their manifestoes, because they believe they will lose peoplesí support. I have earlier suggested a way out by disfranchising couples who have a third child and banning them from holding any elective post, be it in panchayats, municipalities, zila parishads, legislative assemblies or the two Houses of Parliament. I have not the slightest doubt that such a measure will have an impact and will bring down the birth rate.
Another measure I have in mind is to legally enforce couples to undergo sterilisation after the birth of their second child. China does it by force because it is a dictatorship; we can do it by consent because we are a democracy.
Rioís traffic jam
During the annual grand carnival Mardi Gras, in Rio De Janeiro, renowned for sensational performance by wholesome and buxom Samba dancers on decorated floats, there was a traffic jam at the main intersection. This was caused by a young couple in a car, who utilised the opportune moment to kiss when the traffic stopped at red light. In spite of constant honking by other drivers and intervention of the police, the youngsters did not disengage from their amorous activity.
Finally, the traffic started moving, but not before a dentist was called, who separated the two by disengaging both their dental braces, which had got locked.
(Contributed by Trilok Mehrotra, Noida)