Abseiling ahoy!
Ruma Kat
Do not go where the path may lead; instead go where there is no path and leave a trail
— Ralph Waldo Emerson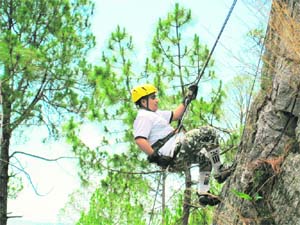 Adventure sports like abseiling or rappelling not only boost stamina but also build team spirit
THERE are times when we just want to escape from the din of everyday life around us. When we want to unwind and be in solitary confinement with nature, when we want to be away from unavoidable meetings, phone calls and laptops, and even away from enclosed airconditioned rooms and cars. In short, do your own thing.
So, where do we go for this elusive tryst with nature and adventure?Actually, there are two roads in front of us — one with silence, a walk to find tranquillity, and the other with adventure, where you cannot afford to just walk, but you need to jump, run, slide, bounce, swim and abseil. Welcome to the world of adventure sports. Standing on the 6th floor of a building, I could see the whole nearby world under me and I simply wanted to cut through the air and touch that grey surface. Human beings, automobiles, trees, bushes, and other buildings and infrastructure — I simply wanted to fly and jump over all of them.
This desire of mine took me out of my noisy city to explore a nearby place in the wilderness — a place with mountains and crests, and cliffs and troughs – Chail. Now, there I had a chance to stand out and experience the spirit of individuality.
The Virasat Charitable Trust organises 'Break Loose Camps' in different parts of Himachal Pradesh on a regular basis and I was in Chail to attend one such camp recently.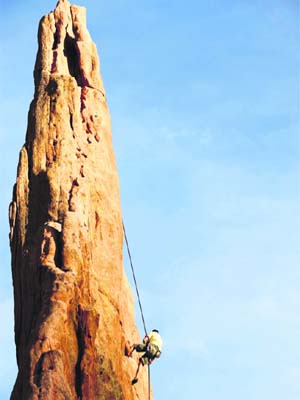 This camp is an offshoot of this Trust and is being organised by several people from the background of medicine, Army and communications, and mountaineering. The major affairs are handled by Dr Anubhav, who aims to make students leave the TV remotes and instead to travel to remote places to work, learn and enjoy together. "Students and corporate people come here from different backgrounds, and realise that while they have so many tantrums back home, other unprivileged people do not have anything to complain about. They just love whatever they get. And this was the main motive to bring every person together in the camp and learn to adjust and experience a new adventure," says Anubhav.
He has been organising these camps since 2004 at different places, including SadhuPul (60 km from Chail) and Koffolta (15 km from Paonta Sahib). Also, many other adventure activities are performed in this camp, like backpacking, trekking, hiking, rock climbing, river crossing, rifle shooting, and rope courses for four days at a nominal price. The recent camp was attended by 51 persons, who were instructed and taken care of by seven trainers.
The bus of Break Loose brings all the participants on Day 1 along with their sleeping bags, tents and all other equipments required. Rappelling is one of the adventure programmes on the camp and is held on Day 2, for which many participants, especially students, are really excited.
All age groups can perform this sport, provided your physical strength allows for the same, as it requires a lot of stamina to hold your body with a single rope and jump down with the flow. But not to forget, without passion, no one can accomplish this task.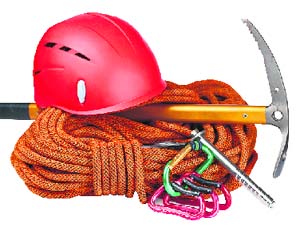 On meeting Anil (28) at the location, I was told about the basic techniques of rappelling and was equipped with a whole lot of safety gear. Anil is a professional mountaineer and instructor from the Himalayan Mountaineering Institute, Manali. My first expedition was to begin from a height of 70 feet.
I looked down from the top of the cliff. I was way above the ground. And it was almost like jumping that distance down. The breeze rushed past and was trying to take away my lone lifeline, my rope. I suddenly felt shivers down my nerves! "Hold it. Face towards the mountain. Show your back to the world and let it follow you!" egged on my instructor. "Now abseil." (Abseiling is a mountaineering term meaning 'rappelling' or 'rope down.')
I turned back from him and looked underneath again. Now, I just wanted to cut through the clouds and touch the ground. And I did it. I wasn't alone at that location, but there were many others who wanted to escape from their respective fears — the fear of height, of the mountains, of depth and of being weightless.
A Class X student, Vishesh Dhundia from Chandigarh, has been rappelling since the past three years. "I couldn't do it the first time and I almost cried. But then, the trainers helped me and assured that I was safe. The second time, I just gathered all my strength and fixed my feet on the rocks. Finally, I was able to complete my task."
"For anyone who loves adventure, there is nothing more exciting than rappelling," says Dev Rathore, one of the instructors at the camp. These adventure expeditions not only help strengthen one's physique, but also groom the overall personality. People interact during such activities and imbibe team spirit. Dr Anubhav, under whose guidance all the instructors work, is keen to bring people close to the beauty of nature with such adventure activities. "Today, people are so involved with modern technology that they have forgotten to interact with nature. Tell them to play a video game and they will make the highest runs; now ask them to hold a rope and move down the steep rocks and it gives them a rush of adrenaline. After rappelling, one gets the feeling that yes, I can do this. And this is the most necessary thing in adventure."
Life is like a simple road. Walking on it, we might some day find ourselves on top of a giant heap of troubles, and there is no way to come down. But there lies a single rope that reaches the surface. You have the option to either keep fretting over the problems or hold the rope and descend. This is what rappelling teaches you.
Tool talk
The equipment required: Ropes, anchors, descender or a rappel device for friction, climbing harness around the waist, prusik, helmets, gloves, boots and knee pads.