Hinglish: Yay or Nay?
Though the guardians of Hindi decry this hybridisation and take a protectionist
stand, it has become a popular form of urban communication

Chutnefying English: The
Phenomenon of Hinglish
Eds. Rita Kothari and Rupert Snell.
Penguin. Pages 235. Rs 299.

Reviewed by Balwinder Kaur

AN enthusiastic voice on TV proclaims, "Yeh hai youngistan meri jaan!", while the logo of a popular brand of cold drink flashes. Steaming noodles are offered with the tagline "Taste bhi, health bhi." All of this is watched on "Asli HD". When we venture out, our eyes drift to posters promoting movies like Always Kabhi Kabhi and Bheja Fry. The fact that we see nothing wrong with these phrases highlights just how much Hinglish has become a part of our lives. Chutnefying English examines this new language as it evolves around us, spoken by millions. The book takes a serious look at this popular form of urban communication. In the words of Harish Trivedi: "It has become a cultish dialect with enough practitioners for us to notice it and debate it."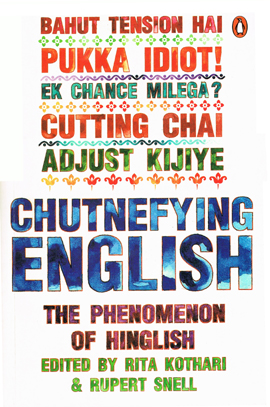 This hybrid called Hinglish has steadily gained enough strength and is heard so loud that it necessitated the convening of an actual conference held in January 2009. Following India's first conference on Hinglish, editors Rupert Snell and Rita Kothari have compiled numerous essays by leading scholars of literature, language, cultural studies, translation, cinema and new media examining the origin, nature, constituents and future of Hinglish.
Understanding Hinglish starts with tracing its genesis which began as soon as Hindi and English occupied the same geographical space, with the arrival of the British. "For languages do not exist in watertight compartments; they are organic things and when placed alongside each other they always interact. In fact, languages feed off each other almost cannibalistically; if they did not they would die."
Daya Kishan Thussu attributes development of Hinglish to globalisation and industry, which enabled them to gain ground in the highly profitable market of South Asia. English had its limitations, catering only to a small market base which led to the Indianisation and then further localisation of advertising.
Other compelling questions that arise are: is Hinglish, Hindi with a smattering of English or English with a sprinkling of Hindi? Does the merger of these two languages result in loss or gain for either language or both? The guardians of Hindi decry this hybridisation and take a protectionist stand for its integrity, fearing its innate articulacy and nuances will be lost. They feel it displaces native words and edges them into extinction. Some people harbour fears of extinction of both languages as we know them and that we will be left with only the hybrid "Hinglish", a language that would make sense only in an Indian context like Creole.
Linguistic purity, however, is in itself an oxymoron as something doesn't come from nothing and all present-day languages have evolved from old ones and all languages are born and thrive on hybridisation. G.J.V Prasad cites his own childhood in Delhi as an example where the rainbow of Indian languages blended beautifully and communication took priority over lingual purity. Shannon Anderson-Finch believes that Hindi-English mixing is a linguistic resource and bilingual speakers use it to express themselves strategically and creatively. Equally intriguing is the concept of the multilingual mind by Tej K. Bhatia, which involves both language separation and integration termed "code mixing" and "code switching". Also examined by Devyani Sharma is the infiltration of Indian languages into British English and how this cross-cultural exchange has led to "mixed code" and "hybrid identity".
The papers by reputed linguistic experts from India, England and America are convincingly supported by notes, excerpts and references. The panel discussions are particularly fascinating. Instead of striving for unity in diversity, the book is much benefitted by multiple voices with varied opinions; all legitimate. The book consists mainly of essays by academics, so the language used occasionally gets too technical. The emphasis on accuracy and excessive detail at times overshadows the point being made. Given the nature of the subject matter, definite answers and conclusions are hard to draw. This may leave the reader unsatisfied.
While the essays are penned by experts, the conference included people from all walks of life offering a panoramic perspective. This book is an ideal catalyst for a wide range of discussions. You will find yourself taking sides, contradicting or conceding points throughout, staying thoroughly involved. The question is posed, "Is Hinglish a good thing or a bad thing?", and the readers are left to reach their own conclusion. Finally, we realise that one way or another, we are all contributing to this linguistic revolution happening all around us.